When done right, short family getaways are just as much a vacation as week-long trips. In fact, some destinations are better as short vacations. Consider one of these short family vacations for your next getaway with the kids.
New York City
A week in New York City can be fun, but it can also be overwhelming – especially if you're first-time visitors to the Big Apple. Instead, take a few days to see the highlights – a stroll through Central Park, a Broadway show and maybe a ferry ride to Ellis Island and the Statue of Liberty. Be sure to make time for a cheesy slice of New York City pizza, too. See Weekend Trips to New York City for more suggestions.
Recommended Hotel: Omni Berkshire Place
Washington, D.C.
Just like New York City, you can't squeeze it all in during a weekend getaway to our nation's capital. So, choose one or two of the fabulous monuments or museums and explore the place top to bottom. The National Mall is a great place to zero in on with your family. From the Lincoln Memorial and Vietnam Veterans Memorial to the National Air and Space Museum and the National Museum of American History, there is plenty to explore and learn with your family in Washington D.C. See our Washington D.C. Weekend Guide With Kids for our favorite must-visit attractions and restaurants.
Recommended Hotel: Hotel George – A Kimpton Hotel
Palm Beaches, Fla.
The Palm Beaches — Palm Beach Gardens, Palm Beach Island, West Palm Beach and Palm Beach — are perfect for a quiet beach getaway in the warm Florida sun. The Palm Beaches are about two and half hours from Orlando's theme parks – making this a perfect spot to decompress after a week at the theme parks. Paddle boarding and other water sports are aplenty here, along with a small zoo, walking and biking trails, and the Henry Morrison Flagler Museum, a mansion built in 1902.
Recommended Hotel: Palm Beach Marriott Singer Island Beach Resort & Spa
Chicago
Families can breeze in and out of the Windy City for a short family vacation. There is a lot to see and do, but we suggest you focus on the big attractions like the Willis Tower, John Hancock Observation Deck and Navy Pier. Or, take in a game at Wrigley Field! Check out our day-by-day guide to Chicago Weekend Getaways for Families to even better plan a short family vacation in Chitown.
Recommended Hotel: Four Seasons Hotel Chicago
Nashville
Nashville is an excellent place to visit for a short family vacation. Visit the Country Music Hall of Fame and the Grand Ole Opry, and of course, be sure to take in a live performance (or three) during your stay. Be sure to make a stop at Loveless Cafe? for authentic Southern fare, too. See our Nashville Weekend Guide for a day-by-day itinerary to Music City.
Recommended Hotel: Gaylord Opryland Resort
Boston
Not too big and not too small, Boston is a perfect destination for a short family vacation. The public transportation system is easy to navigate, there is a ton of American history to discover, and the food is great. Kids will love the Freedom Trail, which features many of the area's historic sites — including iconic Quincy Market. A game at Fenway Park is always a good idea, too! See Boston Weekend Getaways for Families for more ideas.
Recommended Hotel: Boston Harbor Hotel
Miami
When you want the best of both worlds — city and beach life — on a short family vacation, Miami is the spot. Families can easily be rejuvenated and have fun. The beaches are fantastic for families, as are the museums — which include the Museum of Ice Cream! See our Miami Weekend Guide for more.
Recommended Hotel: Acqualina Resort & Spa on the Beach
Winter Park, Colo.
For a quick ski weekend, hit the slopes in Winter Park. About 90 minutes outside of Denver, Winter Park is an adorable town that features more than 3,000 skiable acres. Many Denver locals learn to ski and snowboard at Winter Park, so it's a great weekend getaway for beginner skiers, local or visiting. There is a kids' ski school for those who want to learn and the Village Rink at the base of Winter Park Resort offers ice skating daily and free lessons for an hour on the weekends during ski season.
Recommended Hotel: Zephyr Mountain Lodge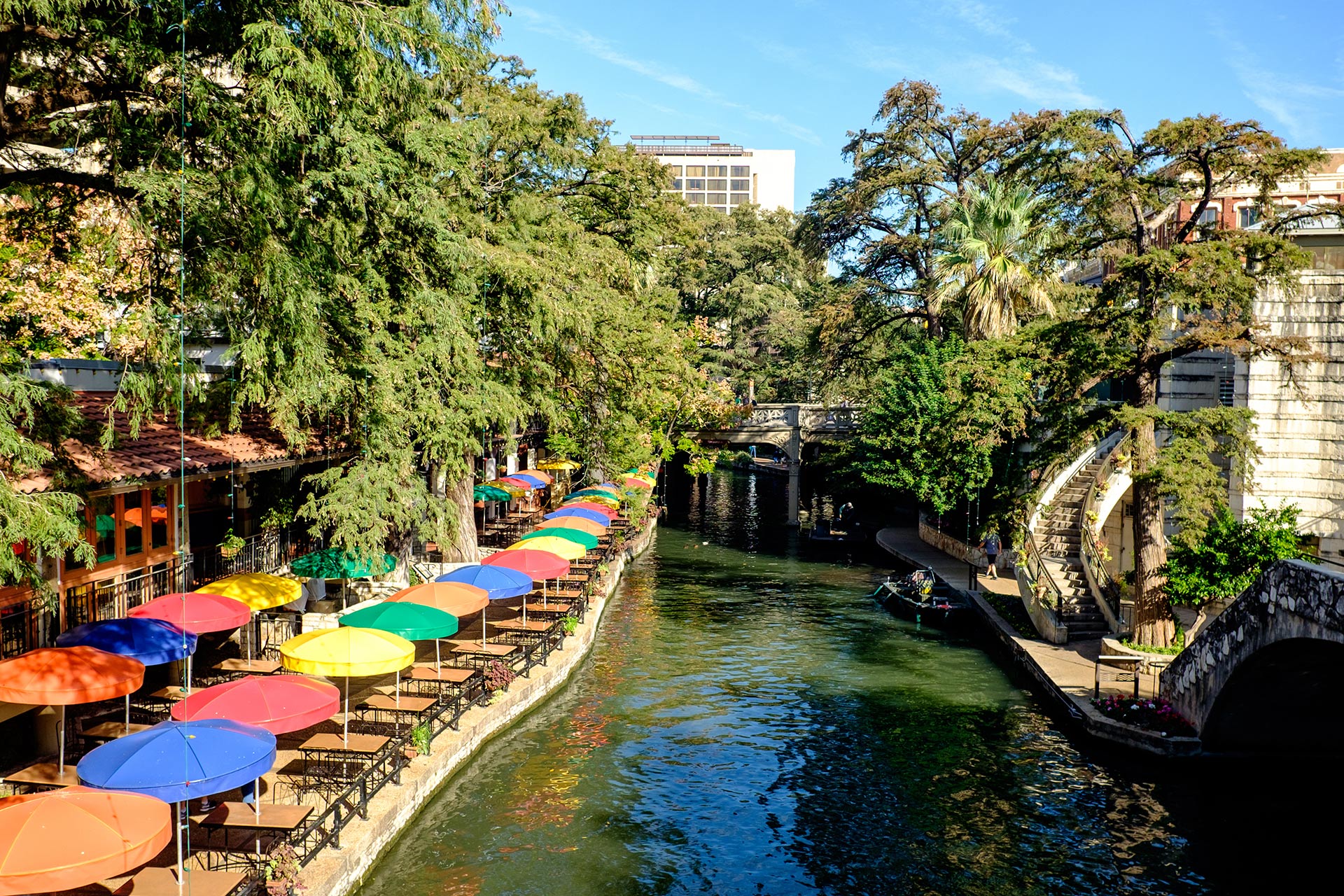 San Antonio
San Antonio is a fantastic destination for a short family vacation. Home of the Alamo and the famous River Walk, families will love the TexMex vibes in San Antonio. A visit to the Alamo is a great way to squeeze in a bit of culture and history to your getaway and then enjoy the shops, restaurants and guided river boat tours along the River Walk. See San Antonio Weekend Getaways for Families for more ideas.
Recommended Hotel: Embassy Suites by Hilton San Antonio Riverwalk-Downtown
Seattle
Seattle offers families plenty to see and do in a short getaway. Families will love to spend time exploring Pike Place Market, the iconic Space Needle and the ferry boats on Puget Sound. The seafood is excellent in Seattle, and you can even grab a cup of coffee from the world's first-ever Starbucks! See our Seattle Weekend Guide for more.
Recommended Hotel: Sheraton Seattle Hotel
San Diego
If you want to spend the day at the zoo during your short family vacation, head to San Diego! The iconic San Diego Zoo, located in Balboa Park (which is also worth a visit in itself with its 17 museums, playgrounds and trails), features tons of animals and special experiences. You can see the Animals in Action, where you can feed the flamingos, or the Sunrise Surprise Stroll, where you get to be the first at the zoo before it opens! For other can't-miss San Diego experiences, visit San Diego Weekend Getaways for Families.
Recommended Hotel: Park Hyatt Aviara Resort
Virginia Beach, Va.
Virginia Beach is a great destination for a quick beach getaway. Sure, families could easily spend a week here, but if you are short on time, a few days in the sand and ocean will work out nicely in Virginia Beach. Spend some time at the beach and then hit the amusements, carnival games, free concerts and water parks on the boardwalk. Check out more local ideas on Virginia Weekend Getaways for Families.
Recommended Hotel: Hilton Garden Inn Virginia Beach
Sandusky, Ohio
Amusement rides! What better way to spend a short family getaway then by roaring down a roller coaster, enjoying the quiet sights on a Ferris Wheel or carousel or screaming down a waterslide?! Sandusky, Ohio is home to Cedar Point Amusement Park, the second oldest amusement park in North America and considered the Roller Coaster Capital of the World. This is an ideal spot for a short family getaway in the summer. If you want even more getaway ideas in Ohio, see Ohio Weekend Getaways for Families.
Recommended Hotel: Kalahari Resorts & Conventions – Sandusky, Ohio
Santa Monica, Calif.
Your family will be in awe of the Santa Monica Pier during your short family vacation in California. Built in 1909, the California landmark looks over the Pacific Ocean and offers families roller coasters, bumper cars, games and of course, the iconic Ferris wheel and Santa Monic Loof Hippodrome (aka carousel) that is now a National Historic Landmark. The street performers in nearby Venice Beach and the beautiful California dreaming beach make Santa Monica ideal for a short family getaway.
Recommended Hotel: Shore Hotel
Bend, Ore.
Take the family outside on a short getaway to Bend, Oregon. This adorable and walkable town is the perfect place to explore for a few days. The year-round destination offers so many outdoor activities that your kids will love. There are numerous hiking and biking trails, where kids will find waterfalls, lakes and wildlife. Kayaking or tube floating down the Deschutes River is a local pastime that the whole family can enjoy. Mount Bachelor ski area is just 30 minutes outside of downtown Bend, too. No matter the time of year, Bend is beautiful for a family getaway.
Recommended Hotel: Riverhouse on the Deschutes
Our team of parents and travel experts chooses each product and service we recommend. Anything you purchase through links on our site may earn us a commission.