In the pages of popular children's books and teen novels, you can practically escape to the destinations described… or you can literally visit them. Bring your family's favorite classics to life in these iconic destinations, some of which offer attractions dedicated to the beloved characters and story lines.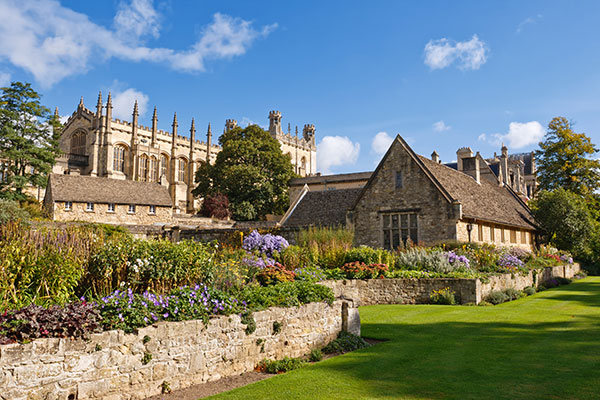 1. "Alice in Wonderland" – Oxford, England
While the dining hall at Oxford's Christ Church College inspired the one seen in the Harry Potter films, Lewis Carroll's inspirations for "Alice in Wonderland" are even more prevalent. Families can stroll the grounds to see the White Rabbit's Door and Cheshire Cat's Tree. The Story Museum also celebrates Alice's Day in July, with a Caucus Race, Mad Hatter Tea Party and more. Alice's Shop is worth a stop, too, with unique souvenirs and trinkets.
2. "Anne of Green Gables" – Prince Edward Island, Canada
Prince Edward Island hardly seems real in "Anne of Green Gables," but it is, indeed, a must-visit destination in Canada. Plus, many attractions pay homage to the book, such as Anne of Green Gables Museum at Silver Bush, Green Gables Heritage Place, Avonlea Village and L.M. Montgomery's Cavendish Home. Other highlights include Anne & Gilbert – The Musical and an L.M. Montgomery Festival in July.
3. "Harry Potter" – London
Of course, much of the Harry Potter series takes place in and around London. Tower Bridge and Buckingham Palace are featured in "Harry Potter and the Order of the Phoenix" during the character's journey to 12 Grimmauld Place (thought to be at Claremont Square, N1), and Harry learns he is able to talk to snakes at London Zoo's Reptile House. The famous 9 3/4 Platform at King's Cross Station and Warner Bros. Studio Tour London — where you can see the actual movie sets — are not to be missed either.
Related: 5 Ways to Explore Harry Potter's Britain
4. "James and the Giant Peach" – New York City
In Ronald Dahl's "James and the Giant Peach," a young boy dreams of New York City… and eventually gets there when his home — that giant peach — is impaled by the Empire State Building. After his journey ends, James resides in a home in Central Park. Visit both landmarks, along with the Statue of Liberty, where The Gloworm, a friend of James, illuminates the monument in the book.
5. "Madeline" – Paris
"In an old house in Paris that was covered with vines, lived twelve little girls in two straight lines." Experience the City of Light like Madeline does, with visits to the Eiffel Tower, Notre Dame and Opera House. Stop at Pont Neuf for a photo opportunity, too… but don't fall off like Madeline does in the second book! And while you won't see her actual home (it's fictional), you will see many houses that resemble it.
6. "Winnie the Pooh" – East Sussex, England
While Winnie the Pooh — a real bear — has origins in Winnipeg, Canada, A.A. Milne's classic tales take place in England's Ashdown Forest, otherwise known as The Hundred Acre Wood. The park offers two trails on which families can explore the actual sites mentioned in the books, including the Heffalump Trap, the Lone Pine and Eeyore's Sad and Gloomy Place.
More From Family Vacation Critic:
11 Real-Life Disney Movie Destinations
12 Places Kids Should See Before They Grow Up
Our team of parents and travel experts chooses each product and service we recommend. Anything you purchase through links on our site may earn us a commission.