All-inclusive resorts provide a value vacation to families. With one price, families can stick to a budget and pay for accommodations, meals, entertainment, attractions and more, all in one. The following are some of the most popular destinations in which to find all-inclusive resorts:
CARIBBEAN
Anguilla: All Inclusive Family Resorts in Anguilla
East of Puerto Rico, Anguilla offers plenty of lodging options, from small retreats to grand resorts, many of which are located on the beach. However, all inclusive resorts are not located on this island, but hotels do offer packages to make your stay as inclusive as possible.
Antigua: 8 Best All Inclusive Family Resorts in Antigua
Antigua combines mountainous terrain, rainforest foliage, desert land and the Caribbean Sea, making it a downright stunning destination to visit with your family. It also offers several all-inclusive properties that entice families even more.
Aruba: 8 Best All Inclusive Aruba Resorts for Families
Many Americans go to Aruba because it feels like home in the Caribbean. You'll find chain restaurants, brand-name stores, casinos and many people who speak English. Of course, you'll also find beautiful beaches and expansive resorts, many of which are all-inclusive or offer all-inclusive packages.
Bahamas: 6 Best All Inclusive Bahamas Resorts for Families
The Bahamas is comprised of 30 inhabited islands (and 670 non-inhabited) and offers resorts worthy of a family vacation, particularly since some of them offer all-inclusive rates.
British Virgin Islands: Best All Inclusive British Virgin Islands Resorts for Families
The British Virgin Islands are one of the most beautiful destinations in the Caribbean, and especially suited for families looking to spend time on the water. A sailor's paradise due to the multiple small islands and crystal-clear waters, resorts in the islands are situated on sugar-sand beaches and surrounded by tropical foliage.
Costa Rica: 10 Best All Inclusive Costa Rica Resorts for Families
Costa Rica is known for its lush tropical setting, with the sounds and sights of wildlife surrounding guests as they make their way to the clear blue waters of the Pacific Ocean. The Central America country is home to a plethora of hotels and resorts that range from small boutique and family-owned properties to expansive resorts with multiple pools and kid-friendly programs.
Curacao: All Inclusive Family Resorts in Curacao
Curacao is a combination of Europe and the Caribbean. You'll hear Dutch, English, Portugese, Spanish and English spoken as you and the kids stroll past the brightly colored buildings in Willemstad, or the beaches and nature preserves in Christoffel National Park. There aren't any authentic all-inclusive resorts in Curacao, but a few resorts offer inclusive or all-inclusive packages to take much of the planning out of your visit.
Dominican Republic: 10 Best All Inclusive Dominican Republic Resorts for Families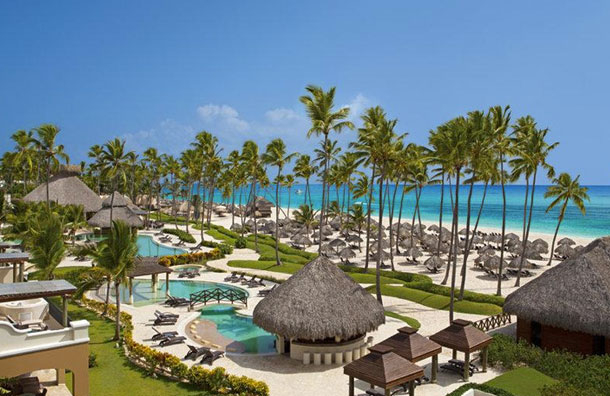 Accommodation options abound throughout the Dominican Republic. From beachfront resorts in Bavaro to upscale hotels in Punta Cana, families can easily find all-inclusive, kid-friendly resorts that fit their budget and idea of the ultimate vacation.
Jamaica: 10 Best All Inclusive Jamaica Resorts for Families
In the Caribbean, Jamaica could be the "King of All-Inclusive Resorts." The island, a popular vacation destination for couples and families, offers a wealth of all-in-one accommodations, from big names like Beaches and IBEROSTAR, to gems like Jewel Runaway Bay and Jewel Dunn's River Beach Resort & Spa.
Puerto Rico: All Inclusive Puerto Rico Resorts for Families
Puerto Rico's beautiful climate is just as inviting as Mexico and other parts of the Caribbean, but families traveling from the U.S. rejoice at the fact that passports aren't required. Although there aren't any "real" all-inclusive resorts, these offer meal plans and packages that will make your family vacation even more relaxing.
St. Lucia: 9 Best All Inclusive Family Resorts in St. Lucia
The tropical island of St. Lucia, located in the Caribbean, is best known for its mighty Piton Mountains and gorgeous resorts on the beach. The island doesn't have many all-inclusive resorts, but many properties offer all-inclusive packages.
Turks & Caicos: Best All Inclusive Resorts in Turks & Caicos
Turks & Caicos is one of the most popular destinations for families, with most electing to stay in Providenciales, or "Provo." There are all-inclusive resorts and partially inclusive resorts here, where activities, amenities and breakfast are included, but you may have to cover additional meals and drinks. Some hotels add packages to make their resorts more inclusive, as well.
U.S. Virgin Islands: All Inclusive USVI Resorts for Families
The U.S. Virgin Islands namely comprise St. John, St. Croix and St. Thomas, all of which are popular vacation destinations and cruise ports. Each island offers beautiful beaches, top-notch resorts, outdoor sports… and a chance for Americans to vacation without passports. The USVI only offer three all-inclusive resorts, but each of them features a beachfront location, swimming pools, water sports, restaurants and all the necessities needed for a carefree getaway in the Caribbean.
MEXICO
Cancun: 7 Best All Inclusive Cancun Resorts for Families
Cancun may be known as a spring break party destination, but the bustling city nestled on the Caribbean Sea is filled with family-friendly resorts, many of which are all-inclusive. Direct flights to Cancun are plentiful, and resorts are just minutes away, making the destination easy for families to visit.
Cozumel: 5 Best All Inclusive Cozumel Resorts for Families
A small island just 12 miles off the coast of Playa del Carmen in Riviera Maya, Cozumel is a popular destination for families who want to feel more secluded in Mexico. The island is a port stop for many cruise lines sailing the Caribbean, and families may first fall in love with the island on a quick visit and return to truly enjoy its spoils. All-inclusive resorts are limited here, but our favorites are perfect for families.
Los Cabos: 6 Best All Inclusive Los Cabos Resorts for Families
Some may hear Cabo San Lucas and think of a party destination, but the city and surrounding Los Cabos area are relaxing Pacific Coast retreats that welcome families. Here, rocky and mountainous coastlines surround resorts nestled along private stretches of sand. Some of the best resort options for families are all-inclusive.
Puerto Vallarta: 7 Best All Inclusive Puerto Vallarta Resorts for Families
Looking for an all-inclusive resort in Puerto Vallarta, located on Mexico's Pacific Coast? From Puerto Vallarta to Nuevo Vallarta to Riviera Nayarit, this area of Mexico is a popular destination for families, featuring a number of all-inclusive properties that cater to parents and children.
Riviera Maya: 16 Best All Inclusive Riviera Maya Resorts for Families
Riviera Maya is one of the best destinations in Mexico for families. Just 45 to 90 minutes from Cancun International Airport, it is generally quiet and calm, yet filled with all-inclusive, beachfront resorts catering to families. Here, the sand is white and soft, the sea is turquoise, and Mexico's ancient culture can be explored in the nearby Mayan ruins and cenotes.
RELATED LINKS
10 Best All Inclusive Caribbean Family Resorts for 2016
10 Best All Inclusive Mexico Family Resorts for 2016
10 Best All Inclusive Family Resorts in the U.S. for 2016
All Inclusive Family VacationsAll Inclusive Family Resorts
Our team of parents and travel experts chooses each product and service we recommend. Anything you purchase through links on our site may earn us a commission.