What's better than a Brazil beach resort? An all inclusive Brazil beach resort. Consider a stay at one of these all inclusive resorts in Brazil for families, where everything is covered in nightly rates — from the luxurious accommodations to the jaw-dropping views.
Written by Amanda Geronikos
1/8
Club Med Itaparica
If you're looking for the ultimate Brazilian beach resort, look no further than
Club Med Itaparica
, only accessible by boat from Salvador de Bahia about an hour away. Once your family reaches the all inclusive Brazil resort, you'll be treated to world-class amenities, including kids' clubs for children ages 4 to 17, water sports, pools, and the brand's signature trapeze and circus activities -- fun for the whole family. Also included in rates are delicious meals, including buffets for breakfast, lunch and dinner.
What's more is the resort's 334 bungalows, located along a tranquil river that runs through the resort. Can you say relaxing?
2/8
IBEROSTAR Bahia
Popular in Mexico and the Caribbean, IBEROSTAR"s all inclusive resorts can also be found in Brazil. Of course,
IBEROSTAR Bahia
offers all the amenities for which the brand is known, including specialty restaurants, swimming pools, children"s programming, entertainment, and lux accommodations (which include family-specific rooms). It also offers the same promotions and packages offered at other properties. But our favorite feature at this all inclusive Brazil resort may be the location on the beach and near the Atlantic Forest, full of lush vegetation, lakes and wildlife.
3/8
IBEROSTAR Praia do Forte
Another IBEROSTAR property in Brazil, this one is also the newest, having debuted in 2008. Situated on the beaches of Praia do Forte,
IBEROSTAR Praia do Forte
features several restaurants serving local delicacies, children's activities, sparkling pools and a spa that's not to be missed. Families can choose between Double Rooms, Junior Suites, or, if you really want to splurge, Presidential Suites.
4/8
Mabu Thermas & Resort – Foz do Iguassu
The 5-star
Mabu Thermas & Resort Iguassu
is an all inclusive Brazil resort for those seeking a family-friendly trip to the Iguassu Falls. "Mabu Thermas" gets its name from the nearby Guarani Aquifer, the world"s largest subterranean water reservoir. Guests can take a soothing dip in the three heated swimming pools that are sourced from this reservoir. The pools are open 24-hours and one has a waterslide: every kid"s dream come true.
Behind the hotel is a large park with activities for the whole family, from soccer and volleyball to tennis and fishing in the lake. The fitness center faces the pools, so you can keep an eye on the kids while working out. The staff leads activities throughout the day and into the evening, for both young kids and teenagers. Options include paintball, archery, and zip-lining.
The resort offers a restaurant and a piano bar with nightly live entertainment. The full-service spa offers hydromassage, beauty and massage treatments. The 208 guestrooms come with air conditioning, LCD cable TV, mini-bars, and internet access.
5/8
Salinas do Maragogi All Inclusive Resort
Salinas do Maragogi All Inclusive Resort
is one of the best all inclusive resorts in Brazil for families, with Clubindo do Siri, a kids' club for children as young as 4; babysitting services; and several pools to enjoy (not to mention a beach just steps away). Better yet, kids ages 12 and under stay free with a paying adult!
Other perks for families at this Brazil vacation resort include family suites that fit five people (and provide privacy), a spa, and additional activities such as water sports. We also recommend a beach tour to explore the EIGHT beaches that make up the coast of Maragogi.
6/8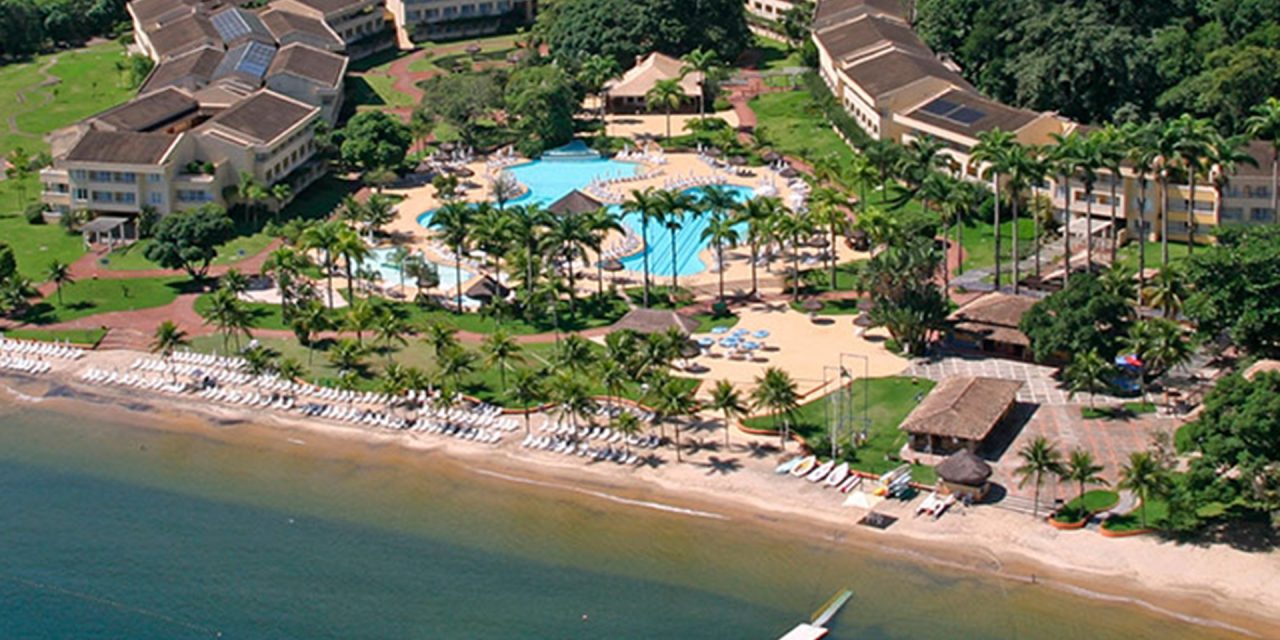 Vila Gale Eco Resort
Another beautiful all inclusive resort in Brazil,
Vila Galé Eco Resort
is located in the bay of Ilha Grande near Angra dos Reis, and is surrounded by subtropical Atlantic rainforest, calm seas, palms, and beautiful beaches. The waters by the Eco Resort are a transparent blue, inviting you to dip your toes in and leave your cares by the shore. Just 90 miles from Rio de Janeiro, Angra dos Reis makes for a quiet getaway spot.
The Vila Galé was once a farmland, and some of the original buildings and hundred-year-old palm trees are still intact. There are 319 guestrooms, with sea, mountain, or garden views. Each is decorated with wood furniture, and has air conditioning, a private balcony, cable TV, desk, sofa, digital safe, telephone, spacious bathtub, mini-bar, and goose-down pillows and blankets.
Choose from several restaurants and bars -- there"s everything from sushi to a cocktail at the Blues & Soul bar. There is a business center, conference room, fitness center, tennis and volleyball courts, and Satsanga Spa -- with sauna, tropical shower, hot tub, Shiatsu, and massage treatments. Internet is available throughout the hotel.
Kids will love the water park and can join the kids' club for recreational activities like nature walks, games in the pool, music and dancing, and crafts. The calm waters of the ocean are ideal for small children. Thoughtful amenities for parents include a feeding room with microwave, fridge, milk, cookies, and bottle sterilizer. There is also a playroom and nursery, plus a restaurant menu geared for kids" appetites. Babysitting services are available.
7/8
Porto Seguro Praia Resort
One of the best Brazil vacation resorts happens to also be an all inclusive hotel! A family vacation at
Porto Seguro Praia Resort
includes all meals, a kids' club (divided by ages 5 to 7 and 8 to 13), playground, tennis courts, pools, live entertainment and even zip-lining! And while the all inclusive Brazil resort isn't right on the beach, it's just across the street, a short walk away.
8/8
Grand Palladium Imbassai Resort & Spa
Like IBEROSTAR, Grand Palladium is a well-known name in Mexico and the Caribbean, in addition to Brazil. This property,
Grand Palladium Imbassai Resort
, is an exceptional all inclusive beach resort in Brazil, especially for families. The resort features Baby Club for ages 1 to 3, Mini Club for ages 4 to 12, and the "Black and White" Teen Club for teens ages 13 to 19. The pools are also a hit with kids, and often play host to organized games and other activities.
The hotel has a total of six restaurants -- three of which are themed (Brazilian, Japanese and Hindu) and three of which offer buffets, perfect for picky eaters. It also has 13 bars and a spa for parents to enjoy.
Our team of parents and travel experts chooses each product and service we recommend. Anything you purchase through links on our site may earn us a commission.