Taking a cruise with kids ensures a memorable family vacation, whether you book an interior cabin to save money or decide to throw down roots in a standard balcony stateroom. But some cruise ship family cabins elevate the vacation at sea to something far more grandiose, photogenic, and jaw-dropping.
In these cruise ship family cabins, you'll enjoy extra space in which to spread out, amazing amenities, stellar views, and in some cases, exclusive access to luxuriously private areas of the ship.
1. Royal Caribbean's Symphony of the Seas – Ultimate Family Suite
This vibrantly colorful family cabin is an epic two-level suite that overdelivers on Royal Caribbean's trademarked thrills and chills at sea promise. Inside this cruise ship cabin for families is an in-suite slide; massive LEGO construction wall; a private cinema room with the latest gaming consoles, life-sized Connect Four and other old-school gaming tables (who's up for air hockey and Ping-Pong?); a full-size whirlpool on the balcony, and the best combo views of the ship and sea found anywhere on the Symphony of the Seas.
As if the room itself isn't enough, guests staying in the Ultimate Family Suite also receive a red carpet arrival and a complimentary personal Royal Genie. That's a crew member who will coordinate surprises for everyone in your own crew, from front-row seats to theatrical performances to out-of-this-world excursions.
2. Carnival Vista-Class Ships – Family Harbor Staterooms
Nearly one million kids cruise Carnival every year, enjoying Hasbro The Game Show, rated-PG comedians in the Punchliner Comedy Club, epic waterslides and so much more. When those lucky kids get to stay in nautical-themed Family Harbor Staterooms on Vista-class ships (Vista, Horizon, Panorama and coming soon, Mardi Gras), their vacation at sea is even more fun. The Family Harbor cabins sleep up to five guests, have two bathrooms, and crucially, offer exclusive access to the Family Habor Lounge, a private area stocked with big HD TVs, video games, breakfast, and snacks throughout the day.
3. Norwegian Encore – Family Oceanview with Large Picture Window
Bigger than most New York City apartments, this expansive, forward-facing cabin on the glimmering new Norwegian Encore fits families comfortably for a cruise of any length. After a day of go-kart racing, laser tag and water sliding over the ocean blue, kids can stretch their growing legs while chilling out on the large picture window seat, kick back and watch a movie on the massive flat-screen TV, relax on the sofa, or play hide and seek in the enormous closets and storage (possibly the biggest at sea!) while mom soaks in the tub (that's right, a bathtub!) in the oversized bathroom. Best of all, this cabin is not considered a suite, so budget-conscious families can afford to get the space they crave at sea!
4. Princess Cruises – Family Suites
By cruise ship standards, and even when compared to most hotels on dry land, the two-bedroom family suites found on Princess cruise ships are downright massive. Accommodating up to a whopping eight family members, the cabins have a queen and a pair of twin beds, two bathrooms (one with a walk-in shower, the other with a tub/shower combination), and an oversized living room. Three TVs in total are in the family suite, along with a large closet, a desk, plenty of drawers, a couple of sofas (each doubling as additional beds), and an expansive private balcony with seating for six. While staying in a family suite, you and your kids will be living, and sailing, like royalty on Princess.
5. Disney Fantasy and Dream Suite
Catering to the family cruise market is what Disney does best, and its cabin options reflect this commitment—see the bath and a half inside most all staterooms. Additionally, more than 70 percent of staterooms on both the Dream and Fantasy feature outdoor verandahs and of those that don't, nearly all offer ocean views, some using the Magical Porthole. This piece of Disney innovation gives little kids and their favorite mouse-eared grown-ups a glimpse at the outside world with the appearance of a porthole in which you'll see animated characters popping up to say hello!
With 500 connecting doors and connected verandah cabins, families can choose multiple rooms and still be together, or opt for one of the 21 suites on decks 11 and 12. These well-appointed upscale family cabins each have two bathrooms, one of which has a whirlpool bathtub and a TV built into the mirror for mom and dad to properly unwind after a blissfully exhausting day of doing everything or absolutely nothing. Kids may not appreciate the marble finishing, thread counts, or the finer touches of a Disney suite, but we guarantee they'll find the walk-in closets a fun play area and enjoy the 42-inch HD flat screen TV and Blu-ray player, as well as the Wave Phones to communicate with each other inside and out of the cabin. These suites are truly the most magical cabins at sea.
Related: 5 Ways to Stay Connected on a Cruise Ship
6. Royal Caribbean Oasis of the Seas – Ultimate Panoramic Suite
The $16-million amplification of Oasis yielded many family-friendly results—the AquaTheater and Ultimate Abyss dry slide chiefly among them, as well as the Ultimate Panoramic Suite. This dreamy cabin features the same 200-degree views that the Captain enjoys from the bridge, with windows that are wall-to-wall and floor-to-ceiling. Those epic pano sight lines are even available from the bubble bath oasis of your bathroom tub! This suite gives families over 900 square feet of space to spread out during their Royal Caribbean cruise vacation. The Ultimate deck 14 suites accommodate up to four, have a bathroom that itself is bigger than most cruise cabins, are stocked with upgraded amenities like L'Occitane toiletries, and have premium bedding, complimentary VOOM Wi-Fi, complimentary specialty dining, and exclusive private access to specific areas of the ship and private islands. Speaking of the AquaTheater, there are suites bearing that name with a pair of bedrooms, a massive living room, and two bathrooms.
7. Norwegian – The Haven Family Villa
Available on nine Norwegian ships, these two-bedroom family villas with a balcony are located in The Haven, the ship within a ship area that's reserved exclusively for Haven guests. The villas offer roughly 600 square feet of space spread out over an oceanview master bedroom featuring a king-size bed and private bathroom that has both a tub and separate shower, and a second bedroom with a sofa bed for two and its own bathroom. There's also a living room and dining area with an additional single sofa bed. For families of four, five, or six that are cruising Norwegian, the Haven Family Villa, with its refined decor and ample space, plus the 24-hour butlers, private dining, and courtyard with pool, is impossible to beat.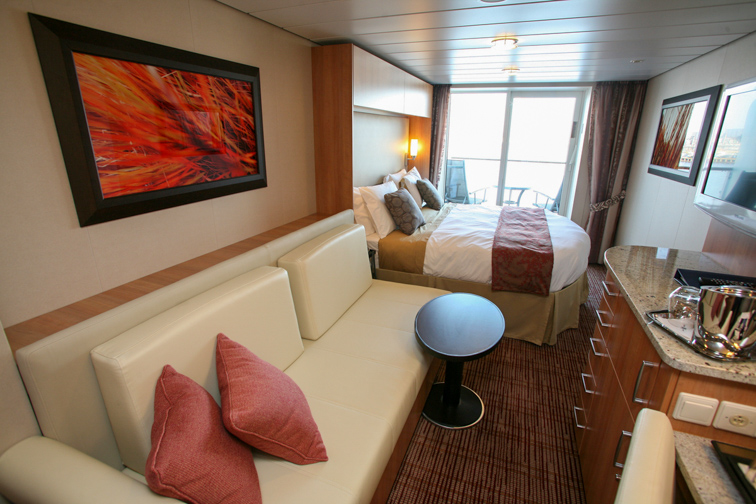 8. Celebrity Solstice-Class Ships – Family Veranda Stateroom
Families cruising with Celebrity are going into the experience expecting a certain level of sophistication and class. The Solstice-class ships deliver that plus an incredible amount of space in the Family Veranda Staterooms. Measuring 575 square feet, this family cabin can easily be the happy home at sea for up to six thanks to two bedrooms, a living room with at least one pullout sofa, and that private veranda advertised in its name. The only knock on these fine digs is the lone bathroom with just a shower. That seems lacking, but on the plus side, the ability to connect to adjacent ocean view cabins is a neat twist that can add to the max capacity for larger families cruising together.
9. MSC Meraviglia – Super Family Plus Balcony and Deluxe Suite
As a family-owned company, MSC takes special care to tailor the onboard experience for families, making accommodations that suit the individual needs of families regardless of size and age of children. On Meraviglia, a combination of connected staterooms are used—under titles like Super Family Plus Balcony and Family Ocean View—to provide groups with the beds, bathrooms, sight lines and space required to ensure every member of every family enjoys their cruise vacation. Fitting up to nine guests, the Super Family Plus Balcony uses a pair of balcony cabins plus an interior stateroom, all connected with adjoining doors to be as close or apart as you wish! Meanwhile, the ship's Duplex Suite gives families of five or fewer total members a memorable two-deck-high cabin experience. On the main level there's an open living and dining room with a sofa that converts to a double bed, while upstairs is the master bedroom's king-size bed.
10. MSC Seaside – Grand Suite
The Grand Suite on the MSC Seaside is as advertised: grand, indeed! This two-bedroom family cabin has a king bed in the master bedroom and pair of twin beds that can convert to a queen, plus a single pullman bed, in the second bedroom. There are two bathrooms allowing your kids to have their own shower, while you enjoy the choice of a relaxing hot shower or a long warm soak in the tub. There's plenty of space for your stuff as well as for your family in this oversized cruise ship cabin. The walk-in closet is impressive as is the family room with sofa and seating for five. But the real star is the balcony with stellar ocean views and enough seating for everyone to truly relax and get away from the crowds on the public decks.
Jeff Bogle lives in the suburbs of Philadelphia with his two teen daughters, two cats, one dog and six (yes, six) guinea pigs. He is an award-winning photographer and respected travel journalist with bylines on Reader's Digest, Good Housekeeping, PBS, Esquire and more. Jeff (probably) spends too much time in England watching football and far too many hours plotting his family's future travel adventures. Find Jeff on his own site, Out With the Kids.
What to Pack for Your Next Trip
For info on these editor-selected items, click to visit the seller's site. Things you buy may earn us a commission.
Our team of parents and travel experts chooses each product and service we recommend. Anything you purchase through links on our site may earn us a commission.