We're not talking theme parks here, where a giant mouse or killer whale reigns supreme. We're talking about our favorite parks offering those thrilling roller coasters that make us shriek, scream and sometimes even cry when we're done loop-de-looping and plummeting 100 stories at breakneck speeds. Got thrill-seeking kids? These parks won't disappoint!
1. Busch Gardens at Tampa Bay, Florida, & Williamsburg, Virginia
Whether you visit the Florida or Virginia locations of this seekers of thrill rides will not be disappointed. In Tampa, seven super fast, super high and super curvy coasters are available for the choosing, as well as a couple of junior coasters for the budding thrill seekers, and breathtaking water rides. In Virginia, five coasters will hurl you through the park, including the 205-foot diving "Griffon."
Nearby Hotels: Intercontinental Hotel Tampa or Great Wolf Lodge Williamsburg
2. Cedar Point, Sandusky, Ohio
One of the largest amusement parks in the world based on number of rides and roller coasters — 75 rides and 17 coasters! — visitors will twist, turn, drop, plunge, loop, swing and race until their racing hearts' content. Try "Maverick," with a 400-foot-long tunnel; the 40-story-high "Top Thrill Dragster" with a 420-foot-tall tower; or the consistently top-ranked steel "Millennium Force."
Nearby Hotel: Castaway Bay Resort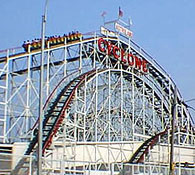 3. Coney Island, Brooklyn, New York
We've included the legendary Coney Island just a train's ride from New York City to the list because a visit to one of the country's oldest amusement parks is as crucial as visiting Wrigley Field or the Empire State Building during one's lifetime. Coney Island's famed coaster is the Cyclone, and old-fashioned wooden coaster that will take you for a spin, again and again and again. The Cyclone has been producing screams since 1927.
Nearby Hotel: New York Marriott Marquis
4. The Boardwalk at Hersheypark, Hershey, Pennsylvania
We suppose Hershey may be counted as a "theme" park with its attractions centered around Hershey Chocolate and its candy factory tour, but it's still unique enough to fall into our category of amusement parks for featuring seven "aggressive" thrill rides, as well as four other levels of coaster rides. While the Sooperdooperlooper holds the title as the first looping coaster on the Easter Coast, the park is also friendly to height challenged youngsters who are tired of being turned away from rides. Water rides, family rides and kiddie rides makes this a thrilling park for all ages.
Nearby Hotel: Hotel Hershey
5. Islands of Adventure at Universal, Orlando, Florida
Even before Harry Potter and his wizarding world descended upon Universal's Islands of Adventure, this park has been a hit with the 'tween and teen crowd too bored with the "kiddie" rides at the other Orlando theme parks (in their words, not ours!) Feel the Hulk's rage as you speed from 0 to 40 in two seconds on the Incredible Hulk Coaster, or dog another coaster as you wind together in the Dragon Challenge, or get over your fear of heights in Doctor Doom's Fearfall (well, maybe not). While the scream-inducing rides are here, so are the more family- and tot-friendly rides, so all ages can enjoy a day at the park.
Nearby Hotel: Nickelodeon Family Suites
6. Kings Island, Mason, Ohio
I remember driving from Illinois to Ohio as a roller-coaster-loving 'tween to ride its famed "Beast," the world's longest wooden roller coaster in the world (7,400 feet!) that spreads out across 35 acres of woods. From the moment we arrived, beast footprints led the way and I was nothing but excited. It was also the first park where I road on a looping coaster while my legs dangled beneath me over the towering trees. The park continues to intoxicate thrill seekers with inversions, suspensions, catapults, high speeds and dizzying heights, such as the "Xtreme Skyflyer" where you'lll "hang glide%22 from 153 feet at 60 miles per hour.
Nearby Hotel: La Quinta Inn & Suites Cincinnati Sharonville
7. Knott's Berry Farm, Buena Park, California
With Snoopy serving as the face of Knott's Berry Farm, you may be under the impression that this amusement park is for the younger kids. Sure, they are surrounded by a host of cartoon characters and can enjoy rides specifically targeted toward toddlers and grade-schoolers, but the thrills can be found at this park — America's first theme park. (The park opened just outside Los Angeles in 1920.) You'll flip your lid on "Rip Tide," where at 59 feet into the air you'll be turned head over heels, and the "Scream Swing" brings kids to heights you cannot fathom in it enormous 70-foot swing, and then strap in for a 254-foot drop on the "Supreme Scream."
Nearby Hotel: Anaheim Crowne Plaza Resort
8. Six Flags, Nationwide
No matter where you live, a jaunt on the fear-inspiring roller coasters of a Six Flags park is easy to come by. California, Georgia, Illinois, Kentucky, Maryland, Massachusetts, Missouri, New Jersey, New York or Texas — pick your poison. Time and again, rankings of America's best roller coasters turns up results specifically at the Six Flags Great Adventure (New Jersey), Six Flags Great America (Chicago) and Six Flags New England (Massachusetts), so if you can trek to one of these parks, you'll encounter some of the fastest and highest coaster rides.
Nearby Hotels: Check out Family Vacation Critic for hotels near the park of your choice.
Read more on Amusement Park Vacations, and for other fun getaways, check out:
Our team of parents and travel experts chooses each product and service we recommend. Anything you purchase through links on our site may earn us a commission.