Buying your child a pair of earphones ensures you don't have to listen to Baby Shark on repeat. But it's important to distinguish which kids' headphones are safest for developing ears.
Jill Lowther, doctor of audiology at Audiological Consultants of Atlanta, tells us that "because children's ear canals are smaller than adults', sound arriving at a child's ear drum will be louder than the same sound that arrives at an adult's ear drum. In infants, this difference can be as much as 20 decibels." Dr. Lowther adds that volume is only one piece of the puzzle. "Safe exposure isn't just about how loud, but also how long. For young ears, it's best to keep the volume under 80 decibels—a generally accepted safe listening level."
With these learnings in mind, we've chosen the best kids headphones for all ages.
1. Best Kids Wireless Headphones for All Ages: JBL Kids Headphones
Not only do the JBL Kids Headphones max out at 85 decibels, but they also come in a variety of bright colors with the option to add stickers! The soft, padded headband ensures kids can listen to their favorite tunes, movies and books in comfort, too.
2. Best Kids Headphones for Babies: Baby Banz Earmuffs
Baby Banz Earmuffs are the best noise-cancelling headphones for babies, blocking out harmful noises and protecting little ears. They also have soft padding, yet they aren't too bulky for baby. As your baby grows, he or she can wear these to sporting events and airports to avoid loud noises.
3. Best Kids Headphones for Toddlers: JLab JBuddies Kids Headphones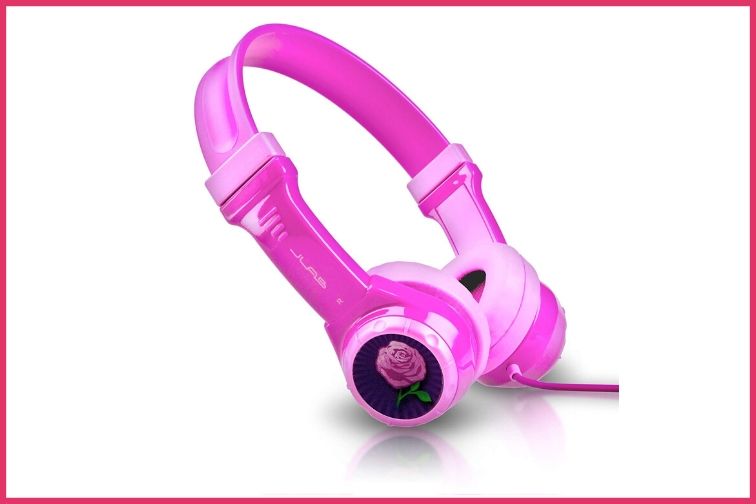 We love the pinch-free hinges that keep your toddler's fingers safe as they adjust (and re-adjust, as little kids do) the JLab JBuddies Toddler Headphones. These small, over-ear headphones for toddlers are easily adjustable, and the headband allows for the perfect fit for children as young as 2 years. And because the volume is capped at 85 decibels, these kids' earphones are an excellent first pair for your traveling toddler.
4. Best Kids Headphones for Toddlers and Little Kids: CozyPhones
CozyPhones are super-soft and washable, and thanks to an ingenious design, sensitive kids don't have to to deal with the weight of bulky headphones or the uncomfortableness of ear buds sticking in their ears. CozyPhones are also safe for children, as the volume of these kids' headphones is maxed out at 90 decibels. Plus, they're just plain adorable, with unicorn, Paw Patrol, and other animal designs.
5. Best Kids Headphones for Little Kids: RiBox Cat Ear Bluetooth Headphones
We love these Bluetooth headphones for kids, which feature glittering prismatic LED cat ears! The charming design will make almost any young person happy, and with a maxed out volume of 85 decibels, parents can rest assured their kids' hearing won't be negatively impacted. But the coolest thing about the RiBox Cat Ear Bluetooth Headphones is that they're also wired, so if the battery-enabled wireless mode runs out, or if your kiddo wants to watch a movie on a plane, you can also plug in using the included braided audio cable.
6. Best Kids Headphones for Big Kids: LilGadgets Connect+ Headphones
First and foremost, the LilGadgets Connect+ Headphones are extremely comfortable to wear for extended periods of time, fold up neatly, and come with a handy traveling pouch. Secondly, the Connect+ tech is super cool. There's a SharePort allowing multiple people to share audio without a splitter—the hardest part will be getting your kids to agree on a movie, TV show, or music playlist! Finally, the sound is 'adult-worthy' quality, yet it's limited to a 93-decibel max to help protect growing, but still-little ears. Bonus: A portion of each LilGadgets headphones purchase goes towards bullying prevention and awareness in schools through partner organizations.
7. Best Kids Headphones for Big Kids: Elecder i39 Headphones with Microphone
The Elecder i39 Headphones with Microphone are ideal for big kids who love to play video games with their friends online. The comfort, flexibility for travel, easy storage, and low price point of these over-ear headphones make them a favorite with big kids.
8.

Best Kids Headphones for Tweens:

LilGadgets Untangled Pro Premium Bluetooth Headphones
The LilGadgets Untangled Pro Premium Bluetooth Headphones score big for reliable connectivity, a beefy battery life of 12 hours, and a generous range of up to 30 feet. While the volume is A-grade, it still maxes out at 93 decibels for safety. Some of the best kids' Bluetooth headphones on the market, these also come with a SharePort, allowing siblings to share the Untangled Pro Premium's Bluetooth connection and watch their favorite movies on road trips, flights, or at home on the sofa while you prepare dinner in peace.
9. Best Kids Headphones for Tweens:

iClever Kids Headphones
The iClever Kids Headphones work equally well plugged into a phone while on a plane as they do at home in front of a PC playing Fortnite with friends. The cushioned adjustable headband, tangle-free wire, and extremely durable construction make these iClever headphones very clever, indeed. You'll also be happy to know the volume is capped at 94 decibels, and that they cost less than $20.
10.

Best Kids Headphones for Teens:

Sony Kids Headphones
Strong sound performance, minimalist design, eight-plus hours of battery life, and generous wireless connectivity range—all at a fair price for a name-brand—make the Sony Wireless Bluetooth Earbuds our favorite for teenagers. Bluetooth earbuds connected by a short wire that goes around the back of their neck means you can remove one earbud to ask about their homework progress or remind them to clean their room without that other earbud going missing (we're looking at you, overpriced AirPods). While teens rarely talk on the phone anymore, the microphone for hands-free calling and voice assist on these Sony Bluetooth earbuds are value-added bonuses.
11.

Best Kids Headphones for Teens:

COWIN E7 Pro Active Noise-Canceling Bluetooth Headphones with Microphone
Sleek and handsome, these over-ear bluetooth headphones have a reliable, great sounding microphone with hands-free controls and 45mm large-aperture drivers, giving your teen deep, accurate bass response to make their music sound incredible. When listening between 75 to 85 decibels, the COWIN E7 PRO headphones provide crisp, powerful sound and absolute quiet, making them some of the best noise-cancelling headphones for kids. A strong 30-hour battery life on a full charge means your teenager will get a lot of mileage from their earphones, even if they do routinely forget to plug them in.
Jeff Bogle lives in the suburbs of Philadelphia with his wife, two daughters, and three cats. He is an award-winning photographer and respected travel journalist with bylines on Reader's Digest, Good Housekeeping, PBS, Esquire and more. Jeff (probably) spends too much time in England watching football and far too many hours plotting his family's future travel adventures. Find Jeff on his own site, Out With the Kids.
Our team of parents and travel experts chooses each product and service we recommend. Anything you purchase through links on our site may earn us a commission.