No matter what kind of family vacation you're heading out on, you'll need a multi-pocket travel jacket to corral the long list of must-have essentials that we parents bring on vacation. Lightweight, stylish outer layers that have multiple places to tuck away your passport, smartphone, water bottle and kids' snacks make traveling with your gang that much easier. Even better are ones that offer hidden pockets to keep cash and credit cards secure. Here's our list of the nine best multi-pocket travel jackets for moms and dads.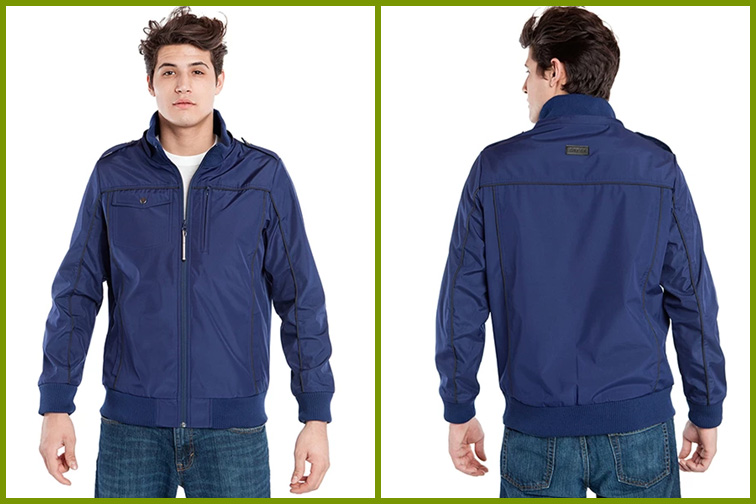 1. BauBax Multi Pocket Travel Jacket
Designed to keep stylish parents super organized, the BauBax Bomber 2.0 Multi Pocket Travel Jacket makes chaotic vacations a breeze, which is probably why the men's travel jacket is the highest crowd-funded fashion item. It features about 20 useful features, including an integrated eye mask, inflatable neck pillow and footrest, built-in fleece-lined gloves, neoprene-lined drink pocket, telescopic pen and stylus, earphone and sunglass holders, bottle opener, tablet pocket, and more. With a detachable hood and a breathable shell, this BauBax jacket takes you through any kind of weather. It's available in four styles for both men and women in multiple colors. Reviewers note that this slim-fit jacket runs small, so you may want to order a size up.
2. Tag Safari Jacket for Women
Let's face it: Moms carry everything their children can possibly need while travelling, and then some. Crafted in Africa, the Tag Safari Jacket for Women is not only ideal for adventurers and photographers, but its multiple button-down pockets also make it the right choice for moms. Relaxed and breathable, this 100-percent cotton jacket has a belted waist and cross-stitched epaulettes so you can keep a handbag, pair of binoculars or diaper bag securely fastened if you're also carrying a child (or two!). Layer it over a T-shirt, and if the weather turns warm, you can easily roll up the sleeves. This lightweight women's travel jacket works well while hiking or fishing.
3. SCOTTeVEST Men's Convertible Tactical Travel Jacket & Vest
With its 25 pockets and tons of useful features, the SCOTTeVEST Men's Convertible Tactical Jacket & Vest will likely become your go-to piece of clothing. Made from a Teflon-treated cotton-blend, this men's travel jacket can withstand anything your kids can (and probably will) throw at it. There are several secure, hidden RFID pockets to store your passport and credit cards, plus clear touch pockets that let you see and use touchscreen devices without taking them out of your pockets. The multi-pocket travel jacket also has an eyeglass cleaning chamois, detachable key chain, and water bottle. There's even a network of hidden conduits to keep tangled wires organized. Flying from snow into the sun? You can quickly remove the zip-off sleeves and convert the jacket into a practical vest. Store the sleeves in a large zippered back pocket⁠—genius!
4. BOMBAX Multi Pocket Women's Travel Jacket
Billed as a 16-in-1 travel jacket, the BOMBAX 10 Pocket Women's Hoodie has you covered for whatever you need while you're on the go. The practical hidden pockets—one of which is water-resistant—easily stash sunglasses, a phone, tablet and passport, and the multi pocket travel jacket also includes a detachable neck pillow, eye mask, hand warmers, built-in fingerless gloves, change pocket, earphone holder, pen and microfiber cloth. There's also a portable charger pocket and stand-up drink pocket. This heavy-weight zip-up sweatshirt will keep you warm on freezing flights, and if your child spills something on you, you can simply toss the cotton-polyester jacket into the washing machine.
5. CAMEL CROWN Men's Waterproof 3-in-1 Ski Jacket
When you need a convertible men's travel jacket that's warm, windproof and waterproof, grab the CAMEL CROWN Men's Waterproof 3-in-1 Ski Jacket. Ideal for outdoor hiking or skiing in frigid or rainy temperatures, this multi pocket travel jacket is also stain-repellent. The military-grade Teflon outer shell and removable inner fleece men's travel jacket can be worn separately or together, making this a great four-season option. Available in black or Army green, this multi pocket travel jacket has five pockets in the outer shell and two secure ones in the fleece part, plus a supporting hole for your earphones.
6. Jenkoon Women's Anorak Utility Jacket Vest
Useful when hiking or chasing toddlers at a theme park, the Jenkoon Women's Anorak Utility Jacket Vest can be thrown over a long-sleeve T-shirt or heavier sweater depending on the weather, while providing four deep front pockets to stash juice boxes, tissues, wet wipes and your phone. Available in a variety of colors, this cotton-polyester hooded travel vest has an adjustable drawstring waist and snap button closure. Because you can toss it in the washing machine, it's practical for moms on the go.
7. SCOTTeVEST Chloe Glow Multi Pocket Travel Jacket
Form-fitting and cozy, the SCOTTeVEST Chloe Glow hoodie is great for when you want to leave your purse at the hotel. With 18 internal pockets, you can literally wear everything you need to bring for the day, and it's the perfect airport jacket that lets you breeze through security as soon as you take it off. Featuring smart, athletic styling and made of quick-dry fabric, the women's hoodie includes cuff-gloves for your hands, plus an eyeglass cleaning chamois, detachable key chain and water bottle holder. This machine-washable sweatshirt runs small, so if you like your jackets roomy, order a size up. SCOTTeVEST's patented Weight Management System ensures the right balance across your jacket to keep things comfortable, too.
8. Wantdo Women's Mountain Ski Fleece Jacket
For frosty ski vacations, you'll want a multi pocket travel jacket that can help you face the elements. The Wantdo Women's Mountain Ski Fleece Jacket is wind and waterproof, and features a warm liner crafted with polyester fiber designed for maximum heat retention. Available in five colors, the jacket has adjustable cuffs and storm hood, plus an internal drawstring hem to keep out the wind, and a stretchy glove with thumb hole to keep fingers toasty warm. Several zippered pockets keep your belongings secure as you attack those moguls, and an earphone line inside the jacket will let you listen to tunes with one ear while keeping tabs on the little ones with the other.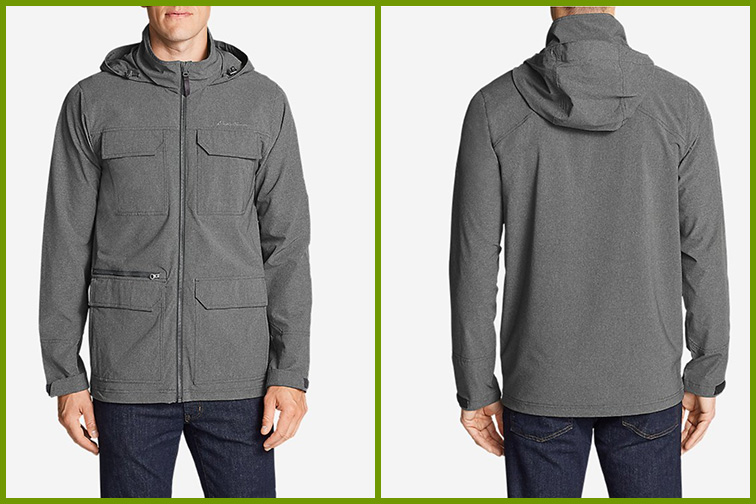 9. Atlas Stretch Hooded Jacket
Available in five colors, the lightweight Atlas Stretch Hooded Jacket features an athletic fit and space to store tons of travel necessities, either in one of the seven exterior pockets or in a zippered inside pocket. Featuring a nylon/spandex soft shell, it's stretchy enough for hiking or chasing your kids around a theme park. When temperatures drop or you're caught in a light rain, pull up the hood, which can be rolled away when you don't need it. Reviewers note this men's travel jacket is particularly great for tall guys. Layer it over a fleece or wear it on its own, and you'll be covered for your whole trip. Bonus: You'll get the Eddie Bauer product guarantee with this multi pocket travel jacket.
Montreal-based Wendy Helfenbaum is a journalist, content strategist and TV producer who writes for dozens of digital and print magazines, as well as many brands. Wendy loves cruising, adventure travel and venturing off the beaten path with her husband and teenage son, and she can pack a carry-on bag like nobody's business. Follow her @WendyHelfenbaum.
Our team of parents and travel experts chooses each product and service we recommend. Anything you purchase through links on our site may earn us a commission.