For animal-loving families, the highlight of a vacation is a close, yet fun encounter with their favorite critters. At these resorts located across the U.S., Caribbean, Central America and Africa, families meet regional animals, learn about their behaviors and habitats and, in many cases, interact with them. Consider one of these resorts that get you close to animals for your next family vacation.
1. Four Seasons Jackson Hole – Jackson Hole, WY
Jackson Hole's panoramic vistas of snow-capped mountain peaks set against blue skies define the legendary landscape of a Wyoming vacation. But that's just the background. To really explore the West, you need to view the region's animals, a special treat for city slicker families.
On a custom, four-hour wildlife safari led by a naturalist and offered year-round via Four Seasons Resort at Jackson Hole, families ride in an SUV equipped with Swarovski spotting scopes and binoculars. As you traverse must-see landmarks, such as Grand Teton National Park, Bridger Teton National Forest and the National Elk Refuge, your guide talks about the region's history and geology while everyone searches the fields, woods, mountainsides and rivers for bison, bears, elk, moose, bighorn sheep, bald eagles, otters and trumpeter swans. Kids can use the items in the adventure pack they receive for the outing to collect animal skulls, claws and scat.
You might also spot wildlife while skiing and snowboarding during the winter or hiking the parks in the warmer months. The Four Seasons Resort at Jackson Hole offers upmarket accommodations in 106 guestrooms, 18 suites and 32 private residences, many with cozy fireplaces.
2. Omni Cancun Hotel and Villas – Cancun, Mexico
Families don't have to go far to find wildlife at the Omni Cancun Hotel and Villas—turtles come to the resort's shores from May to September to lay their eggs. For that reason, the hotel focuses on conservation initiatives. The all-inclusive, luxury hotel also features several pools, onsite restaurants, and a spa. Guests stay in traditional rooms, suites, and even villas with kitchens.
3. Occidental at Xcaret Destination – Playa del Carmen, Mexico
Scarlet macaws, flamingoes, white-tailed deer and parrots are some of the animals that inhabit Occidental at Xcaret, a 760-room, all-inclusive resort in Mexico's Riviera Maya. The animals make strolling the grounds fun, especially when a parrot greets you with a chirpy "Hola!" To see more tropical creatures, head to popular Xcraret Park, an eco-adventure park adjacent to the resort. The Occidental has its own entrance to Xcaret and the hotel frequently offers discounted park admission.
At Xcaret, you'll get close to sea turtles, meet tapirs, view bats in a cave, admire jaguars and pumas, see manatees and swim with dolphins or sharks. You'll also get an underwater view of a reef with Sea Trek or Snuba (neither of which requires diving certification). With Xcaret next door, it's easy to come back to the hotel for an afternoon swim and then return to the park for evening entertainment.

4. South Seas Island Resort – Captiva Island, FL
Discover Florida's sea creatures during a vacation at South Seas Island Resort. On beach walks, especially along Sunset Beach and South Beach—known for the thousands of shells brought in with the waves—imagine the critters that once inhabited these shells while collecting your own beach souvenirs.
On Captiva Island, several easy eco-adventure outings bring you close to wildlife. For more shelling and bird watching, cruise to nearby Cayo Costa Beach, a part of Florida's state park system. On a 90-minute boat cruise through Pine Island Sound, you're likely to spot dolphins arcing through the water, "riding" the boat's waves.
Dedicated to marine conservation, the Sanibel Sea School, located at the South Seas Island Resort, offers a variety of hands-on workshops for children, teens, adults and families. The programs range in length of time from 30 minutes to all day. At the one-and-a-half-hour "Creature Feature," kids focus on one sea animal. Budding marine biologists ages 6 to 13, teens, and adults can select from more than 30 courses focusing on fiddler crabs, frigate birds, fish, dolphins, mangroves, manatees and more. During the workshops, you'll spend most of the time in the field snorkeling, seining, canoeing and examining finds. Families can also opt for a private session on a topic of their choice.
The 330-acre resort, which includes a wildlife sanctuary, offers a variety of accommodations, from hotels to two- and three-bedroom condominiums and homes.

5. Robert's Grove Beach Resort – Belize
Reefs, rivers and rainforests abound in Belize, a haven for eco-adventures. Robert's Grove Beach Resort is situated in Placencia on Belize's southern peninsula. From there, day trips take you to Maya ruins, where you'll see rain forests, as well as many of the spectacular reefs that are part of Belize's portion of the second longest barrier reef system in the world. The resort's top-rated PADI dive center arranges both scuba and snorkel outings. On a snorkel outing to Laughing Bird Cave, you'll float above schools of rainbow-colored fish and get close to a big sea turtle who languidly surfaces nearby. For a special family getaway, stay overnight at Robert's Caye, the resort's 1-acre island, where sea stars and tropical fish are steps away from your beachside hammock.
Robert's Grove Beach Resort stretches across 22 acres, from the sea to the lagoon, a large estuary of mangrove-lined channels and wide bays. On boat trips through the lagoon to Monkey River, known for its troop of howlers, you're likely to see egrets, dolphins and even a manatee. In Placencia, choose from hotel rooms, as well as one- to three-bedroom units, a few of which have kitchenettes.
6. Gurney's Newport Resort and Marina – Newport, RI
The resident goats at Gurney's Newport Resort and Marina will be waiting to say hello when you arrive at the resort on Goat Island in Newport. When the resort opened, it was determined to have goats re-inhabit their namesake island and so Cornelia, Cooper and Henry moved in. The three young goats (two are twins and the third is their cousin) are named after the Vanderbilt family. They live in a replica Newport Mansion in a secluded area of the property and are treated like the most VIP of all the Newport families. The goats go on daily walks around the property, several times a day, where they get to sniff and explore all that Gurney's has to offer. If you spot them on a walk, be sure to stop and say hello.
Once you're willing to leave the goats, spend some time at the outdoor and indoor pools at Gurney's. There is a seasonal kids' club and complimentary bicycles to explore downtown Newport, and the beach is not far away, either.
7. Disney's Animal Kingdom Lodge – Orlando, FL
Experience a piece of Africa in Orlando at Disney's Animal Kingdom Lodge. The lodge features African-inspired architecture, including thatched ceilings, large beams and real African artifacts, and the landscape design, with indigenous African shrubs and grasses, resembles the grasslands of the Serengeti. With special alcoves, glass windows and balconies in select guestrooms, you'll be surprised by up-close wildlife at every turn throughout the resort, including a wide variety of exotic animals, such as Sable Antelope, Waterbuck, Okapis, Wildebeests, Ostriches, African Spoonbills and Pink-Backed Pelicans that roam free on the 21-acre wildlife preserve. Kids will also enjoy seeing more familiar friends such as giraffes, zebras, hogs and birds.
Another highlight for guests at Animal Kingdom is the Wanyama Safari, led by African wildlife specialists. The tour is offered daily, though reservations are required and best made ahead of time. This is a property where it is worth your dollar for a room with a balcony or at least a view of the surrounding lush tropical savannas.
When you're worn out from the theme park and activities with the animals, take a splash in the hotel's two huge pools, which include a zero-entry section and a waterslide. Mom and dad will enjoy the two hot tubs, and there's a small wading pool for wee little ones. And kids of all ages will enjoy playing at Uwanja Camp, an animal observation site-themed water playground. Simba's Clubhouse, a supervised activity center for children ages 3 to 12, will keep kids busy (for a fee) while parents relax or enjoy a grown-up night on the town. There are three restaurants on property, offering authentic African cuisine, as well as kid favorites; Boma is a family-favorite for breakfast.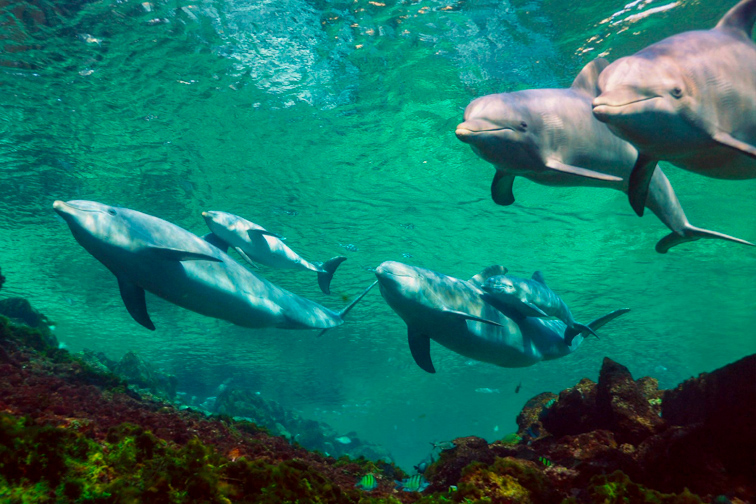 8. Hilton Waikoloa Village – Big Island, HI
At Hilton Waikoloa Village on Hawaii's Big Island, your family can enjoy a once-in-a-lifetime experience together: Dolphin Quest. The Quest, an interactive snorkel-and-swim adventure, is a guided sea adventure led by marine mammal experts who teach you about dolphins' interesting and intelligent characteristics, and take you snorkeling to see Hawaiian reef fish and sea turtles. To top it off, kids get a thrill on a water-scooter ride in the Hilton's own four-acre protected ocean lagoon. Through the Dolphin Quest, kids gain a personal appreciation for taking care of our oceans and its inhabitants, to preserve the well-being of future generations. The program is for ages 10 and up and is limited to five guests per group.
The huge Hilton resort houses 1,240 rooms on 62 acres surrounded by tropical plants and palm trees, and features endless fun activities for families, including three pools with lazy rivers, waterfalls, caves and a 175-foot waterslide. And it doesn't end there—the resort also features nine restaurants, a spa with children's treatments, hula and aqua-hula lessons, luau and dinner shows, a half-mile walking trail along the shoreline, boat rides, and Camp Keiki, a kids' camp for children ages 5 to 12, offered both day and night.

9. The Royal at Atlantis – Paradise Island, Bahamas
Because The Royal at Atlantis on Paradise Island in the Bahamas was inspired by the Lost City Under the Sea, you'll find endless opportunities to get in the perfect blue water. Along with multiple pools and man-made lagoons, Atlantis features one of the largest outdoor marine habitats in the world, with one that showcases more than 50,000 aquatic animals representing 250 species. Walk through a shark tunnel and watch the fierce animals zig-zag above your head. Ogle tanks of jelly fish, lobsters and piranhas and be mesmerized by colorful schools of parrot, butterfly and other tropical fish. Watch nurse sharks in the Reef Lagoon, sea turtles in the Hibiscus Lagoon and Southern stingrays in the Stingray Lagoon.
In Aquaventure, you'll also find 14-acre Dolphin Cay, where you learn about, touch and swim with dolphins. During a seven-hour Trainer for a Day Program, kids help to train the curious critters and assist a laboratory technician at the onsite veterinary hospital.
10. Gunflint Lodge – Grand Marais, MN
Gunflint Lodge, situated lakefront in Minnesota's Northwoods, lures families from mid-December to mid-March with dogsledding. Bundled in blankets, settle into your sled as a willing team of huskies and Malamute mixes pulls you through a fairy tale setting of frozen lakes and snowy trails edged by icicle-laced pine trees. During special dog mushing weekends, enjoy longer outings and hands-on time learning how to harness, handle and command the eager canines. Winter also brings naturalist-led wolf howlings—you howl in hopes the crafty critters howl back.
When not dogsledding, try ice fishing, cross-country skiing and snowshoeing. Sprinkle the free corn kernels outside your cabin and in the early evening, and watch deer munch on the treats. In summer, Gunflint morphs into a mecca for paddlers exploring the adjacent Boundary Waters Canoe Area Wilderness. As you glide across the lakes, keep a look-out for moose, beavers, otters and loons.
Gunflint Lodge offers 23 one- to four-bedroom cabins. With simple, but comfortable early American style beds and bureaus, and pine paneling and fireplaces, the accommodations exude a woodsy feel. However, don't confuse "simple" with "rustic." Most units come with full kitchens, washer/dryers, multiple bathrooms and saunas. Cook in or dine out at the lodge's two restaurants.

11. Half Moon – Jamaica
Half Moon , one of Jamaica's long-time luxury leaders, sprawls across 400 acres with lush landscaping, stables, tennis courts, a spa, an 18-hole golf course, scores of pools and 2 miles of beach. With so much land, the resort hardly ever feels crowded.
The Caribbean resort also features an Equestrian Centre. Families can enjoy a variety of activities with the horses. There are pony rides for young children, beginner riding lessons, private and polo lessons, and even un-mounted sessions where visitors can become familiar with horses and their equipment. The Turf and Surf experience is one of the most popular horseback riding experiences and includes a swim with the horses.
With no high-rise buildings, the rooms at this deluxe resort spread out in clusters. Standard accommodation options include hotel rooms and one- to two-bedroom suites, or you can rent a five- to seven-bedroom villa.
12. &Beyond Kirkman's Kamp – Kruger National Park, South Africa
A safari is the ultimate animal lover's dream. Watching a giraffe move languidly across a grassy plain, a herd of elephants munch tree branches, or a dazzle of zebra trot into the sunset are images you and your kids will remember forever.
Because &Beyond's Kirkman's Kamp in South Africa is private, rangers are allowed to drive off road and take guests out on night outings, two things that maximize your animal encounters. At night, you can more easily spot certain animals such as leopards (though we suggest this for families with teens). At Kirkman's Kamp, if the ranger sees a leopard slinking through the tall grass stalking an impala, he may drive the Land Cruiser off the dirt trail to follow her; the infrared lights on the vehicle allow guests to track the leopard without disturbing her hunt.
Kirkman's Kamp shares a border with the 26,000 acre Kruger National Park. The lodge is located high on a ridge and overlooks the Sand River. Often you can see giraffe, wildebeest and elephants from the main lounge or from a chair on your patio. Kids receive special packs with wildlife information, and the rangers show kids how the locals make fire by rubbing sticks together, as well as how to identify an animal by his or her droppings and foot prints.

13. Tortuga Lodge – Costa Rica
Getting to Tortuga Lodge, accessible only by small plane or boat, is an adventure itself. Take the boat ride one way so you can enjoy the wind-in-your-hair feel of the waterways and spot monkeys, sloths and herons along the way. Tortuga Lodge, located on Costa Rica's northwest Caribbean coast, occupies 146 acres of land within the Tortuguero Conservation Area, a region of canals and slow-moving rivers that reaches to the sea and contains the more than 51,000-acre Tortuguero National Park.
From the lodge's 26 rooms and penthouse suite, you often wake to the guttural calls of the howler monkeys scrambling in the branches overhead. On canal boat tours see turtles, lizards, river otters, toucans, parrots and other animals.
From July to October, you can go turtle-watching on Tortuguero Beach, part of the national park and an important nesting site for the endangered Atlantic green sea turtles. You will long remember the age-old ritual of a 300-pound Atlantic green sea turtle lumbering ashore, digging a nest, laying her eggs and then slowly returning to the water. Hatching season takes place from August through November and families can watch the baby turtles dig out of their nests and make their way to the water.

14. Hawks Cay Resort – Duck Key, FL
Hawks Cay Resort in the Florida Keys is home to a handful of dolphins that live at the resort. The dolphins, which may be the most cared for of guests at the resort, are free to swim away from the resort at any time, but choose to stay. Families will love to watch the dolphins swim and jump from an elevated boardwalk area not far from the pool. Or for families who want to get a closer look, they can experience the Dolphin Connection, which offers several different programs. Young children can watch the dolphins dockside, and older children can get in the water with them and/or become a trainer for the day.
Hawk's Cay also features five pools, a kids' club, game room and a saltwater lagoon with paddleboards and kayaks.
What to Pack for Your Next Trip
For info on these editor-selected items, click to visit the seller's site. Things you buy may earn us a commission.
Our team of parents and travel experts chooses each product and service we recommend. Anything you purchase through links on our site may earn us a commission.