When it comes to your child's safety, security and comfort, it's best to bring your own car seat wherever you travel—whether you plan to use it in your rental car or want to keep your child secure (and contained) on a flight.
But when it comes to choosing the right car seat for travel, there are several factors to consider.
Cup holders, hooks for trinkets and toys, and even play trays might be fun accessories for your everyday car seat back home. But the most important feature you should look for in a travel car seat is far more basic: ease of installation in every type of vehicle.
"The best car seats are ones that you feel confident installing securely every time," says Courtney Barry, Chicco's Child Safety Advocate.
"If you're using your car seat on the go, make sure you practice installation so you feel comfortable and confident securing your seat safely and accurately," says Barry. "That way, you aren't trying to figure out how to use it on the go."
Even in cars with lap belts only (hola, antique cars of Cuba!), car seats can be installed securely. "However, if you have a lap-only seat belt, you would not use a booster seat in that situation because a booster seat's job is to help make the child fit into a lap and shoulder belt."
This brings us to the point of the different car seat varieties out there, and how to make the right choice. These are the best travel car seats.
Best Travel Car Seats for Infants
Infant car seats are used beginning at birth and installed rear-facing. "Most children are in an infant car seat until around age one," says Barry. "Be sure to check your owner's manual for exact height and weight limits on your specific car seat before transitioning."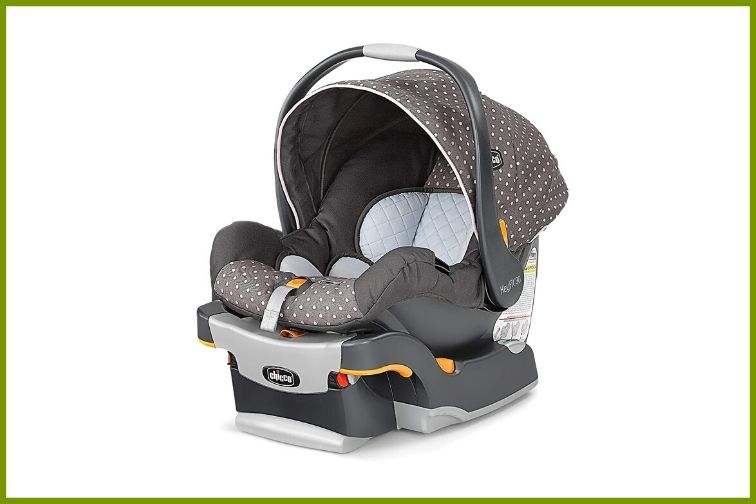 1. Chicco KeyFit 30 Infant Car Seat
Super easy to install securely, this infant car seat by Chicco made to carry infants from four to 30 pounds (and up to 30 inches in length) is a favorite with on-the-go parents. The seat has a spring-assisted leveling foot at the base and bubble-level indicators to help you ensure it's in exactly the correct position. You can adjust the five-point harness with a single hand for tightness. And a center pull adjustment strap makes sure the seat is tightly in place, too.
2. Doona Infant Car Seat and Latch Base Stroller
When is a car seat more than just a car seat? When it's a stroller, too. This little miracle worker by Doona goes from car seat to stroller in a flash, and then folds just as easily back down—wheels tucked under and all—so you can latch it into position as a car seat in the car. The fully integrated wheels mean that in about five seconds, you can go from car seat to stroller, making it especially ideal for city trips.
3. Graco SnugRide 35 Infant Car Seat
Designed for rear-facing infants weighing between 4 to 35 pounds and up to 32 inches in length, the Graco SnugRide 35 infant Car Seat is light and easy to carry. It can also adjust to six different positions in a snap, making it exceedingly adaptable on the go. There's an easy-to-read level indicator to let you know when it's perfectly positioned, along with a sunshade.
Best Convertible Car Seats for Travel
Convertible car seats come next, and are ideal travel car seats for toddlers, as they can be rear or forward-facing, depending on your child's height and weight. "Children should remain rear-facing for as long as possible to protect their head, neck and spine in the event of a crash," says Barry. "Once your child has reached the maximum height or weight limit for rear-facing use, you can turn the convertible seat forward-facing."
4. Chicco NextFit Zip Max Convertible
For the child who likes legroom, Chicco's newest NextFit model increases space to kick around by about 25 percent, thanks to the chair's positioning (that also lets your child stay in this convertible seat longer). Exceptionally easy to install and use, the seat can be used forward- or rear-facing and has a special force-multiplying latch tightener that makes it a cinch to secure the car seat base in your vehicle. In the forward-facing position, the seat can accommodate kids as heavy as 65 pounds.
5. Cosco Scenera NEXT Convertible Car Seat
Cosco's super-light car seats are a favorite with traveling families since they're so easy to throw on top of a stroller or roller bag and tote along on your travels. The Cosco Scenera NEXT Convertible Car Seat is certified for use on airplanes, too (a sticker on the side is a testament to that). Side impact protection built into the head rest and an easy-to-adjust five-point harness are other features parents love. Kids up to 40 pounds can be accommodated in both rear- and forward-facing positions, making it an ideal travel car seat for toddlers.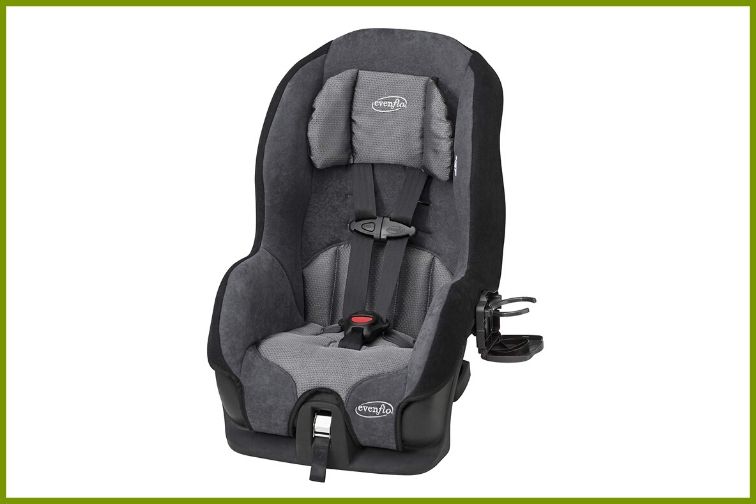 6. Evenflo Tribute LX Convertible Car Seat
Another strong contender in the compact and lightweight convertible car seat category, the Evenflo Tribute LX Convertible Car Seat has multiple shoulder harness positions that let it grow with your baby. Children up to 40 pounds can be supported with this car seat, and the easy-to-remove, machine-washable seat pad makes it easy to keep the car seat clean.
Best Portable Booster Seats for Travel
Built with older kids in mind, harness to booster car seats are next in line and use a five-point harness with higher shoulder straps than convertible car seats. "These seats offer added protection and security for little big kids that have outgrown their forward-facing convertible car seat but aren't quite mature enough for a belt-positioning booster," says Barry. "Once they are ready, the seat easily transitions to a belt-positioning booster."
Finally, there are booster seats, which come in high back and backless versions. "The high back booster seat is great for younger children who still fall asleep in the car, and also provides additional side impact protection," says Barry. "A backless booster seat is great for children who don't quite fit the seat belt and still needs a little 'boost.'"
7. Chicco MyFit Harness + Booster Seat
For kids who have outgrown their forward- and rear-facing car seats but aren't quite mature enough for a simple belt booster seat, the Chicco MyFit Harness + Booster Seat is a hybrid that offers added protection and security. The seat's five-point harness has higher shoulder strap slots so it can grow with your child. Once your child outgrows the harness feature (when they weigh around 65 pounds), your car's seat belt can be used with this seat, too (for kids up to 100 pounds). For as tall as the seat is, it's also surprisingly lightweight.
8. MiFold Grab and Go Booster Seat
Touted as the most advanced, compact and portable car seat on the market, the MiFold Grab and Go Booster Seat makes life easy when you're traveling with kids 4 and older who need to be in a booster seat. The seat is super easy to install and so small that you can just pop it into your handbag or even throw it inside a kid's backpack on the go. Even in the smallest back seats, up to three kids in a row can sit next to each other in these exceptionally compact contraptions.
9. BubbleBum Inflatable Backless Booster Car Seat
Parents swear by the BubbleBum. "It gets good safety ratings, it's easy to use and my daughter likes it," says Eileen Gunn of FamiliesGo!. The BubbleBum is conveniently inflatable, so it can pack down to next to nothing. When fully blown up, it's just 13 inches wide. The seat is designed for children ages to 4 to 11, weighing between 40 and 100 pounds.
10. WayB Pico Travel Car Seat
Weighing in at just 8 pounds, the WayB Pico Travel Car Seat is one of the most lightweight (and innovative) travel car seats on the market. It's also one of the most compact, seamlessly opening (and folding back down) in one swift movement. The included carrying bag allows you to wear the travel car seat as a backpack or tote, or simply hang it on your luggage. The WayB Pico Travel Car Seat is designed for kids over age 2, weighing between 22 and 50 pounds.
Longtime travel writer and adventurer Terry Ward lives in Florida with her husband and young son and daughter. She's constantly on the lookout for the next Scandinavia Airlines Kids Fly Free deal to save money on flights to Norway, her favorite place to visit both in the winter (Northern Lights!) and summer (Midnight Sun!). A travel writer since 2001 (read: long before the kids came along), she's written for such publications as Endless Vacation Magazine, Conde Nast Traveler and Scuba Diving Magazine, among many others. Find Terry on her website, Terry-Ward.com.
What to Pack for Your Next Trip
For info on these editor-selected items, click to visit the seller's site. Things you buy may earn us a commission.
Our team of parents and travel experts chooses each product and service we recommend. Anything you purchase through links on our site may earn us a commission.