A new year means resolutions, maybe a diet, and 52 more weeks for filling with family trips. And since 2021 is a leap year, we get an extra day to play with when planning vacations. Need some ideas for good places to go? These are our picks for the best U.S. family vacations in 2021.
(Want to plan an international family vacation? Check out our international family vacation picks for 2021.)
1. Park City, UT
Park City is a major skiing and snowboarding destination, with the largest lift-accessible ski terrain in North America. In 2021, kids (and other beginners) can get instructed on the basics at Park City Mountain's new High Meadow Park, a dedicated learning area with wide-open, gentle slopes, ideal for newbies. The new Woodward Park City indoor-outdoor action sports and ski resort includes Utah's longest snow tubing lanes, a range of trails for everyone from "never-evers" to halfpipe experts, and indoor and outdoor facilities for skateboarding, BMX, and scooter.
To see what winter sports are like at the next level, head to Utah Olympic Park, which was built for the 2002 Olympic Winter Games. The whole family can take a guided tour of the 400-acre venue, visiting sites like the world's highest Nordic ski jumps. Little kids can visit the playground and climbing structures at the Discovery Zone, while teens can zipline or try the ropes courses. Park City also offers plenty of fun at other times of the year, with all kinds of options for hiking, biking, and other outdoor activities.
Recommended Hotel: Waldorf Astoria Park City

2. Orange County/Hudson Valley, NY
Located 50 miles from New York City, Orange County is one of the 10 counties that make up New York's Hudson Valley region. It's also home to the new LEGOLAND New York Resort opening on July 4, 2020. The park will be the largest LEGOLAND has ever built, with more than 50 rides, shows, and attractions. Its exclusive LEGO Factory Adventure ride will feature first-of-its-kind technology that creates images of each individual rider in personalized LEGO form.
Beyond the theme park excitement, Orange County is home to farms that offer tours and other immersive experiences for young visitors; kid-friendly museums and attractions like the Trailside Museums & Zoo (featuring black bears and other mammals native to New York State); and historic sites like the United States Military Academy at West Point. It's also the only county in New York located between two rivers, meaning families can canoe and raft on the Delaware River or take a boat tour on the Hudson River.
Recommended Hotel: The Thayer Hotel
3. Plymouth, MA
This town located between Boston and Cape Cod celebrates the 400th anniversary of the Mayflower voyage and the founding of Plymouth Colony in 2020. There will be a slew of events to mark the occasion throughout the year, from an official maritime salute June 27 and 28 to concerts, a parade, and a festival around Thanksgiving. Living history museum Plimouth Plantation offers a look at what life was like for the Pilgrims, featuring costumed interpreters, heritage-breeds livestock, and a full-scale reproduction of the Mayflower (the ship that brought the Pilgrims to America) that will return to Plymouth in May after a major restoration.
In addition to soaking up the area's history, families can take a whale-watching or lobstering excursion, tour a cranberry bog, visit the petting zoo at the farm operated by the Sheriff of Plymouth County, and spend some time on the sand at Plymouth Beach. You can also take a fast ferry to Provincetown on the tip of Cape Cod, the site where the Pilgrims first landed before moving on to Plymouth. There's a monument commemorating that fact, offering dramatic views of the Cape.
Recommended Hotel: Hilton Garden Inn Plymouth

4. Branson, MO
This Midwest family-vacation mecca has a lot of new things on tap for 2021, including the opening of Payne's Valley, Tiger Woods's first public-design golf course named in honor of the late golfer and Ozarks native, Payne Stewart. Silver Dollar City theme park celebrates its 60th anniversary in 2020 with special events and the summer opening of its new Mystic River Falls family raft ride, which features the tallest drop in the Western Hemisphere and will be part of a new theme park area called Rivertown.
Also coming to Branson, Missouri, in 2021: the Aquarium at the Boardwalk. A giant faux octopus will drape over the entrance to the 46,000-square-foot aquarium, where families will find a Jellyfish Infinity Room, Mermaid Palace, underwater tunnels, and a simulated submarine adventure. And these new additions will be joining an already rich array of family-friendly sites and attractions such as the Branson Ferris Wheel, Branson Mountain Adventure Park, and Branson's Wild World.
Recommended Hotel: Thousand Hills Golf Resort

5. Colorado Springs, CO
Make for the mountains in Colorado Springs, where there's always something fun to do no matter the time of year. New attractions coming in 2020 include the Water's Edge: Africa exhibit at Cheyenne Mountain Zoo, which will be home to Nile hippos, African penguins, and lemurs. The U.S. Olympic & Paralympic Museum will also make its debut in 2020 and will be one of the most accessible and immersive museums in the world. Families can pair a visit to that new spot with a tour of the U.S. Olympic & Paralympic Training Center, where they can learn about the campus where elite athletes prepare for the global competitions.
The new Pikes Peak Summit House is expected to open by fall 2020. The 38,000-square-foot complex will include a new Summit Visitor Center designed to improve the experience of visitors who make it to the top of the 14,115-foot mountain by car, bicycle, or foot. (The Pikes Peak Cog Railway, which is undergoing multiyear repairs, won't reopen until 2021.)
Recommended Hotel: Great Wolf Lodge Colorado Springs
6. Nashville, TN
There's a lot happening in Music City in 2021, including the debut of the National Museum of African American Music, which will explore the intersections of more than 50 genres and subgenres of music. It's part of the buzzy new Fifth + Broadway development that will also include retail space and local dining options.
Special events and exhibits throughout the year at spots like the newish Tennessee State Museum will honor Tennessee's deciding role as the 36th state to ratify the 19th Amendment to the U.S. Constitution in 1920, giving women the right to vote. There's also plenty of girl power on display at the Country Music Hall of Fame, where the Taylor Swift Education Center hosts frequent family programs and exhibits showcase female trailblazers from Minnie Pearl to Dolly Parton. Tweens and teens will love watching retro-cool letterpress designs come to life at the neighboring Hatch Show Print. And if you opt to stay at the Gaylord Opryland Resort, the whole family can spend a day at the surprisingly stylish new SoundWaves indoor-outdoor waterpark, named one of the 12 Best Indoor Water Park Resorts for 2020.
Recommended Hotel: Gaylord Opryland Resort

7. Indianapolis, IN
Indianapolis will celebrate its 200th birthday in 2021 with special events and exhibits around the city. Kids will also appreciate the fact that the Children's Museum of Indianapolis is the world's largest children's museum! Spanning 481,000 square feet and 30 acres, the museum will open its Wild Weather exhibit in March 2020 and a new Barbie exhibit in May 2020. And the city's new Red Line bus system makes it easy for visitors to get from downtown to the museum's front door.
The 250-acre White River State Park—the only cultural urban state park in America—features plenty of green space plus attractions like the Indianapolis Zoo, which will open its Tembo Camp elephant exhibit Memorial Day Weekend 2020. Young history buffs can head to Conner Prairie, where they can experience what life was like in the 1800s, while little speed demons will want to visit the Indianapolis Motor Speedway and Dallara IndyCar Factory, where they can learn how the speedy vehicles are made.
Recommended Hotel: Courtyard by Marriott Indianapolis at the Capitol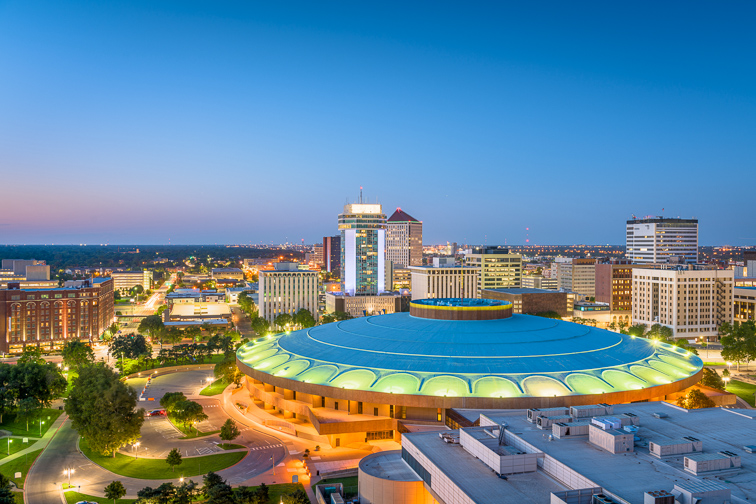 8. Wichita, KS
It'll be a big year for Wichita, Kansas, in 2020. The city will celebrate its 150th birthday with special events like a gathering of top athletes hailing from Wichita. It will also welcome a new Triple-A baseball team, the Wichita Wind Surge, an affiliate of the Miami Marlins that will play games at a new stadium built on the Arkansas River in downtown Wichita.
Botanica Wichita recently opened a restored historic carousel that was once at the city's former Joyland amusement park, which is part of the larger Koch Carousel Gardens project underway at the site. Wichita is also home to 144 parks, including O.J. Watson Park (which offers miniature train and pony rides) and Riverside Park (where there's an exhibit of Kansas wildlife). And the kids will love unique spots like the Museum of World Treasures and Pizza Hut Museum (the restaurant got its start in Wichita), as well as the nighttime spectacles at the Fountains at WaterWalk and Keeper of the Plains Plaza.
Recommended Hotel: Wyndham Garden Wichita Downtown
9. Hershey, PA
This oh-so-sweet Pennsylvania locale is the birthplace of the Hershey's chocolate company. Its Hersheypark, originally created as "leisure grounds" for employees of Hershey's Chocolate Factory, is now a major theme park that will be opening its new Hershey's Chocolatetown area in summer 2020. The $150-million addition will include the largest themed restaurant in Hershey, an ice cream parlor with "personal ice creamologists," and the Candymonium, which will be the tallest, fastest, and longest rollercoaster at the park.
When you've had enough thrills, take things down a notch by strolling through ZooAmerica, which spotlights animals and plants native to North America, and Hershey Gardens, where the Children's Garden features water misters shaped like Hershey's Kisses and the Butterfly Atrium houses dozens of rare butterflies. Hershey Trolley Works offers a Historical Trolley Tour of the area that includes, not surprisingly, chocolate samples. You can also invent the concoction of your dreams at Hershey's Create Your Own Candy Bar attraction.
Recommended Hotel: The Hotel Hershey
10. Catalina Island, CA
An hour's boat ride from Southern California, Catalina Island offers an idyllic escape for families. Its Hotel Atwater in Avalon recently reopened after a complete revitalization of the100-year-old property, and the Zane Grey Pueblo Hotel also underwent a recent refresh.
The Catalina Island Conservancy's new Trailhead site helps visitors explore its protected green spaces, providing info on hiking, biking, and camping on the island, as well bookings for Eco Tours. Other tour options on the island include Bison Expeditions to see the descendants of a herd left behind by a movie crew in the 1920s, glass-bottom boat tours, and zipline tours that allow kids ages 5 and up to strap in (younger kids go in tandem with an adult). Families can also create their own DIY adventures by renting a golf cart, kayak, or motorboat. There's good snorkeling at Lover's Cove and public beach options at South Beach, Middle Beach, and Step Beach in Avalon. During the summer, the city sets up an inflatable obstacle course at South Beach.
Recommended Hotel: Hotel Atwater
Beth Luberecki is a Florida-based freelance writer who writes about travel, business, and lifestyle topics for a variety of publications and websites. She enjoys exploring destinations close to home and farther afield with her husband and teenage daughter. Visit her website at bethluberecki.com or find her on Instagram at @bethluberecki.
What to Pack for Your Next Trip
Our team of parents and travel experts chooses each product and service we recommend. Anything you purchase through links on our site may earn us a commission.