Having fun while stomping through the snow is a terrific way for children to stay active in the fresh cold air. But dressing properly is the key to a whine-free experience, so make sure you pick up a sturdy pair of warm boots to keep kids' little feet cozy and dry this winter season. Look for sealed seams, thick lining and rugged soles for footwear that will last all season and could even be handed down to younger siblings. Here are our picks for the best waterproof winter boots for kids.
1. DREAM PAIRS KSNOW Insulated Waterproof Snow Boots
For cold-weather climates, grab these DREAM PAIRS KSNOW Insulated Waterproof Snow Boots, which have a toasty Thermolite insulation rating for temperatures that drop to -25 Fahrenheit. The side zipper and one-pull adjustable bungee lacing system make it simple to get ready in the morning and the boots are high enough so that snow won't get inside. The waterproof rubber soles mean your child won't barge inside after five minutes in the snow complaining that their feet are cold and wet. Available in toddler to big kid sizes and in nearly two dozen colors, these affordable waterproof winter boots for kids are functional and stylish.
2. SOREL Children's Yoot Pac Nylon Snow Boot
From its sealed seams to its thick recycled felt inner boot, you can trust the expert craftsmanship evident in the SOREL Children's Yoot Pac Nylon Snow Boot. Designed for very active kids who enjoy sledding, making snow angels, or snowmobiling, these mid-calf boots come in a range of sizes for preschoolers through elementary kids. A show cuff ensures small feet stay nice and warm, plus they're easy to pull on and less bulky than most heavy winter boots. Bonus: This pair will also likely last long enough to pass down to another child.
Related: 12 Best Snow Sleds for Kids 2021/2022
3. Bogs Kids Classic 4-H Boot
The waterproof Bogs Kids Classic 4-H boots are perfect for splashing around in sidewalk puddles. A convenient pull-on design means your child can easily slip them on and off by themselves and the MaxWick™ footbed is moisture-wicking, eliminating the uncomfortable sweaty feeling that can sometimes come with winter boots. A non-slip rubber outsole gives these boots a solid grip for all-day play.
4. Merrell Kids' Snow Crush 2.0 Boot
Parents love the quality of a Merrell Kids' Snow Crush 2.0 boot because a child with warm feet is a happy child. A waterproof upper and up to 400g of lightweight insulation keeps feet dry and warm in temperatures that dip to a chilly -25 Fahrenheit. The adjustable toggle closure makes for easy on and off plus a snug fit, so boots won't come off when stepping in deep snow. These flexible, medium-weight boots offer superior traction thanks to a non-slip rubber sole.
5. ArcticShield Kids Waterproof Winter Snow Boots
Lightweight, cute, and toasty warm, ArcticShield Kids Waterproof Winter Snow Boots are available in pink with black or royal blue with black. A waterproof shell can withstand whatever slushy fun your child gets into during wet, snowy, or muddy conditions. A smooth zipper front closure lets young kiddos slide their feet in and out easily with no tantrums (well, one can always hope!), and slip-resistant rubber soles help keep children upright on patches of ice.
Related: The 9 Best Outdoor Blankets
6. KEEN Kid's Lumi Boot II WP
If you're looking for kids winter boots built to withstand frigid northern temperatures that plunge to -40 Fahrenheit, try on these KEEN Kid's Lumi Boot II WP, which come in two colors. Featuring a durable waterproof coating, these boots for kids are ideal for serious winter fun. A padded tongue and collar, cushioned footbed, plus a waterproof, breathable membrane keep feet dry and comfortable. The adjustable hook-and-loop lace system provides a snug fit, yet the boots are easy to put on and take off quickly.
7. ICEFACE Kids Winter Snow Boots
With its one-pull bungee lace-up system, sealed seams, and adorable faux-fur styling, ICEFACE Kids Winter Snow Boots are great for rainy or snowy days, plus they're made with eco-friendly material. With seven bold color choices and sizes for toddlers through big kids, you can pick up a pair for each of your children. The rubber sole offers extra traction, and fur insulation inside keeps toes from getting cold. These run a tad small, so size up if your child is in the middle of a growth spurt.
8. UGG Kids' K Butte II CWR Snow Boot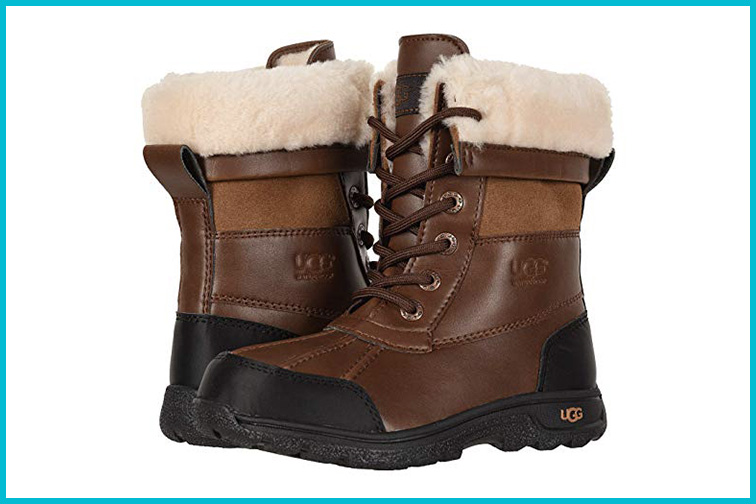 Looking for super stylish leather and suede kids winter boots that look just like yours? Slip your child's feet into these UGG Kids' Butte II CWR Snow Boots. These high-tech boots feature everything you love in your UGGs: a plush, pure wool insole and lining, molded rubber, flexible anti-slip soles, and plenty of Thinsulate insulation for icy temperatures. The waterproof leather and suede styling make these boots durable and beautiful.
Related: The 10 Best Fleece-Lined Leggings for Fall
9. Crocs Kids' Lodgepoint Snow Boot
Could these Crocs Kids' LodgePoint Snow Boots be any cuter? We don't think so. A foam-cushioned base is super comfy for little feet, and the Velcro closure means you won't have to help your kid put on or take off these boots. From toddlers to big kids, these fashionable waterproof winter boots for kids come in navy, slate gray or ice blue, for those who'd like to match Elsa, but not at all feel frozen when outside.
10. ALEADER Kids Waterproof Winter Snow Boots
Who doesn't love boots that feel like a duvet for your feet? Your little one will love these mid-length ALEADER Kids Waterproof Winter Snow Boots, which feature a durable nylon upper, and a soft cotton fleece lining inside. The lightweight ergonomic rubber sole ensures good grip while walking to school or playing outside, and seams are sealed so no slushy water gets in. These boots are a breeze to pull on and off, and are available in black and royal blue, in sizes for toddlers through older children.
Montreal-based Wendy Helfenbaum is a journalist, content strategist and TV producer who writes for dozens of digital and print magazines, as well as many brands. Wendy loves cruising, adventure travel and venturing off the beaten path with her husband and teenage son, and she can pack a carry-on bag like nobody's business. Follow her @WendyHelfenbaum.
Our team of parents and travel experts chooses each product and service we recommend. Anything you purchase through links on our site may earn us a commission.