Whether you want to introduce your child to a Disney musical, a classic tale, a show with a moral conscience, a production that will teach kids about American history, or you simply want them to experience Broadway for the first time, we have the lowdown on what to see. We've broken down our list of the best Broadway shows for kids by age group, so you can make the right choice based on your child's age and maturity level. These are the best Broadway shows for kids in 2019.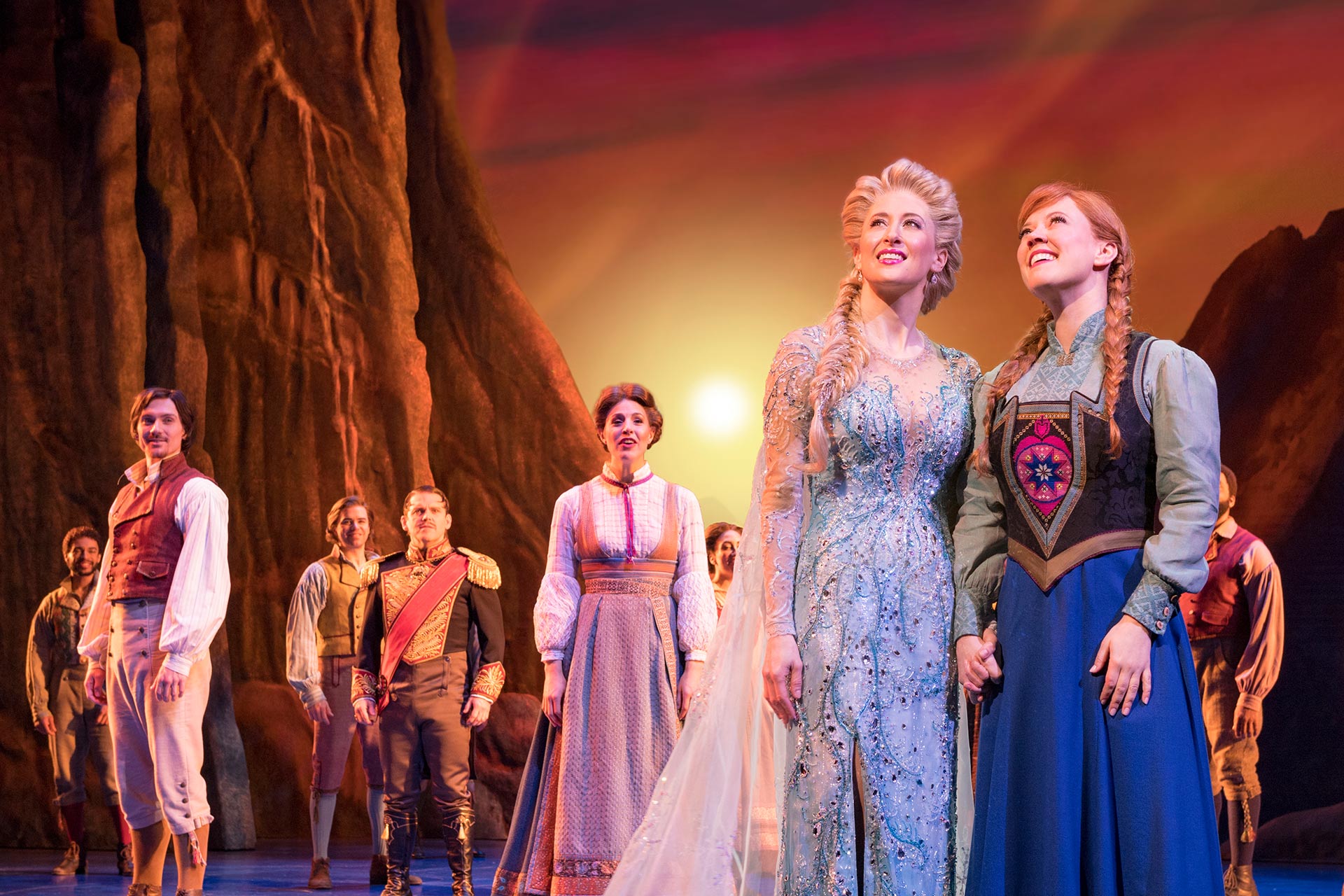 Best Broadway Shows for Kids: Ages 5 and Up
1. Frozen – The composers behind Disney's hit movie Frozen have brought their famous story to life on the Broadway stage. They brought along the best songs, including "Let It Go" and "Do You Want to Build a Snowman?", and they even composed a few new tunes too. The result is electrifying — the special effects are spectacular, with ice spurting out of all sides of the stage when Elsa's powers are released. All of the characters are included, and the storyline is intact, but the focus remains on the relationship between Anna and Elsa, the two sisters who find out the true meaning of love. Note: The theater's advisory is 8 and up, but we know for a fact that younger kids will love this show. If your child wants to show up in Disney garb, they won't be the only one. The theater is filled with little princesses on a daily basis.
2. Aladdin – Disney also pulls out all the stops with its Broadway version of the famous tale, Aladdin. Based on the animated film, the show includes all of the movie's original songs, plus a few new ones. The show involves a lot of magic, including a genie, a magic lamp, and a flying carpet. We love Aladdin as a Broadway show for first-timers.
3. The Lion King – One of the most thrilling Broadway shows for kids by the folks at Disney, The Lion King is based on the animated film of the same name and features fan favorites such as "Circle of Life" and "Hakuna Matata." It tells the story of a love between a father and a young son, making the story relatable and heartwarming for both parents and kids alike. The Lion King is a great show for your little Broadway first-timer, but it remains a hard ticket to get, so book well in advance and be prepared to pay full price.
Best Broadway Shows for Kids: Ages 8 and Up
4. King Kong -King Kong, the film, premiered in 1933, and since then there have been many variations about a young girl named Ann Darrow who is saved by an ape called Kong in New York City. In the new theatrical version on Broadway, there is a plot twist and Ann Darrow saves Kong herself. This is not only an inspirational story for young girls, but it's a Broadway spectacle that will also excite any young boy, with its 20-foot-high, 200-pound Kong that is operated by an army of people.Its music is by Marius de Vries and Eddie Perfect and the show has lyrical contributions by 3D, Sarah McLachlan, Guy Garvey, Justice and The Avalanches. Its running time is approximately two hours and 15 minutes, including an intermission. Children under 4 are not permitted inside the theater.
5. The Play That Goes Wrong – If you're looking for a good night out on Broadway that is full of laughter, The Play That Goes Wrong is for you. A British turned American production, it's about an accident-prone university drama society performing a play about a murder mystery. As the characters melt down, so does the set and it ends up coming with them, piece by piece. The result is a total slapstick comedy you and your kids will love. The Play That Goes Wrong will move to Off-Broadway's New World Stages, beginning performances at the underground, midtown venue February 11.
6. School of Rock – Andrew Lloyd Weber brought the hit film of the same name to life in this Broadway show about a musician who needs a job in order to pay the rent and get a job at a school… only he's not who everyone thinks he is after becoming the school's star. The child actors are ultra-talented and really add to the success and quality of this show. Plus, the tunes are catchy and memorable. The producers offer occasional special-needs performances so be sure to check for that schedule. Also, make sure your kids watch the movie before seeing the show, so you can all compare the two and engage in a discussion after the show.
7. Wicked – Wicked has been on the Broadway stage for 15 years and is still going strong. It's also a big Broadway spectacle, complete with a large cast, fantastic set and big songs such as the memorable "Defying Gravity." For fans of The Wizard of Oz, the story will be somewhat familiar, about the relationship between the Wicked Witch of the West and Glinda the Good. The storyline is a bit complex, so younger kids might not fully understand but will love it regardless. Wicked is also a terrific show for your little Broadway first-timer.
Best Broadway Shows for Kids: Ages 10 and Up
8. Harry Potter and the Cursed Child: Parts 1 and 2 – If your child is obsessed with the world of Harry Potter, then this new Broadway production is for him/her. However, we have one caveat: Harry Potter and the Cursed Child is a hard ticket to get! Also, it's long and is in two parts. As wildly successful the books and films have been, the play is equally popular and has set ticket sales records. The show is about Harry, who is now a husband and father working at the Ministry of Magic. One of his children, Albus, seems to have inherited his magical talent, which has become somewhat of a difficult task to manage. Together the two work their way through a challenging history to pave way for a brighter future. Note: There are some scary moments in the show.
9. My Fair Lady – Rogers and Hammerstein's classic musical My Fair Lady is back and it's bigger and better than ever. A Lincoln Center Broadway production, the quality of acting, singing, live orchestra, set, costumes, and lighting makes this play one of the best of the season. While adults will take delight in songs they have known forever, including "The Rain in Spain" and "Wouldn't It Be Lovely," children will find appreciation in the show's beauty that has withheld the test of time. Watching Eliza Doolittle go from flower girl to debutante under Henry Higgin's wing is as appealing and important as a watch as it ever was. Note: the show's length is nearly three hours, so it takes patience and the ability to sit still for an extended period.
10. Anastasia – Anastasia is an empowering story with a solid female protagonist for the modern times. The story starts in Saint Petersburg, Russia, where a family is senselessly murdered. For many years, a young member of this family, Anastasia, is believed to be dead, but we soon encounter her as a poor street sweeper called Anya, who two con-artists believe can pass as the real Anastasia to win a generous reward offered for her return. The music is joyous and the cast simply superb. This play will surprise even the most curmudgeonly playgoer. The first scene about the family's murder can be distressing, so it is worth waiting for more maturity. Note: Anastasia will close on March 31.
11. Hamilton – No list of Broadway musicals would be complete without a mention of Hamilton. What started as a little show at the Public Theater a few years ago has now forever changed the face of theater around the world. The show tells the story of Alexander Hamilton, one of our forefathers, and his impact on the world both in life and death. Just let the music tell the story (no pun intended). With its memorable songs that became ingrained in our culture, this show remains the hottest ticket on Broadway. But with the help of its creator and former star, Lin-Manuel Miranda, there is a daily lottery and the show is now touring around the world and finding its way into classrooms, too. While the storyline is complex, even young children are begging to see this show.
12. The Phantom of the Opera – The Phantom of the Opera is another legendary Andrew Lloyd Weber production filled with classic songs and memorable moments that have made it a favorite Broadway show for kids and families. It's the thrilling love story between a young soprano and a deformed music composer in Paris. Based on a book by French writer Gaston Leroux, this show is transformative and a true Broadway classic.
13. Kinky Boots – Based on a book by Harvey Fierstein and songs by Cyndi Lauper, Kinky Boots is based on the true story of English shoe factory owner Charlie Price, who saves his family business by manufacturing shoes for a niche market: drag queens. This is a show that pushes the very idea of acceptance and diversity, and the music will have you and your kids smiling and dancing in your seat, without question. We are recommending this show for kids ages 10 and up, though depending on your child's maturity level, a younger child may enjoy it. Note: Kinky Boots will close on April 7th.
Best Broadway Shows for Kids: Ages 12 and Up
14. The Prom -The Prom is a new musical on Broadway that was inspired by real stories and will inspire all who see it. The show is about a young girl who wants to invite her girlfriend to her school prom, and how their hometown responds. It sparked a lot of national attention after the two lead characters kissed during the Macy's Thanksgiving Day Parade and is now making history on the Great White Way.
15. The Band's Visit -The Band's Visit won last year's Tony Award, and for good reason. It's a beautiful show that features memorable songs by David Yazbek and a script by Itmar Moses. It also deals with diversity and other cultures, focusing on a touring Egyptian band stranded in an Israeli village after some confusion at a bus station ticket counter. Note: The Band's Visit is for a either a more mature child or a real Broadway musical fan.
16. Beautiful, The Carole King Musical -Either you grew up knowing the legendary Carole King or you didn't, but regardless you will love Beautiful. King has had an extraordinary life, juggling motherhood, marriage, and career. And it hasn't been just any career. Adults in the audience will be stunned by the depth of her work and recognize her songs that were sung by The Drifters, The Shirelle's, and other notables. The story, the music, the acting, the singing–this show has it all and it is a great introduction for kids to a masterful woman who conquered pop culture.
17. The Cher Show -Nostalgic parents who grew up with Cher will love introducing their kids to her life and career in The Cher Show. It's the inspirational tale of a young talent who was destined for fame and went on to sell more than a hundred million records and win an Oscar, paving the way for women in music and entertainment. The show focuses on her quest for fame, quest for love, and her quest for the life she was meant to have. Three actors play her at various times of her life and career, and the costumes are phenomenal. In addition to being an icon, Cher is also known for her clothes, and the ones in the play are by nine-time Emmy Award-winning designer Bob Mackie.
18. Come from Away – Come from Away is a musical set the week following 9/11. Don't let this detail deter you from seeing it, though, as it's the inspiring story about what happened when 38 planes had to land in the small town of Gander in Newfoundland and what transpired between the 7,000-stranded people on the planes and the Gander residents, who housed and fed them. The songs are uplifting and breathe life into a tragedy that struck the city of New York. Seeing it on Broadway in New York City is certainly appropriate. There are a lot of characters and storylines to keep up with. Be sure to explain the events of 9/11 before the curtain goes up.
19. Dear Evan Hansen – Ben Platt originated the lead role in this Tony-winning and wildly successful Broadway show that addresses a lot of issues teenagers are dealing with today. From social media to teenage suicide, the issues are serious, but brought to life beautifully and with total sensitivity. The result is a thoughtful show with music written by Benj Pasek and Justin Paul, the two hottest composers in theater and film right now, and a multitude of heartfelt songs that will never leave your mind, such as "Waving Through the Window." Most of the original cast is still in the show, but we suspect not for long. Note: There are serious and complete topics involved in the plot of Dear Evan Hansen, so be sure your children can handle them.
20. Waitress – Waitress is a love story, set against a small-town background, and a whiff of apple pie (literally as pies are sold at the theater nightly). The story revolves around a waitress in a diner, the people in her life, and her dreams. The music, written by Sara Bareilles, is beautiful and it serves the story well. The play is complete with a happy ending and a soundtrack that your kids will want to run and buy. Note: Younger kids would be fine, particularly if they are musical theater lovers.
21. Mean Girls – Based on the popular film of the same name, Mean Girls is a musical that revolves around the issue of teenage girls and the issues they face around self-image, popularity, and wanting to fit in. Tina Fey has teamed up with top composers and producers to bring the tale to Broadway, and it comes with a variety of ballads, rap songs, references to social media and the current political climate, and more. In addition to mean girls, there are misfits, outcasts, and of course, some characters are more popular than others. Note: It helps to have seen the film before as many of the lines, written by Fey, are used.
Ready to buy your tickets? Check out 8 Secrets to Getting Cheap Broadway Tickets.