If you're planning to be in New York City in 2020, take your kids to a Broadway show. From standing under the marquis to sitting in one of NYC's famous theaters to looking at the show's Playbill to waiting for the curtain to go up, seeing a show is the quintessential New York City experience.
Depending on your child's age, you'll want to check out what the shows are about before you hit the box office to buy tickets. Disney has a nice selection of Broadway shows for young kids (which are virtually for all ages); there are big splashy musicals; and there are also meaningful shows that'll teach them valuable life-long lessons.
These are the best Broadway shows for kids in 2020.
Best Broadway Shows for Teens
1. Moulin Rouge!
If you're looking for a big, splashy Broadway musical, look no further than Moulin Rouge! at the Al Hirschfeld Theater. Inspired by the 2001 Baz Luhrmann film, this play is a colorful, mouth-dropping musical with dancing, amazing side effects, and really big circus -style performances. It has romance, pop music, brilliant choreography, and sheer fantasy. The set is a big nightclub, the costumes are lavish, and there's glitz and grandeur. Teens will be spellbound by this play about Bohemians and aristocrats at the grand Moulin Rouge in Paris.
2. Six the Musical
Starting in February 2020, Henry's VIII's wives will take the stage at the Brooks Atkinson Theatre. Six the Musical is a wild and intimate look at the six ill-fated wives who got divorced, beheaded, died, divorced, beheaded, survived (you'll get the gist when you see the show!). Two University of Cambridge students wrote the play, which has a pop score quite reminiscent of the Spice Girls. Even funnier is that all six women dress like the Spice Girls! The play, which won five Olivier Award nominations including Best New Musical, isn't just a history lesson for teens. Its music is addictive, and its performances are inspiring. There's a lot of girl power in Six the Musical, making it a must-see for any teen coming to NYC.
3. Jagged Little Pill
The new Broadway show Jagged Little Pill was inspired by Alanis Morrissette's Grammy Award-winning music. Your teens might recognize famous songs such as "You Oughta Know" and "Hand in My Pocket," both of which are in the show. The story is about a family trying to stay together. The dad's an overworked lawyer; the son struggles to please everyone; there's a rebellious adopted daughter; and the mom, Mary Jane, develops an addiction to painkillers to cope with trauma. These are some serious issues, but common familial issues, so be sure to debrief after the show.
4. Company
Opening in March, 2020, Company stars two legendary performers, Katrina Lenk and Patti Lupone. It's another big musical with big numbers and about the search for love in New York City. Written by one of Broadway's bests, Stephen Sondheim, you, as a parent, may recognize some of the tunes including "Side by Side" and "Being Alive." If your teens are musical theater lovers, this is a wonderful show to introduce them to the magic of Broadway.
5. Diana: A New Musical
Starting in March, 2020, Diana: A New Musical will arrive on Broadway at the Longacre Theater. For young royalists, the show is a look at the life of the Princess of Wales during her marriage to Prince Charles and their eventual separation. Teens can decide whether or not the play lives up to its hype, whilst learning a bit about England's royal history. The show is highly anticipated, so getting tickets will be a challenge.
6. West Side Story
Director Ivo van Hove, choreographer Anne Teresa de Keersmaeker, and designer Jan Versweyveld bring to Broadway the famous and legendary West Side Story. The story transposes Shakespeare's Romeo & Juliet in the streets of 1950s Manhattan. The songs are memorable; the dancing is fantastic; and the story (told through dance) is absolutely riveting. West Side Story is now a 90-minute, one-act experience that will be one for the memory books—for the kids and for you.
7. To Kill a Mockingbird
If your kids are reading (relatively circa 7th or 8th grade) Harper Lee's American classic, To Kill a Mockingbird, in school, they'll no doubt appreciate seeing the Broadway version at the Shubert Theater. The play brings to life Atticus Finch and Scout, two important figures in literary history. The story takes place in Alabama and documents an important trial that revolves around racism and inequality. The Broadway play is faithful to the original version, yet it brings an updated telling of the story to the masses, a necessary twist for the times we're living in.
8. Hadestown
Hadestown won the Tony Award for Best Musical last year, and it's one of the best plays on Broadway. It's an updated version of the Orpheus and Eurydice myth set during the Great Depression, but complete with a beautiful score and love story. Seeing Hadestown is a unique way to educate your children about Greek history, as well as Broadway musicals. The set, costumes, music and lyrics are simply dreamy. We can guarantee your teens will be talking about Hadestown for years to come.
9. Tina: The Tina Turner Musical
If you're a family who loves classic music, Tina: The Tina Turner Musical is a great choice. Playing at the Lunt-Fontaine Theatre, the play explores the life of the very famous singer Tina Turner—from her childhood in Tennessee to her long-lasting music career. The show is the latest biopic to look at the life and times of a famous singer, with songs such as "We Don't Need Another Hero" and "Proud Mary." Your teen will undoubtedly be mesmerized by Tina: The Tina Turner Musical's music, performances, and narrative about the icon's life.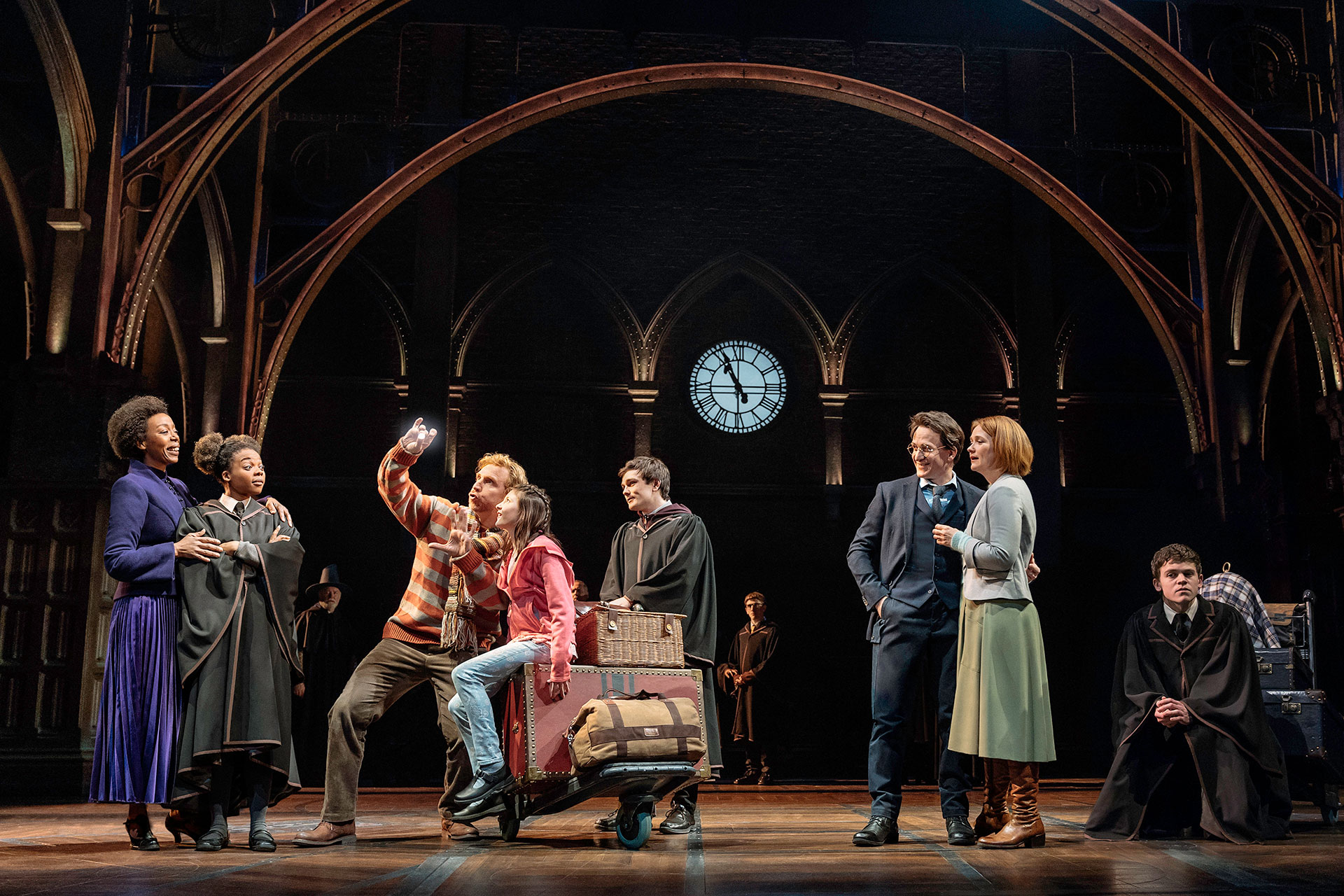 Best Broadway Shows for Kids Age 10 and Up
10. Harry Potter and the Cursed Child: Parts 1 and 2
If your child is obsessed with the world of Harry Potter, then this Broadway production is for him/her. However, we have one caveat: Harry Potter and the Cursed Child at Lyric Theatre is a hard ticket to get! Also, it's long and is in two parts. As wildly successful as the books and films have been, the play is equally popular and has set ticket sales records. The show is about Harry, who is now a husband and father working at the Ministry of Magic. One of his children, Albus, seems to have inherited his magical talent, which has become somewhat of a difficult task to manage. Together the two work their way through a challenging history to pave the way for a brighter future. Note: There are some scary moments in the show.
11. Hamilton
No list of Broadway musicals would be complete without mention of Hamilton. What started as a little show at the Public Theater a few years ago has forever changed the face of plays around the world. The show tells the story of Alexander Hamilton, one of our forefathers, and his impact on the world both in life and death. Just let the music tell the story (no pun intended). With its memorable songs that became ingrained in our culture, this show remains the hottest ticket on Broadway. But with the help of its creator and former star, Lin-Manuel Miranda, there's a daily lottery and the show is now touring around the world and finding its way into classrooms, too. While the storyline is complex, even young children are begging to see this show.
12. Mean Girls
Tweens and teens (and parents) will love Mean Girls, a play inspired by Tina Fey's film that starred Lindsay Lohan. Be sure to watch the film before you see the play, both for nostalgic purposes and to get your kids acquainted with the storyline. Mean Girls is about a nice girl, Cady Heron, who goes to a new high school and falls under the spell of Queen Bee Regina George, a popular girl. It's just a matter of time before Cady goes from nerd to Mean Girl. This show has big stage songs with lyrics that matter, plus a whole lot of girl power.
13. The Phantom of the Opera
The Phantom of the Opera is another legendary Andrew Lloyd Weber production filled with classic songs and memorable moments that have made it a favorite Broadway show for kids and families. It's the thrilling love story between a young soprano and a deformed music composer in Paris. Based on a book by French writer Gaston Leroux, this show is transformative and a true Broadway classic.
14. Beetlejuice
Kids will love Beetlejuice, an adaptation of Tim Burton's film of the same name. Instead of Johnny Depp, this one features Alex Brightman as the manic ghoul and star of the show. The play is spooky, gothic, and somehow really fun. Beetlejuice is about a young couple who's mourning the absence of the child they never had while they were alive. It's literally funny and sad (after all, the lead characters are dead) at the same time, and will surely leave a mark on your child's memory.
15. Wicked
Wicked has been on the Broadway stage since 2003 and is still going strong. It's also a big Broadway spectacle, complete with a large cast, fantastic set and big songs such as the memorable "Defying Gravity." For fans of The Wizard of Oz, the story will be somewhat familiar—it's about the relationship between the Wicked Witch of the West and Glinda the Good. The storyline is a bit complex, so younger kids might not fully understand, but will love it regardless. Wicked is also a terrific show for your little Broadway first-timer.
16. Dear Evan Hansen
Ben Platt originated the lead role Dear Evan Hansen, a Tony-winning and wildly successful Broadway show that addresses a lot of issues teenagers are dealing with today. From social media to teenage suicide, the issues are serious, but brought to life beautifully and with total sensitivity. The result is a thoughtful show with music written by Benj Pasek and Justin Paul, two of the hottest composers in theater and film right now, and a multitude of heartfelt songs that will never leave your mind, such as "Waving Through the Window." There are serious and complex topics involved in the plot of Dear Evan Hansen, so be sure your children can handle them.
17. Ain't Too Proud – The Life and Times of the Temptations
Following in the footsteps of Tina and the recent Donna Summer biopic musicals comes Ain't Too Proud – The Life and Times of the Temptations, and kids over 10 years old will enjoy it. Ain't Too Proud – The Life and Times of the Temptations tells the tale of the Temptations, from their early days in Detroit to their sizzling career, which saw many historical events including the civil rights movement. It's a story of determination, family, betrayal, and togetherness. Introduce your kids to the band's tunes before you see it—after all, they've had 42 (yes, really!) top 10 hits, so there are many to choose from including "My Girl," Just My Imagination," and "Get Ready."

Best Broadway Shows for Kids Age 6 and Up
18. Frozen
The composers behind Disney's hit movie Frozen (and now Frozen 2) have brought their famous story to life on the Broadway stage. They brought along the best songs, including "Let It Go" and "Do You Want to Build a Snowman?", and they even composed a few new tunes, too. The result is electrifying—the special effects are spectacular, with ice spurting out of all sides of the stage when Elsa's powers are released. All of the characters are included, and the Frozen storyline is intact, but the focus remains on the relationship between Anna and Elsa, the two sisters who find out the true meaning of love. Note: The theater's advisory age is 8 and up, but we know for a fact that younger kids will love this show. If your child wants to show up in Frozen garb, they won't be the only ones! The theater is filled with little princesses on a daily basis.
19. The Lion King
One of the most thrilling Broadway shows for kids by the folks at Disney, The Lion King is based on the animated film of the same name and features fan favorites such as "Circle of Life" and "Hakuna Matata." It tells the story of a love between a father and a young son, making the story relatable and heartwarming for both parents and kids alike. The Lion King is a great show for your little Broadway first-timer, but it remains a hard ticket to get, so book well in advance and be prepared to pay full price.
20. Aladdin
Disney also pulls out all the stops with its Broadway version of the famous tale, Aladdin. Based on the animated film, the show includes all of the movie's original songs, plus a few new ones. The show involves a lot of magic, including a genie, a magic lamp, and a flying carpet. We also love Aladdin as a Broadway show for first timers.
Ready to buy your tickets? Check out 8 Secrets to Getting Cheap Broadway Tickets.
Holly Rosen Fink is a communications executive and writer living in Larchmont, New York, with her family. She has produced several off and off-off Broadway shows, and covers all things theater over at The Theatre Times and Women & Hollywood.
What to Pack for Your Next Trip
For info on these editor-selected items, click to visit the seller's site. Things you buy may earn us a commission.
Our team of parents and travel experts chooses each product and service we recommend. Anything you purchase through links on our site may earn us a commission.