The cost of a theme park vacation can easily climb higher than your favorite roller coaster, but it doesn't have to. One of the easiest ways to save money is by choosing a budget-friendly hotel. Don't worry. "Budget-friendly" doesn't mean you'll be staying miles away from the thrills or skimping on amenities. Some of these are onsite and none are more than a few miles from their respective parks. Even better, most offer theme park perks like discount tickets and shuttle service. Here are the best budget-friendly hotels at 13 of the top U.S. theme parks.
Editor's Note: Due to COVID-19 health and safety protocols, certain amenities may be temporarily unavailable. Please check with the property to confirm current offerings.
Disney's All-Star Movies Resort, Walt Disney World, Florida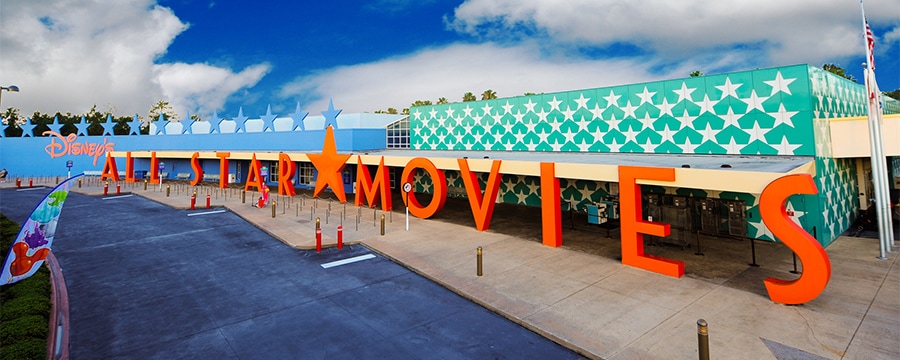 Rates start under $120
Disney's All-Star Movies Resort is one of Disney's five onsite "value resorts". What makes it stand out from the others is that its rooms were recently given a major overhaul including dark wood furnishings, crisp white bedding, and Disney character wall art. Rooms in the value category are notoriously small, but Disney makes up for it here with a space-saving Murphy bed that doubles as a table when folded up. Each building is themed to a different Disney film, as are the two pools (we especially love the water-spraying Sorcerer Mickey at the Fantasia pool). In addition to guest services, the Cinema Hall building houses an arcade, gift shop, and food court (ask to see the secret menu for a fun surprise). Complimentary bus service to Disney's theme parks and Disney Springs is available, but the hotel does charge a fee for overnight self-parking.
Howard Johnson Anaheim Hotel & Water Playground, Disneyland, California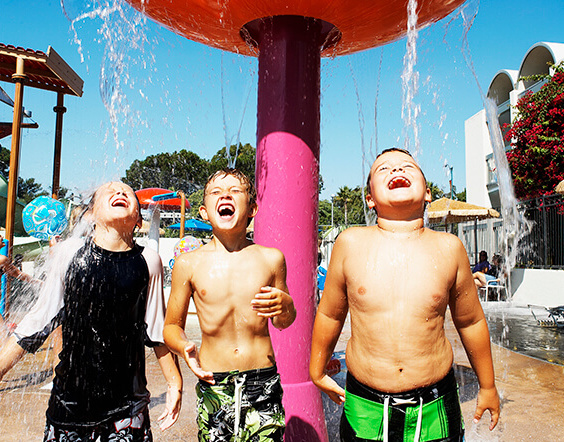 Rates start under $130
Disneyland only has three onsite hotels and they are all more of a splurge than a save. What they do have is a large selection of Good Neighbor Hotels that offer Disney perks at less-than-Disney prices. Our favorite is less than a 10-minute walk from Disneyland – the Howard Johnson Anaheim Hotel & Water Playground. The rooms in both buildings were recently refurbished in HoJo's classic orange and aqua color scheme, with a dash of Disney artwork for good measure. Rooms sleep up to five people and some even have bunk beds for the kids. Kids will also love the pirate-themed water playground, and the whole family can enjoy the quieter garden pool. There is no onsite restaurant, but there is a gift shop with snacks, sundries, and discount Disney souvenirs. Parking is complimentary and shuttle service is available for a fee through the city's public transit service.
Related: 10 Waterslides You Have to See to Believe
Twin Mountain Inn & Suites, Dollywood, Tennessee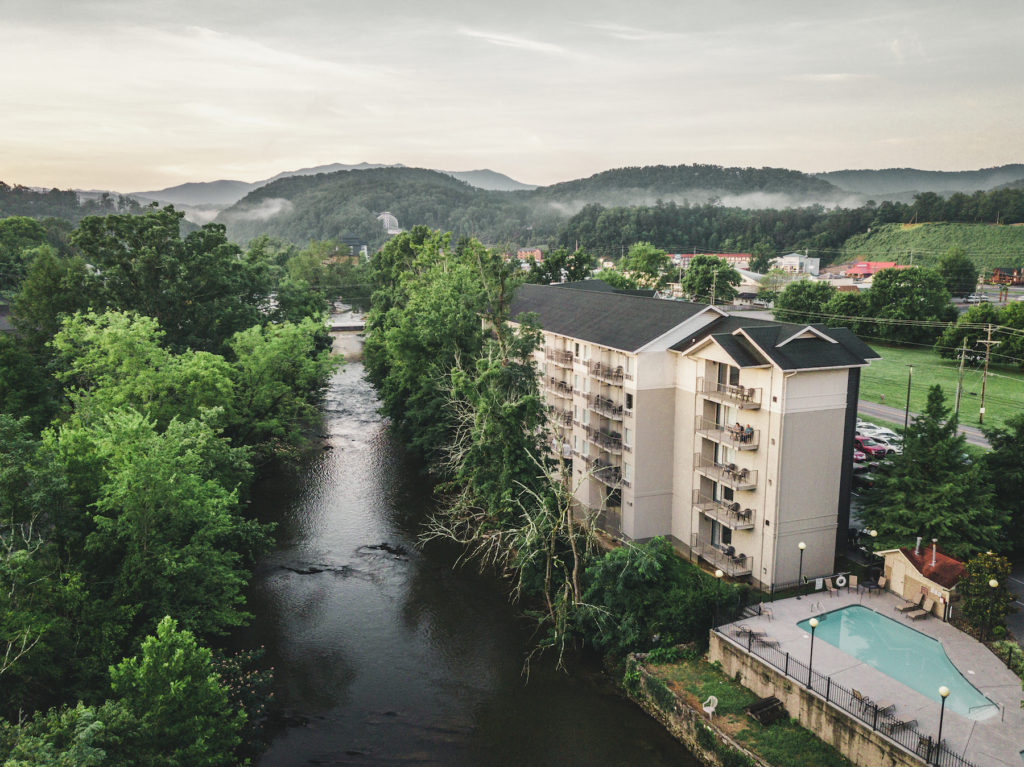 Rates start under $100 per night
Not only is Pigeon Forge's Twin Mountain Inn & Suites conveniently located just three miles from Dollywood, it's also within walking distance to Dolly Parton's Stampede (for that full Dolly Parton experience). Rooms sleep up to four guests and have either one king or two queen beds. The understated decor compliments the natural beauty of the Little Pigeon River, which you can enjoy from your fully-furnished private balcony. The outdoor pool is open seasonally, but you can relax by the riverside fire pit when the temperatures dip too low for a swim. Breakfast is included in your room rate, as is parking.
Holiday Inn Winter Haven, LEGOLAND Florida Resort, Florida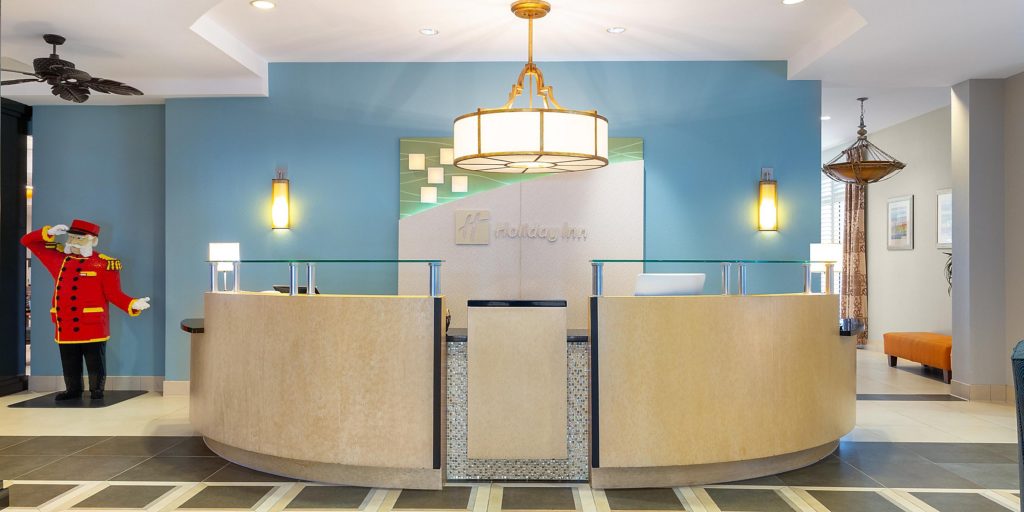 Rates start under $150 per night
The Holiday Inn Winter Haven is only a three-mile drive from LEGOLAND Florida Resort and discounted LEGOLAND tickets are for sale at the front desk. There's even a butler made from LEGO bricks in the hotel lobby. For spend-savvy families, the discounts don't end there. Kids ages 18 and under stay free and up to four kids ages 11 and under eat free at the hotel's Cafe Blu restaurant. Also onsite, you'll find a fitness center, cocktail lounge, and outdoor heated pool. Guest rooms have one king or two queen beds, a mini fridge, workstation, and Holiday Inn's customizable pillow menu. Parking is complimentary.
Endless Summer Resort Dockside Inn & Suites, Universal Orlando, Florida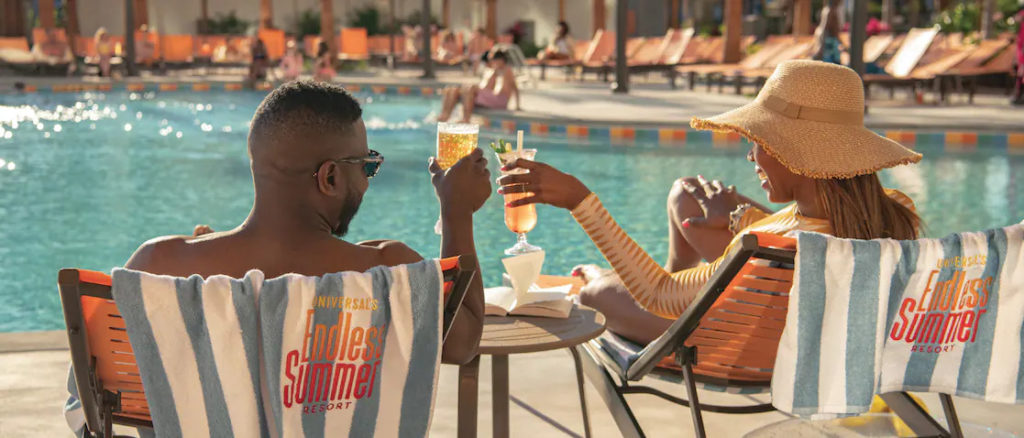 Rates start under $80 per night
Endless Summer Resort Dockside Inn & Suites is Universal Orlando's newest onsite hotel and the beach retreat atmosphere will make you feel more relaxed the moment you step into the lobby. Standard rooms are available, but the two-bedroom suites are where it's at for families. They can sleep up to six and have a kitchenette, picnic table, and bathroom with separate vanity area. There are two large outdoor pools with plenty of lounge chairs and umbrellas, as well as a Starbucks, food court, fitness center, game room, and gift shop. Like all Universal hotels, guests can take advantage of Early Park Admission and complimentary shuttle service, though there is an additional fee for parking.
Related: 10 Dreamy Summer Vacations You'll Love (and Your Kids Will Love, Too)
The Tangerine, Universal Studios Hollywood, California
Rates start under $120 per night
The Tangerine hotel is a small, boutique hotel less than three miles from Universal Studios Hollywood. It's also just a short walk away from Hollywood's famous movie production studios, many of which offer public tours. The Tangerine's style is retro and colorful, including bold wall murals in all 31 guest rooms. Complimentary breakfast and coffee are served daily and there are a number of restaurants within walking distance of the hotel. You can pick up discounted theme park tickets in the lobby and the outdoor heated pool offers a welcome respite after a day of trekking around Universal Studios.
The Cassara Carlsbad, LEGOLAND California, California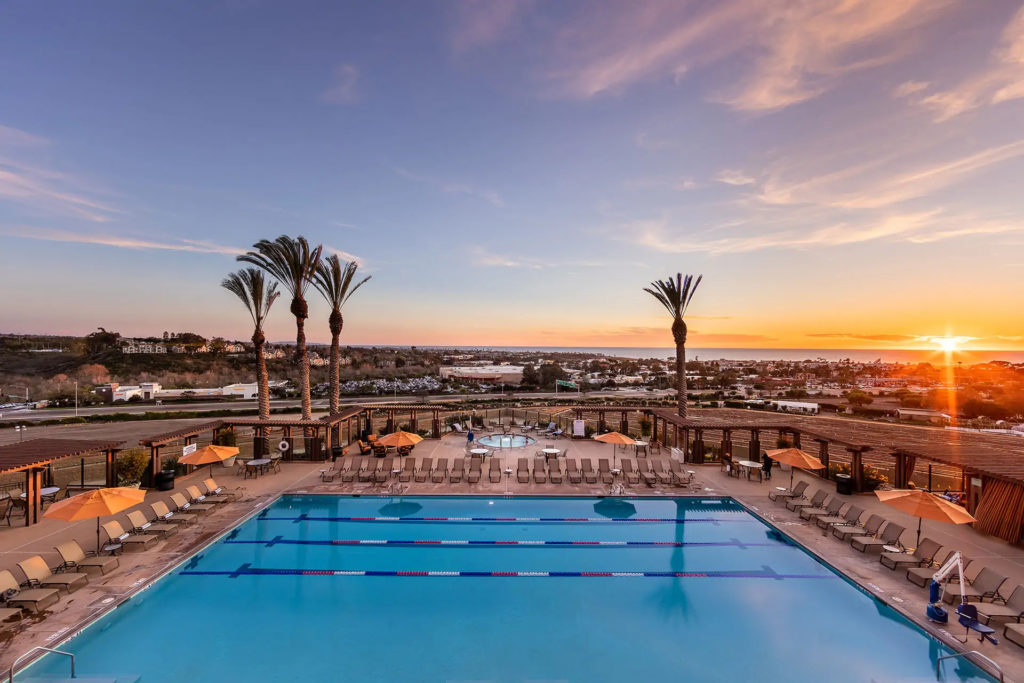 Rates start under $100 per night
The Cassara Carlsbad exudes a laid back SoCal vibe with just a touch of Mediterranean style. LEGOLAND California is less than a mile away and can be accessed via the hotel's private pedestrian entrance. The onsite Cassara Carlsbad Kitchen & Bar in the hotel lobby serves up casual, coastal-inspired dishes, handcrafted cocktails, and a large selection of wines. Discount room and ticket packages are also available. Rooms and suites have one king or two queen beds and premium rooms offer gorgeous Pacific Ocean views. Amenities include two outdoor pools, a kids' splash pad, and fitness center.
Best Western Branson Inn & Conference Center, Silver Dollar City, Missouri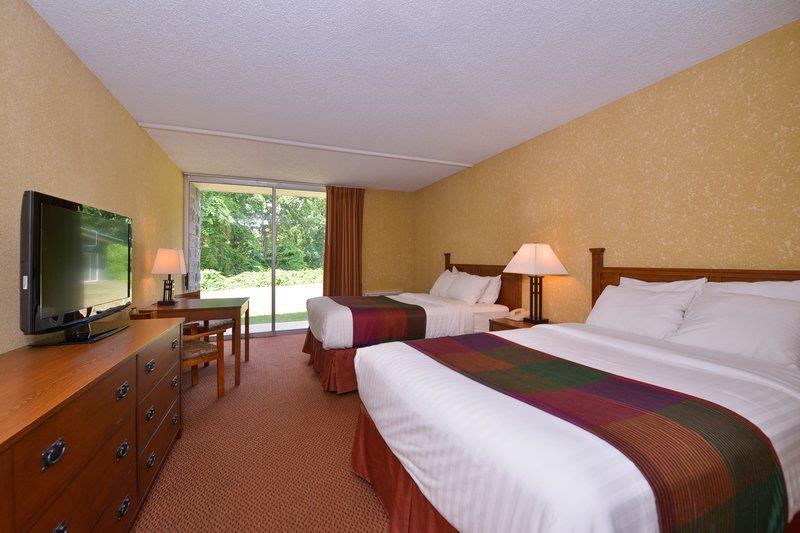 Rates start under $100 per night
Branson, Missouri is one of the country's top family vacation destinations, and Silver Dollar City is a must-do if you are in the area. The Best Western Branson Inn & Conference Center is located less than a mile from Silver Dollar City, with both a free shuttle and discount theme park tickets available to guests. The hotel boasts a game room, indoor pool with hot tub and kiddie pool area, and a complimentary full breakfast. Rooms and suites have one king or two queen beds and all rooms have a microwave, refrigerator, and private balcony with views of the surrounding Ozark region.
Knott's Berry Farm Hotel, Knott's Berry Farm, California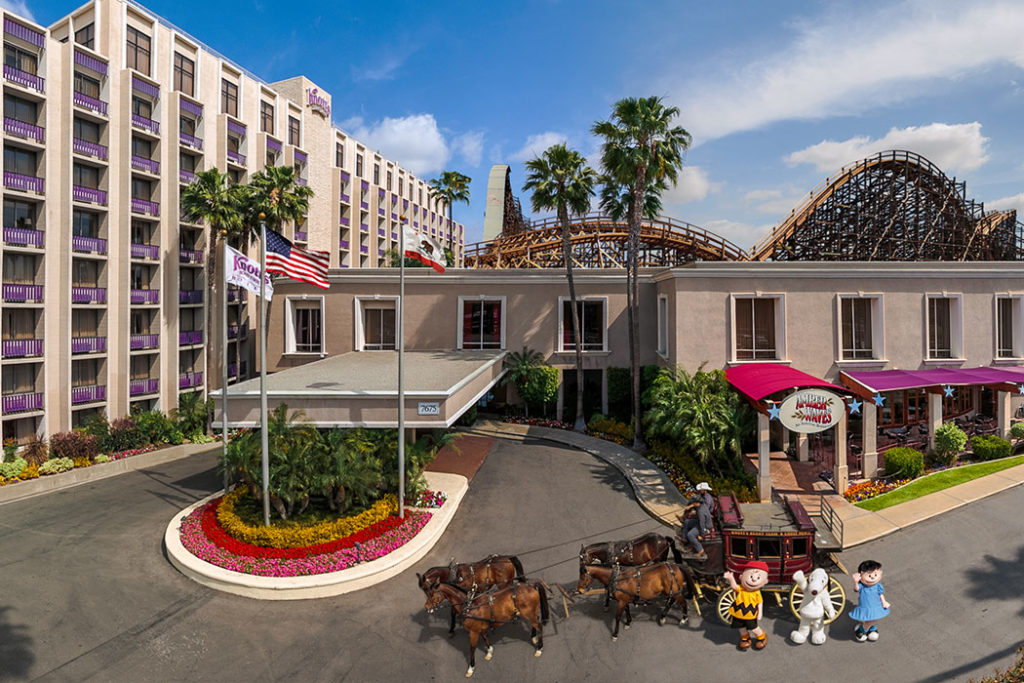 Rates start under $100 per night
Knott's Berry Farm Hotel is the only onsite hotel for this Southern California theme park and it's so close you can easily walk from your room to the park's front gate – no shuttle required. Vacation packages that include Knott's Berry Farm tickets are available, as well. Standard rooms have either one king or two queen size beds and oversized rooms give you an extra 100 square feet of space to spread out. If you're staying at the Knott's Hotel, though, you really should try and snag one of the Camp Snoopy rooms with paw print carpeting, Snoopy headboards, and two plush Snoopys to bring home. When you've had your fill of coasters, you can cool off in the outdoor pool with kids' splash zone and take advantage of the poolside drink service. An onsite restaurant is also available, along with a fitness center and complimentary shuttle service to Disneyland.
Related: The 19 Best Theme Parks in the World
Courtyard by Marriott Hershey Chocolate Avenue, Hersheypark, Pennsylvania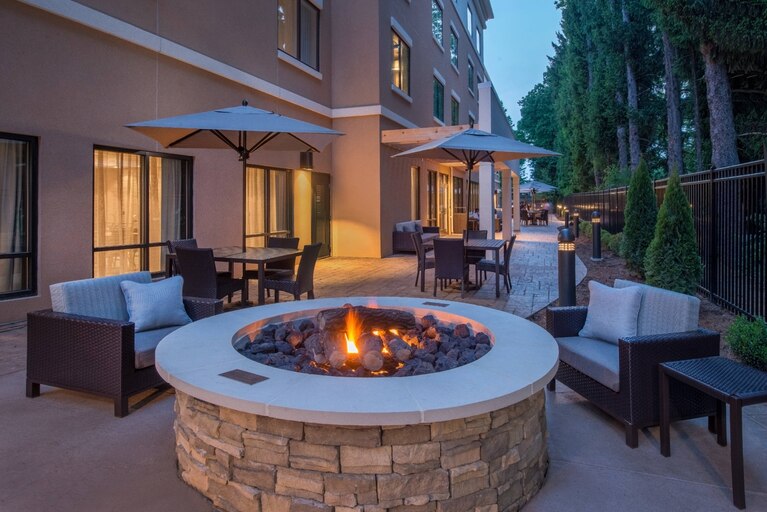 Rates start under $150 per night
Yes, the Courtyard by Marriott Hershey really is on a road called Chocolate Avenue, and it's only minutes from Hersheypark, which is located on Hersheypark Drive. If you haven't noticed, the chocolate-theme is strong in this town. Rooms are decorated with light wood furniture and modern decor. Along with standard rooms, spacious two-room suites with sofa beds are available. The Bistro offers various breakfast options and Starbucks coffee drinks in the morning, and a selection of beers and wines in the evening. Fitness enthusiasts can take advantage of the fitness center and indoor heated pool. The hotel does have complimentary onsite parking, but no shuttle service to Hersheypark.
Santa's Lodge, Holiday World, Indiana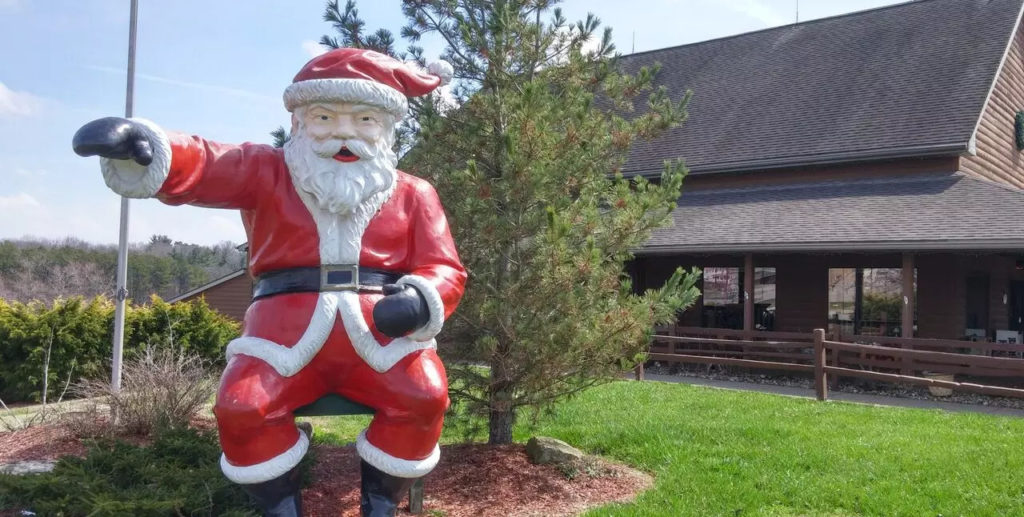 Rates start under $100 per night
Just about every shop, restaurant and attraction in Santa Claus, Indiana celebrates Christmas year round, including Santa's Lodge. Holiday World is less than a mile away, but you don't have to leave the hotel to find fun. Onsite activities range from swimming in the outdoor pool to boating and fishing in the lake. A variety of room types are available, including king suites and family whirlpool suites. Deluxe rooms and suites feature a microwave and minifridge. A free continental breakfast is available to hotel guests and the onsite St. Nick's Restaurant is open for breakfast, lunch, and dinner. While you are in the area, stop by the Santa Claus Museum to learn more about the history of Holiday World.
The West Wing, Busch Gardens Tampa Bay, Florida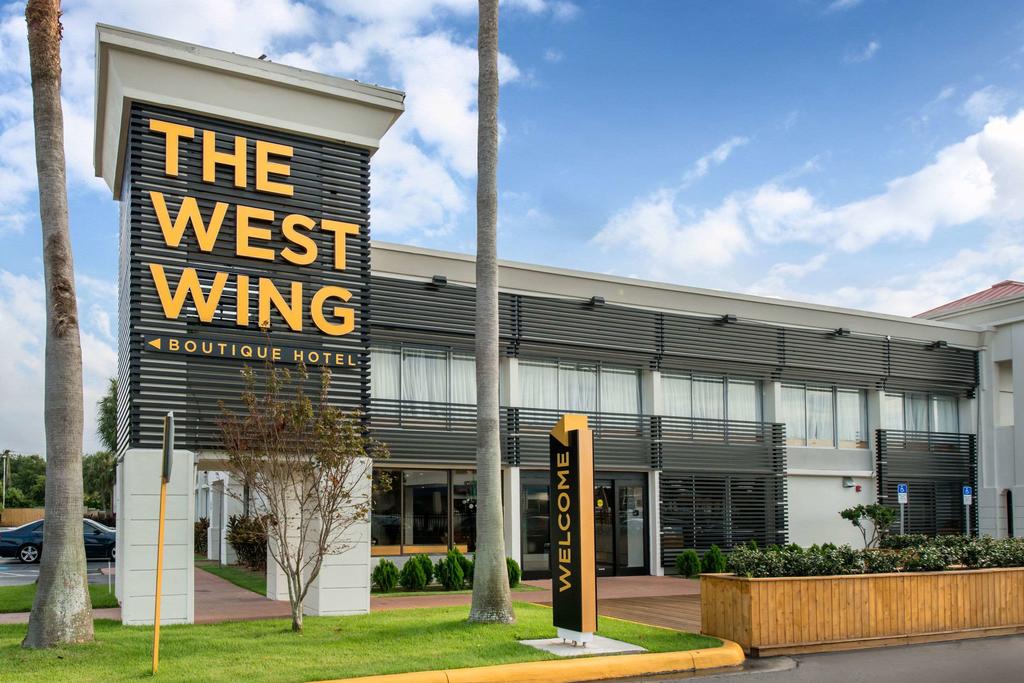 Rates start under $100 per night
The West Wing is a boutique hotel in Tampa that is less than a two-mile drive to Busch Gardens. There are the standard fitness center, free parking and theme park shuttle, and complimentary hot breakfast you find at many of the budget theme park hotels on our list, but there's a few surprises waiting, as well. In the hotel courtyard, you'll find a serene garden where you can relax and unwind. Back inside, you can relax in your room and let Wes, the Relay Robot, deliver snacks and other essentials from the gift shop right to your door.
DoubleTree by Hilton Williamsburg, Busch Gardens Williamsburg, Virginia
Rates start under $120 per night
The DoubleTree by Hilton Williamsburg is the closest hotel to Busch Gardens Williamsburg (only three minutes away!) so it should come as no surprise that they offer complimentary shuttle service to the park. Hotel parking is also free. Other perks include a fitness center, indoor/outdoor pool, and game room. Guest rooms – some with balconies – have large windows that give the rooms a bright, airy feel. The three onsite restaurants offer everything from coffee and a hot breakfast in the morning to burgers and beers after a long day at the park.
Our team of parents and travel experts chooses each product and service we recommend. Anything you purchase through links on our site may earn us a commission.