Sometimes, hotels are attractions! These funky hotels for families aim to please with hip and cool amenities and services, plus a little dose of nostalgia and sophistication.
1. Jupiter Hotel
Set in Portland, Oregon's vibrant east side, the Jupiter Hotel has a hip and artistic vibe. The contemporary hotel has onsite bike rentals, a restaurant and bar with modernist diner decor, an onsite concert venue with some all ages shows (usually during the weekdays), a lobby with an art gallery that showcases art from new emerging artists, and every first Friday, they participate in the Eastside Art Walk. Overnighting artists are encouraged to express their talents on the chalkboard guestroom doors. The hotel is close to shopping, dining, activities, and favorite spots like the Moda Center, Glowing Greens, Escapism Portland, and Voodoo Doughnuts.
2. Hotel Rose
Located across from the Tom McCall Waterfront Park in Portland, Oregon, the Hotel Rose is contemporary in design with bright colors, Art Deco designs, and lots of pineapple accents. The hotel features an onsite restaurant with vibrant and eclectic decor in the "Keep Portland Weird" spirit, complimentary bright yellow beach cruisers, afternoon pineapple flavored cupcakes with coconut shavings, coffee and pineapple-infused water, and Streampineapple, where guests can connect to their personal devices to listen or watch content. The hotel is close to shopping, dining, and activities such as Escapism Portland, Voodoo Doughnuts, Glowing Greens, Rose Garden, Japanese Garden and the Pittock Mansion.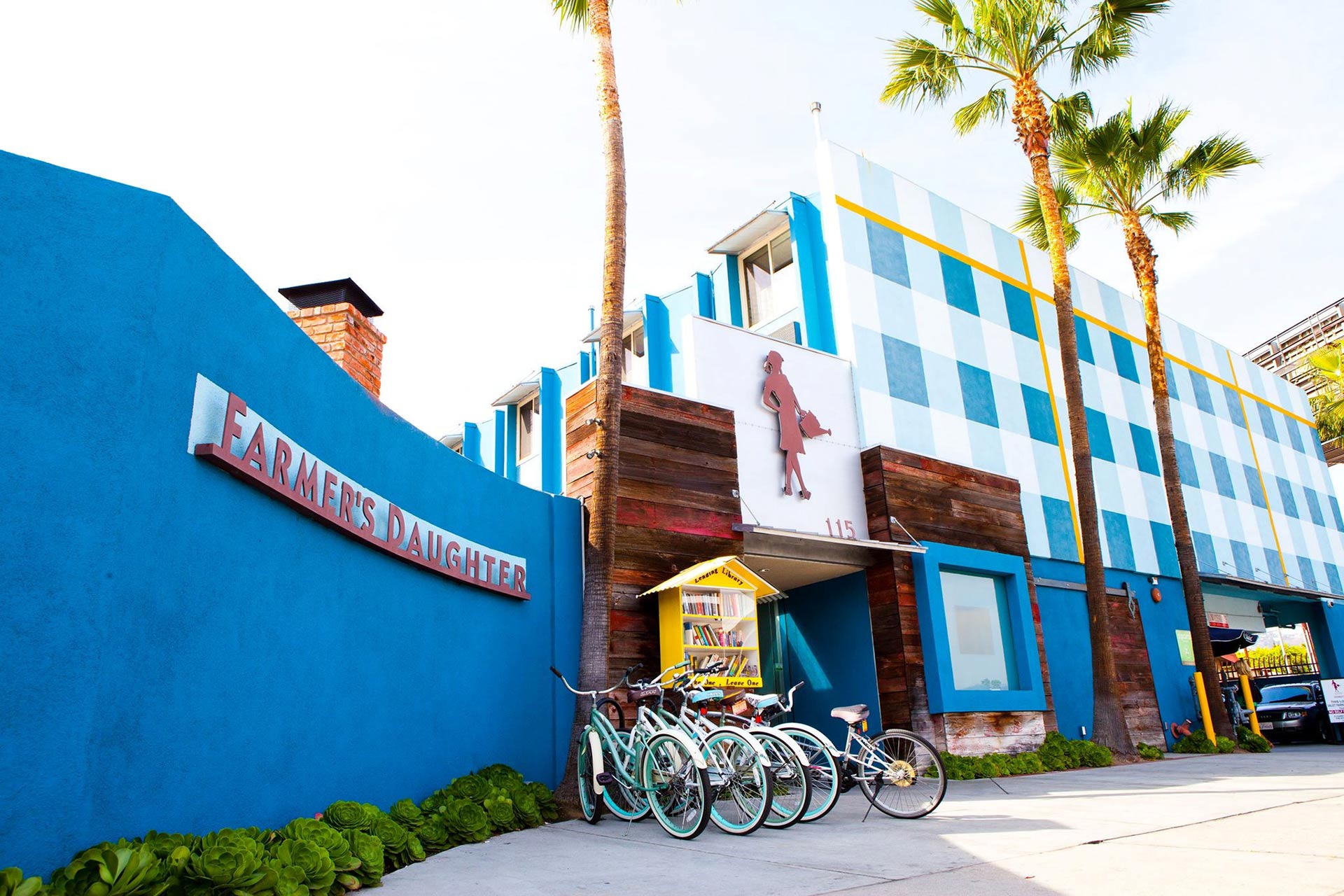 3. Farmer's Daughter Hotel
A short walk from CBS Television City, the Farmer's Daughter Hotel is a long-standing icon in the Fairfax District of Los Angeles. The hotel has a country-chic ambiance with original artworks, local handmade art, and a vintage 1960s feel. The hotel features an outdoor swimming pool with a large lounging chair, onsite restaurant and bar with outdoor cabanas, a boutique shop, complimentary bike rentals and yoga, table tennis, room service, and access to a nearby gym. It is close to two premier shopping and entertainment centers, The Grove and Melrose Shopping District, as well as the Historic Farmers Market, Sunset Strip, and the La Brea Tar Pits.
4. Atomic Motel
A block from the Astoria River Walk in Astoria, Oregon, this hip motel is "Madmen" meets the "Rat Pack" with bright colors and atomic furniture, including trash cans shaped like rockets and Rat Pack cut-outs. Motel amenities include complimentary bicycles and chips and salsa or chili and clam chowder in the lobby, and guests can chill in the retro egg chairs and watch Dean Martin movies. Each morning the complimentary breakfast includes Finnish pastries and fresh fruit, and next door is the local favorite, Pig 'N Pancake. Atomic Motel is close to the Astoria Riverfront Trolley, shopping and dining in downtown, the Astoria Column, and it is a short drive to zipline fun at High Life Adventures and Fort Clatsop National Park.
5. Mother Earth Motor Lodge
Located in the heart of downtown Kinston, North Carolina, the Mother Earth Motor Lodge is like an Austin Powers movie set with bright, bold colors and mod decor. In the lobby, the ambiance is set with bright blue couches, floating chairs, and 70s music. Hotel amenities include a three-ring pool, shuffleboard, 9-hole mini golf course, table tennis, and a complimentary continental breakfast. If your teen has a passion for food, the motel is within walking distance of several well-known restaurants, including Chef & The Farmer, which is featured on the PBS series, A Chef's Life, The Boiler Room, and Sugar Hill Pizzeria. The motel is within walking distance of the CSS Neuse Museum Civil War Interpretive Center and CSS Neuse II.
6. The Red Caboose Motel and Restaurant
Located in the heart of Lancaster, The Red Caboose Motel and Restaurant features guest accommodations in 38 cabooses, a mail car, a baggage car, and farmhouse suites! Each rail car is uniquely decorated, and the outside is painted to represent America's most beloved railroads. The motel is open from March 1 to December 31 and amenities include an ice cream parlor, free movies in the barn, a Nickelodeon player piano, Amish buggy rides, arcade games, petting zoo, a silo viewing tower, and live summer entertainment. The restaurant, inside two 1920s Pennsylvania Railroad P-70 coaches, is open year-round. During the day, guests can see the famous Strasburg Rail Road as the steam-powered train passes right in front of the property. The motel is a short drive to the National Toy Train Museum, Railroad Museum of Pennsylvania, and Sights & Sounds Theatres.
7. Madonna Inn
Set in the golden hills along California's central coast near the town of San Luis Obispo, the Madonna Inn is a landmark hotel that has been the backdrop for television shows, movies, and music videos. The hotel features unique themed rooms, an award-winning restaurant decked out in pink, a saloon-style cafe, bakery, heated infinity pool, two whirlpools, a soothing 45-foot waterfall that flows into a lagoon, beach access, spa, horse trail rides, bike rentals, and nearby biking and hiking trails. Bonus: Kids under age 18 stay free in a room with their parents!
8. V Palm Springs
A short drive from Palm Springs, California, the V Palm Springs is modern and sophisticated with desert-inspired decor, custom furnishings, and artistic flair. The hotel features an outdoor heated pool, Jacuzzi, complimentary bicycles, poolside cafe, large fire pit area, Wi-Fi throughout the property, and free shuttle service to downtown. The hotel is close to shopping, dining, and nearby outdoor adventures include Joshua Tree National Park and the Coachella Valley.
9. Heliotrope Hotel
Close to downtown Bellingham, Washington, the Heliotrope Hotel is Pacific Northwest style with contemporary furniture, wood tones, custom built features and local art. Onsite amenities include The Hub, a lounge area where guests can meet over coffee or sit by the cozy fire to chat. Outside is The Yard, which features a grassy area with strung lights, lawn chairs, a fire pit and yard games. A short drive from downtown Bellingham and the Bellis Fair Mall, there is plenty of dining, shopping, and a historic theater with year-round all-age concerts and shows. Also nearby are the Historic Fairhaven District, whale watching tours, and outdoor recreation.
10. Austin Motel
Nestled in the heart of Austin's South Congress' district, the Austin Motel melds Mid-century style, and Texas spirit with distinctive design touches such as vintage silkscreened music posters, retro phones, vinyl tufted beds, and bold colored accents. The hotel features a kidney-shaped swimming pool with midcentury outdoor tables and chairs, a bodega with snacks and drinks, and a cafe. The hotel is near shopping, dining, Barton Creek Greenbelt, Zilker Park and Barton Springs Pool, and within walking distance of the bat bridge.
More From Family Vacation Critic:
9 Wacky Museums for Families
9 Cozy B&B Hotels for Families
Our team of parents and travel experts chooses each product and service we recommend. Anything you purchase through links on our site may earn us a commission.