The holidays really come to life in Hershey when its annual Christmas Candylane and Sweet Lights attractions kick off for the season in November each year. There's so much for families to do during the events that it can add up and not seem so sweet. Rather than worry about breaking the bank before Christmas, save with these tips and tricks before your visit to Hershey with your family this holiday season.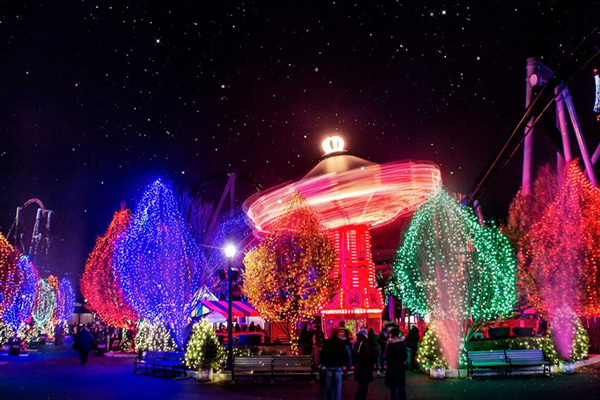 Purchase an admission package. Rather than pay for each event and activity separately, purchase combination tickets for Christmas Candylane, dining options, games and more.
The Ride, Dine and Play package includes one Christmas Candylane ticket, one meal voucher, and one single game voucher at the Goblet Toss for just $22.80 per person. The Snack Pack package offers the same, but with a snack voucher instead of a meal voucher, for just $17 per person.
Buy the day before. Plan on seeing the Christmas Candylane the next day? Buy your ticket on that current day no more than 2.5 hours before closing and you'll receive free admission to the park for the remainder of that day. If the park closes at 8 p.m., purchase your next-day ticket and get free admission from 5:30 p.m. until closing. If the park closes at 10 or 11 p.m., purchase your next-day ticket and get free admission from 7:30 p.m. until closing. That's at least 2.5 hours of free time in the park!
Add Sweet Lights tickets to your order. Purchase your admission tickets to the Hershey Sweet Lights in conjunction with your Christmas Candylane order and you'll pay a reduced price for the second attraction.
See it twice. If you're planning a weekend in Hershey, don't cram the Christmas Candylane into just one day. Purchase a regular price ticket for your first day and keep it. Present it at the Ticketing Services Building the next day and pay just $7 for admission to Christmas Candylane for that day.
Find a Giant Food store near you. Buy your Christmas Candylane tickets at a participating Giant Food Store and receive a discount on general admission rates. Giant Food Stores are located throughout Pennsylvania.
Go as a group. Get your friends and family all together for a big, sweet visit to Hershey and purchase your tickets as a group. You can save up to 40 percent off admission the Christmas Candylane. Offer valid for groups of 20 or more.
More From Family Vacation Critic:
18 Best Hershey Family Hotels
Hershey Planning & Tips
10 Holiday Happenings in Theme Parks
Our team of parents and travel experts chooses each product and service we recommend. Anything you purchase through links on our site may earn us a commission.