What's Christmas morning without matching kids Christmas pajamas?! Whether you're traveling for the holidays or planning to stay home, matching PJs are a must. These are the cutest and comfiest kids Christmas pajamas for 2019.

1. Burt's Bees Baby Unisex Pajamas
Keeping babies' sensitive skin irritation-free, these adorable Burt's Bees holiday PJs are made from 100-percent organic, Global Organic Textile Standard (GOTS) certified, breathable cotton. This ivory and red fair isle pattern is a gender-neutral classic that's festive and timeless for the holiday season. Snug fitting, this zip-front sleeper features elastic ankles to keep baby's feet in place. The non-slip "bee grips" give new walkers a little extra stability. This one-piece fits newborns through 24 months, so you toddler and newborn can match!
2. Simple Joys by Carter's Baby to Little Kids Christmas Pajama Set
This merry and bright three-piece kids Christmas pajama set includes two long-sleeve tops and one pair of striped pants with ribbed cuffs that matches both shirts. Made of 100-percent cotton, these Christmas PJs are machine washable (so when the kids spill some hot cocoa on them, they'll be good as new after a visit to the laundry room). Because these pull-on jammies are available in sizes 24 months to 5T, they make perfect kids matching Christmas pajamas!
3. Family Feeling Christmas Bear Kids Christmas Pajamas Set
Bring a little bit of the North Pole into your home this holiday season with this un"bear"ably cute polar bear-themed PJs set. If you're looking for kids matching Christmas pajamas, this Family Feeling pair, which is 100 percent cotton and machine washable, comes in a wide range of sizes from 12 months through kids size 16. Kids will look forward to getting their pajamas on at bedtime thanks to this friendly polar bear.
4. The Children's Place Boys' Christmas Pajama Set
Come December, every family can benefit from the help of a Christmas elf—even a part-time one! This kids Christmas pjs set from The Children's Place is fun and vibrant, thanks to bold green stripes and bright red trim and cuffs. It's available in kids sizes 4 to 16. A cotton-poly blend, this pair is soft, comfy, and durable.

5. BANGELY Christmas Deer Print Long Sleeve Romper Set
Make baby's first Christmas a holiday to remember with these cute-as-can-be reindeer-themed pajamas from Bangely. Fitting babies ages 3 months to 24 months, this pajamas set is soft and comfy. The onesie features three snaps, ensuring your little one stays warm while sleeping. Even though these are designed for bedtime, you'll probably want to take baby out in them just to show off that smiling reindeer on the bum.

6. Carter's Toddler Boys Holiday Christmas Pajamas
Play a game of "I Spy" or work on counting with these kids Christmas PJs by Carter's, which display Santa faces, polar bears, scarf-wearing reindeer, and penguins in hats. Available in size 2T and 3T, this pair is made of 100-percent cotton and is machine washable. Elastic waist pants make it easy for little ones to dress themselves for bedtime.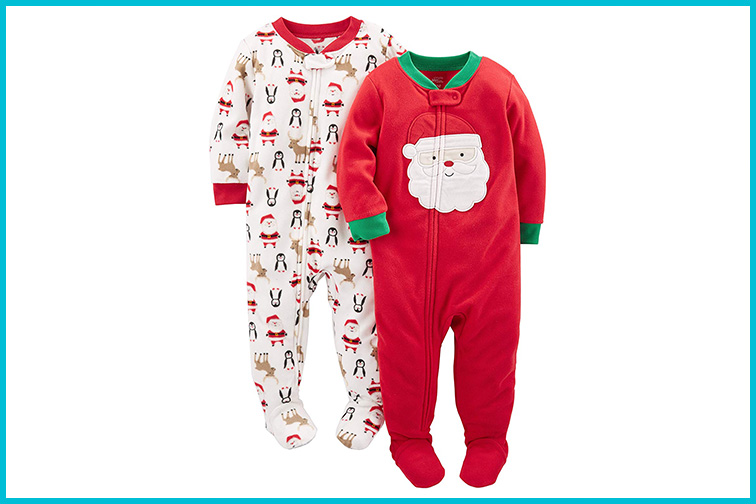 7. Simple Joys by Carter's Baby and Toddler Fleece Footed Pajamas
Double the fun with this Simple Joys by Carter's Christmas pajamas two-pack that's perfect for the holiday season. Fitting children who wear size 12 months up to 5T, this cuddly set includes two gripper-foot pajamas featuring Christmas favorites like Santa, reindeer, and penguins. The ankle-to-chin zipper with snap-over tab ensures tiny tots stay warm and secure through the wintery night.
8. Hatley One-Piece Holiday Pajamas
Cute and cozy, the one-piece Hatley holiday PJs are made of eco-friendly, 100-percent cotton. Soft yet sturdy, these holiday pajamas won't shrink or fade. They come in sizes 2 to 8, so siblings can match in these stylish jammies while they open their presents.

9. Toddler Long Sleeve Holiday Pajamas
Talk about delivering holiday cheer! You can't help but smile at this sporty, scooter-riding pup who wishes everyone a Merry Christmas amid a flurry of snowflakes. Made of 100-percent cotton, this darling two-piece, long sleeve holiday pajamas set fits kids who wear sizes 2T through 7T.

10. Kiki Zoe Long Sleeve Christmas Pajamas Sets
Kids will adore having Jolly old St. Nick on their tummies. This colorful two-piece pajamas set is made of 100-percent cotton. Santa's beard has a hint of texture to it for a bit of a sensory experience little ones can enjoy. The set is a snug fit so manufacturer Kiki Zoe suggests ordering the pajamas one or two sizes larger, which shouldn't be an issue as they're available in 12 months through size 16.

11. Komar Kids Traditional Holiday Plaid Nightgown
This warm and rustic plaid nightgown evokes sweet memories of yesteryear and a delightful Little House on the Prairie simplicity. Super soft, white lace trim and red ribbon bows give this Komar Kids holiday nightgown an extra touch of homespun holiday charm. Toddlers and teens can match as sizes run from 2T to 16.
12. PajamaGram Flannel Classic Plaid Pajamas
Kids will cruise into Christmas morning in style with this festive pair of PajamaGram PJs, which can be personalized to display their name or initials. Little ones and tweens who love cars will be thrilled to have this old-fashioned red station wagon transporting a Christmas tree on their pajama top or go with a plain solid color. Available in sizes 6 through 14, these kids holiday pajamas are machine washable.

13. Books to Bed 12 Days of Christmas Pajamas
It can be nearly impossible to fall asleep on Christmas Eve. This is one night when a bedtime story is a must. Fortunately, these Books to Bed kids Christmas pajamas, available in size 12 months through 3T, come with the book, 12 Days of Christmas, that's sure to become a holiday tradition in your home. The jammies are made of 100-percent cotton and showcase many of the season's favorite things, including snowmen, Christmas trees, and Santa, of course!
Liz Alterman lives in New Jersey with her husband, three sons, and a very spoiled cat. She is a longtime journalist whose work has appeared in The New York Times, The Washington Post, and more. Her ideal vacation includes great food, strong coffee, and a stroll through a botanical garden. Follow her on Twitter.
What to Pack for Your Next Trip
For info on these editor-selected items, click to visit the seller's site. Things you buy may earn us a commission.
Our team of parents and travel experts chooses each product and service we recommend. Anything you purchase through links on our site may earn us a commission.