Oh, the stylish fanny pack. That little hip bag we hate to love because it reminds us of the 1980s, when big hair ruled and tie dye pants were a must. But the fanny pack is just so convenient, especially for parents on the go.
Fast forward 30 years and the fanny pack has made a comeback in a big way. No longer are these belt bags being worn just around the waist. There are crossbody bags, hip bags, hiking bags and more, all with that fanny pack flair. Best of all, stylish fanny packs are better than ever, using different materials, patterns and colors that let you rock your individual style.
Stylish Fanny Packs We Can't Live Without
You don't have to be Molly Ringwald to find your favorite fanny pack anymore. Just look at all the stylish fanny packs we found for you. Hot pink, camo, leather, flower prints and more have us excited to do some shopping before our next trip.
1. Herschel Fifteen Belt Bag
We love the Herschel Fifteen Belt Bag, not just because it can store all of our swag, but also for the variety of colors and patterns it comes in. The interior has the signature Herschel striped liner, and is made with durable material that can handle your travels, shopping trips and hikes through national parks. The only problem we found—there are too many colors and patterns that we love and just have to have. How do we pick just one?
2. MUCO Fanny Pack
Breathable soft mesh is the name of the game when it comes to the MUCO Fanny Pack. No one wants to sweat, especially around their middle, which is why we love the mesh lining on the back of this one that keeps us cool. Seven different bright and bold colors make you stand out from the crowd. Three zipper compartments keep everything handy, making it easy to head to the airport, run the trails or play on the playground with the kids.
3. adidas Originals Unisex National Waist Pack
Get your tracksuits ready people, the adidas Originals Unisex National Waist Pack is bringing us straight into Goonies and we couldn't be more excited. Camo, grey, peach, red, blue and black options make it hard for us to decide. This stylish fanny pack must be hand-washed, but is easy to strap on whenever you're headed out on your next day trip.
4. Billabong Women's Fiesta Pack
We will never say no to the 100-percent cotton Billabong Women's Fiesta Pack. It's perfect for outdoor festivals, adding just a bit of flair to your outfit. It's large enough to hold your wallet, keys and phone, so you can be hands-free no matter where you love to dance and sing.
5. Karpathic RFID Fanny Pack for Women and Men
RFID is all the rage if you don't want to worry about your credit cards and other personal information getting swiped. Pop your wallet, passports and keys in this RFID-secure fanny pack when you're hopping around Europe or biking through your hometown. The water-resistant surface will protect your valuables, even when you get caught in the rain.
6. HotStyle 521s Small Fanny Pack
Like colors, patterns, and most importantly, options? Then the HotSyle 521s Fanny Pack is your go-to stylish fanny pack this season. The main pocket can fit your phone, sunscreen, earplugs, passport, wallet, and anything else you need handy while wandering the globe. It can also be carried as a chest bag or mini shoulder bag when you want to switch things up.
Best Fanny Packs for Disney
Carrying a fanny pack for Disney is pretty much a no-brainer. You want your cash, hand sanitizer, tissues, medications and phone handy. No one wants to have to dig for the essentials when there's so much Disney fun to have too.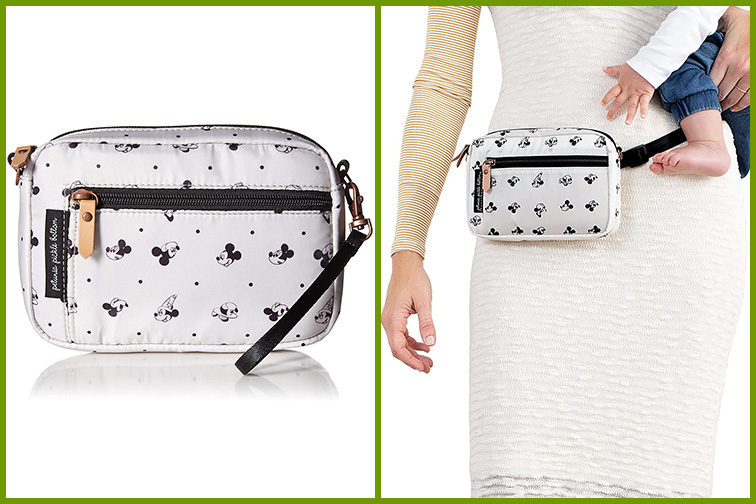 7. Petunia Pickle Bottom Belt Bag Mickey's 90th Disney Collaboration
Petunia Pickle Bottom is synonymous with great mom gear, so of course they would make our favorite stylish fanny pack. The Petunia Pickle Bottom Belt Bag Mickey's 90th Disney Collaboration will not only set you apart from all of the other moms at Disney, but will hold your essentials (and cover up a little of that baby weight). One exterior zipper means it can hold more and you don't have to squish your items into tiny pockets, like you will see on other fanny packs for Disney.
8. Disney Minnie Mouse Fanny Waist Pack
Who doesn't love Minnie Mouse? The classic white Disney Minnie Mouse Fanny Waist Pack will bring you back to that classic fanny pack look you loved in the 80s. The canvas material is easy to clean, and goes with just about anything. Best of all, it won't make you sweat, like suede and leather bags can on a hot day in the park. Your kids can also wear this fanny pack for Disney, as the waistband adjusts from 18 to 46 inches.
Related: The Best Shoes for Disney World
Fanny Pack Diaper Bags
There's no official fanny pack diaper bag out there, at least not that we could find. However, these slightly larger, stylish fanny packs can easily hold a few diapers, bottles and wipes when you're out and about. No more digging through your big bag when you're hiking or running errands; these make-shift fanny pack diaper bags will have you looking good no matter where you're with the baby in tow.
Related: Best Diaper Bags for Moms
9. Herschel Supply Co. Eighteen Fanny Pack
The Herschel Eighteen Fanny Pack is one of the largest in the Herschel line. The size (3 by 11 by 7 inches) allows for a couple of diapers, wipes and even a Go-Go Squeeze pack or two. Moms will love the simple design that's easy to wear on your back while you carry your baby in front (and vice versa). If you want a funky pattern though, check out the Herschel Supply Co. Nineteen Hip Pack. It's labeled for men, but the gals can rock this stylish fanny pack, too.
10. Aocharm Fanny Pack
For parents with babies who still take a bottle, the Aocharm Fanny Pack is for you. Not only will it hold your diapers and wipes, but it can also hold a baby bottle in the water bottle spot. We think these features make it the perfect fanny pack diaper bag. Better yet, it can also hold your travel baby bottle warmer. No more cold milk when your little one is in the jogger stroller. This stylish fanny pack won't make you feel like a pack mule, but will keep all of the essentials front and center.
Related: The Best Diaper Bags for Dads
Keryn Means lives in the suburbs of Washington, D.C. with her husband, two boys and one fluffy little pup. She is an award-winning travel journalist with bylines on Thrillist.com, Travel Age West, DCTravelMag.com, TwistTravelMag.com and more, and loves to talk travel on ABC's Good Morning Washington. You can find Keryn dragging her two boys around the DC area most days and across the globe several times a year. Follow along on their adventures on WalkingOnTravels.com, TwistTravelMag.com, DCTravelMag.com and on Instagram.
Get Cozy at Home
For info on these editor-selected items, click to visit the seller's site. Things you buy may earn us a commission.
Our team of parents and travel experts chooses each product and service we recommend. Anything you purchase through links on our site may earn us a commission.