Family vacations typically trend toward theme parks and road trips to the same well-trodden destinations. Not surprisingly, Florida, California and New York have been holding steady as the top three most popular U.S. states to visit, according to a 2017 survey from the Family Travel Association and New York University School of Professional Studies. And national parks, a perennial favorite among families of school-aged children, are suffering from overcrowding drawing more and more numbers of visitors every year to the detriment of the parks' natural environment.
The answer? Think about the American destinations where you're less likely to find crowds and more likely to find hidden gems and cool experiences to share with your kids. These are the most underrated family vacations in the U.S.
1. Mississippi Gulf Coast
Instead of hitting up the overcrowded Florida beaches, consider visiting a more under-the-radar option in Mississippi, which is easy on the budget and every bit as exciting for kids.
Take your family on a shrimping trip in Biloxi, which will show you how shrimpers cast their nets for these tasty critters – there's nothing fresher than this. Visit the Infinity Science Center, with exhibits on space travel and local ecology, plus a Hurricane Prediction Lab. And don't forget to make plenty of time for the beach and exploring nature. The Pascagoula River Audubon Center and the Center for Marine Education and Research have hands-on exhibits for learning about the wildlife that live in this coastal region. You can also charter a boat for a scenic cruise, or go fishing off the pier or shore.
Recommended Hotel: Beau Rivage Resort & Casino Biloxi
2. Tacoma, WA
Just outside the well-trodden destinations of Seattle and Portland lies Tacoma, a hidden gem destination brimming with unique and new activities for families.
On September 7, Tacoma's newest 35,000-square-foot state-of-the-art Pacific Seas Aquarium will open with a walk-through tunnel tank, a kelp forest, and a Tidal Touch Zone that helps visitors learn about Pacific wildlife.
Take in the beautiful views of Mount Rainier with a glass of wine and a bite to eat while your kids play in a spray fountain nearby at Point Ruston, a new development on the waterfront with outdoor dining. An elevated pedestrian walkway will open later in 2018, connecting this area with a 7-mile trail that tracks the forest and waterfront. Visitors can even go down a series of slides to the waterfront below.
There's even something called "Kiddo Karaoke" at Odd Otter Brewing Company, which is exactly what it sounds like: for a few blissful hours one Sunday a month, you can let your kid's inner diva shine while you enjoy a pint.
Recommended Hotel: Silver Cloud Inn Tacoma – Waterfront
3. Frisco, TX
This up-and-coming destination in the Lone Star State is located in the booming Dallas/Fort Worth metroplex, about 30 minutes northeast of the DFW Airport.
A sports and video gamer's dream destination, Frisco offers a ton of unique experiences for kids and adults alike. For starters, check out The Star, dubbed a part of Frisco's "$5 billion mile," filled with family-friendly shops and restaurants, along with its most famous tenant: the Dallas Cowboys practice facility, where you can book a tour. You might even catch a glimpse of a player or cheerleader on their home turf.
Video game enthusiasts must visit the National Videogame Museum, where you can trace the history of video games from its earliest days and drop a few tokens into the arcade for some retro-style fun (Frogger, anyone?). Follow that up with drinks or a meal at @nerdvana, a video game-themed restaurant and coffee shop.
Frisco is also home to the National Soccer Hall of Fame (opening fall 2018) and a very fun minor league stadium, Dr Pepper Ballpark, home of the Frisco RoughRiders, where you can float on a lazy river in the outfield during the game.
Recommended Hotel: Comfort Suites Frisco
4. Fort Wayne, IN
Fort Wayne is a midwestern destination to watch in 2019. That's when the city's riverfront will be reimagined, including a riverfront park, water features, a concert stage and a tree-lined trail.
Three rivers wind through the city, providing lots of opportunities for kayaking, canoeing or paddleboarding – and there's a new canal boat, as well.
The Fort Wayne Children's Zoo, home to more than 1,500 animals, is considered one of the top zoos in the country. Kids can pet stingrays, feed giraffes, go on an Australian log ride, and check out the Sky Safari (similar to a chairlift).
Headwaters Park is the plaza space downtown that hosts several events throughout the year, celebrating culture, art, music and more. Families can also catch a TinCaps minor league baseball game downtown, with tickets starting at just $5.
Recommended Hotel: Courtyard by Marriott Fort Wayne Downtown at Grand Wayne Convention Center
5. Cincinnati, OH
Ohio might not be on your list of top family vacation destinations, but Cincinnati is amazingly family-friendly and great for parents on a budget.
Start with Washington Park, a playground and splash park in the Over-the-Rhine neighborhood, where you can treat your kids to an ice cream from Graeter's. Try their signature flavor, Black Raspberry Chocolate Chip, recommends Cincy resident, Chez Chesak.
The city's streetcars are an attraction in their own right, and you can ride them to the riverfront or other attractions across the city. Also be sure to check out the Cincinnati Zoo and Botanical Garden, home of Fiona, a baby hippopotamus who received international attention after being born six weeks premature.
Recommended Hotel: Great Wolf Lodge Mason
6. Detroit, MI
Long suffering under a less-than-positive reputation, Detroit's comeback story is drawing more and more visitors every year – and there are plenty of fantastic family finds.
Start with a trip to The Henry Ford museum and learn about the development of the automobile right where it all began. The museum is where you can climb aboard the actual bus where Rosa Parks famously took a stand for Civil Rights. The Detroit Institute of the Arts is home to stunning murals of Mexican artist Diego Rivera and his depiction of Ford Motor Co. in the 1930s.
Take in a Detroit Tigers ballgame at Comerica Park or a Red Wings hockey game at Little Caesars Arena. Detroiters are passionate about their sports (watch for an octopus on the ice)!
Ride the people mover and have your kids sample the Coney dogs at the rival joints: Lafayette Coney Island or American Coney Island – which is better? Make a stop at Campus Martius Park, where there's always something fun going on, whether it's an event, food trucks or an ice skating rink in the winter time. Kids also love a visit to Greektown, where flaming cheese is a popular appetizer.
Recommended Hotel: Aloft Detroit at the David Whitney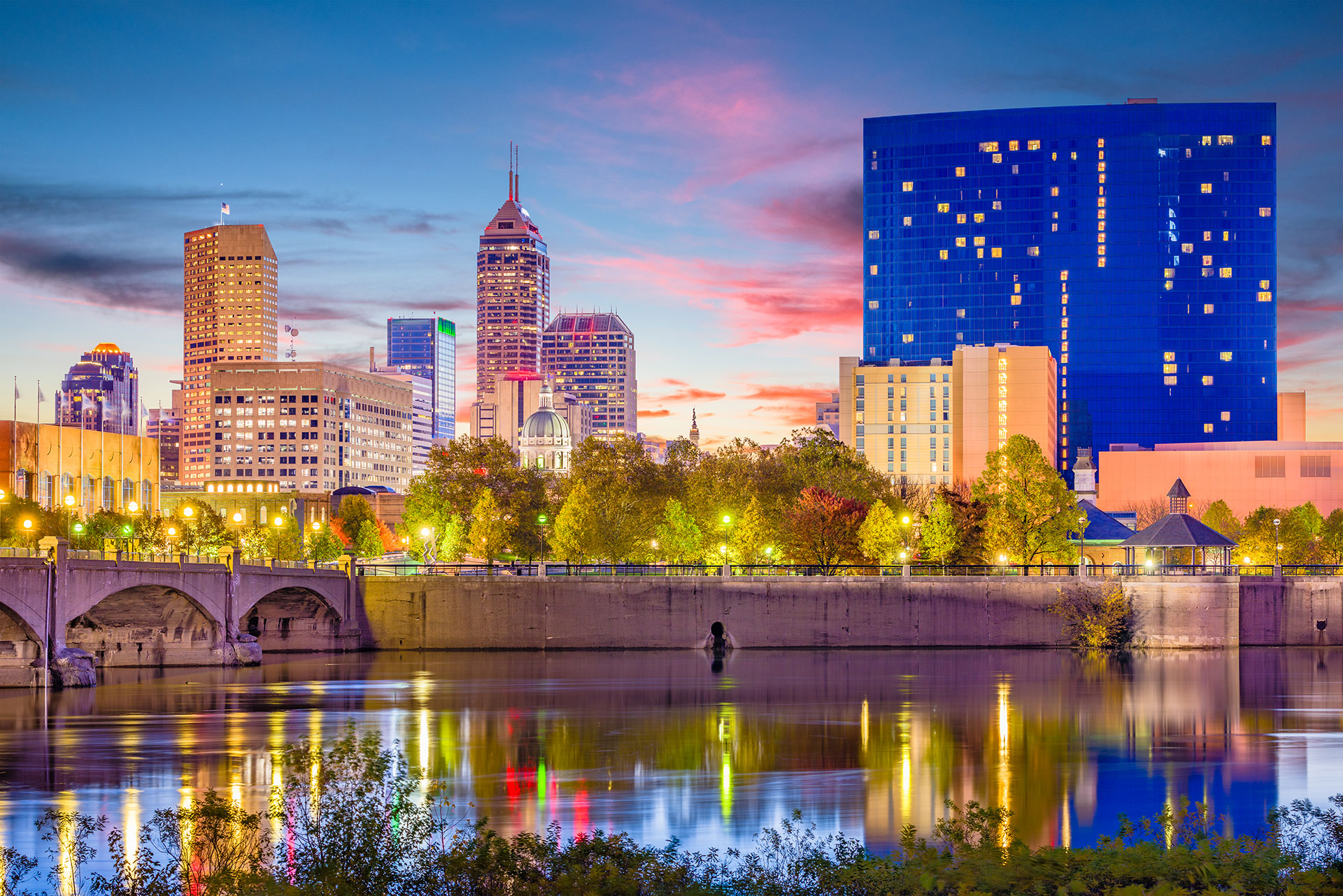 7. Indianapolis, IN
Indianapolis welcomed 28.6 million visitors in 2017, with room for plenty more in coming years. The city prides itself on affordability and Hoosier hospitality for family travelers.
In spring 2018, the Children's Museum of Indianapolis opened a new $38 million indoor/outdoor permanent exhibit called Sports Legends Experience, with 14 zones that allow kids to explore the world of sports, including pedal cars to race on a track and a professionally designed golf course just for little ones.
Families can also relax in the 250-acre White River State Park located downtown. Several museums, as well as the Indianapolis Zoo, are just a short ride away.
Several family-friendly (yet flavor-focused) restaurants have recently opened, too, including Neal Brown's omakase-style restaurant, Ukiyo; Jonathan Brooks' Beholder and Milktooth; and Kimbal Musk's Hedge Row Bistro and Next Door Cafe.
Recommended Hotel: SpringHill Suites Indianapolis Downtown
Cynthia J. Drake is a travel writer based in Austin, Texas, where she lives with her husband and two sons. Since becoming a mom, she's been stranded at sea with her family, gotten lost in the Rocky Mountains, dealt with more than her fair share of public vomiting, and still can't wait for the next trip. She writes regularly for AAA magazines, Austin American-Statesman, Texas Highways and Cruise Critic. Follow her on Facebook and Twitter.
What To Pack For Your Next Trip
For info on these editor-selected items, click to visit the seller's site. Things you buy may earn us a commission.
Our team of parents and travel experts chooses each product and service we recommend. Anything you purchase through links on our site may earn us a commission.