The largest of the Royal Caribbean oceanliners – and the largest ship in the world in 2016 – Harmony of the Seas made its debut into America in November 2016. The ship offers more restaurants, shops and onboard fun than any other ship in the world.
The 17-deck ship carries over many similarities from its Quantum Class Anthem of the Seas and Oasis of the Seas, with one-of-a-kind touches. The Ultimate Abyss, for example, is a thrilling 10-story slide in the dark, and the ship's open Central Park, on deck 9, with its trees and natural sunlight, feels like, well, a walk in the park. The ship also brings Broadway-caliber shows like "Grease" to its stages, and popular Quantum luxuries like the adults-only Solarium and the robotic Bionic Bar can be found on Harmony.
Of course, kids' programs and activities are in full force. The Adventure Ocean kids club provides many activities, and kids will enjoy the many activities on the sundeck. This ship is gorgeous and worth every bit of hype it has received!
FAMILY ACTIVITIES
Adventure Ocean
Like other Quantum ships, Adventure Ocean is found on Harmony of the Seas, on Deck 14, forward. Divided into separate rooms by age groups, there is space for kids from 3 to 11 years of age. Parents must register kids at the start of the cruise to be part of the program, and then sign in and out. (Kids cannot take themselves.) Program is offered from 9 a.m. to noon, 2 to 5 p.m., and 5 to 7 p.m. Parents can leave kids in the program while at port, and additional late-night services are available (at a per child, per hour fee) from 10 p.m. to 2 a.m.
Only offered on Harmony of the Seas is the Adventure Ocean Theater, featuring a black-light puppet show entitled "Away We Go."
AquaTheater
Leaving behind the Two70 cabaret-style performances found on other Quantum ships, Harmony of the Seas attempts to one-up itself in technology and coolness with its new AquaTheater. Showcasing a show called "The Fine Line," the AquaTheater combines diving, synchronized swimming and more in a 360-degree immersive show with 3D fliers and acrobatics. "Hideaway Heist" is another action-packed show with a "Guys 'n Dolls"-like interactive comedy dive show.
Arcade
Located to the teen-friendly Living Room is the ship's arcade. It's small and features the standards and is open to all ages, but mostly we found it pretty quiet. There are better things to enjoy on the ship.
Boardwalk
This traditional shore-style boardwalk comes complete with a classic carousel featuring 18 full-life carved animals to ride. Two rock climbing walls are also located on the Boardwalk, each measuring 43 feet in height. The twin walls harness in climbers who must wear closed-toe shoes and provided helmets. Modeled after a Northeastern Boardwalk, you will find a Zoltar machine and other fun and games here.
DreamWorks Characters
Like the other Quantum ships, Royal Caribbean's partnership with DreamWorks means kids will have a chance to meet and greet various characters from DreamWorks films, such as "Madagascar," "Shrek" and "Kung Fu Panda." Dive-in movies showcase DreamWorks films, and a special character breakfast is available each sailing.
Escape the Rubicon
This puzzle break challenge locks groups into a problem-solving room in which they must follow clues and reveal the secrets to get out. Guests have 60 minutes to unlock the cube! It is found on Deck 14.
FlowRider and Sports Deck
The Sports Deck provides a court for basketball, volleyball and soccer, as well as the water ride, FlowRider. Not one, but two FlowRiders are available on Deck 16. All ages 52 inches and taller can ride the waves on a boogie board, or surfboard if they are 58 inches or taller. The simulator is open during good weather and is free of charge. Lines form to take turns and the ride is fully staffed.
The Living Room
On Deck 15, Aft, is a teen zone called the Living Room. Unfortunately, it combines ages 12 to 17 and doesn't provide any separation from tweens from older teens, which can be seen as "uncool." Sometimes, staff may be on hand to divvy them up when crowds are big, but mostly this is a lounge with TVs and video games. Next to the Living Room is a teen-only nightclub called Fuel for kids ages 12 to 17. Special theme nights take place on different sailings.
Royal Babies and Tots
For younger kids, ages 6 months to 3 years, this at-fee nursery features a staff ratio of one caregiver to four children. It will cost you $10 per hour, per child, and in-room babysitting is available for $20 per hour, per child. You can also play in a parent-child padded playroom at no charge. Services are available until midnight.
Royal Theater
Showcasing Broadway-style performances, the Royal Theater's main show is its reproduction of "Grease." "Columbus The Musical" is a Royal Caribbean original also showcased here. The makers of the show akin it to "Spamalot" with a fictional history of Christopher Columbus' down-on-his-luck cousin.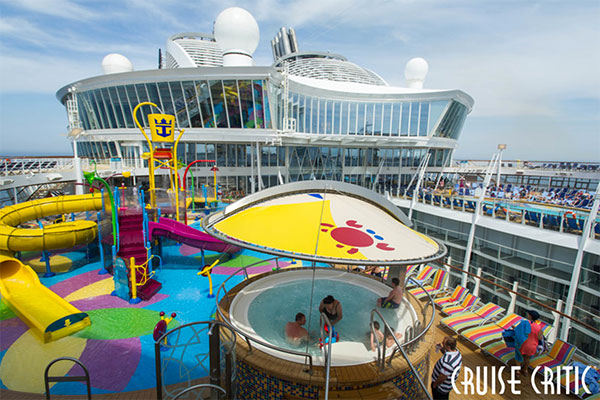 Splashaway Bay and The Perfect Storm
The biggest aqua park for Royal Caribbean's ships is found on Harmony of the Seas at Splashaway Bay. Waterslides, water cannons and a splash bucket are the main features of this Deck 15 fun zone, located near the pool deck's main pool. For thrill seekers, if the Abyss didn't get you screaming, the Perfect Storm waterslide will! This trip of waterslides shoot you through tunnels over Central Park, 10 decks below.
Studio B
Catch a unique spin on Parisian history with the "1887" ice skating show – yes ice skating – in Studio B. More ice skating performances are found in the high-energy iSkate original production.
Ultimate Abyss
Offering the tallest slide at sea, this double tunnel slide drops you 100 feet from Deck 16. The dual slides tower 150 feet above the sea and drops you from the pool and sports zone on Deck 16 to the Boardwalk on Deck 6. Enter into the dark, if you dare!
Vitality Spa
Teens are welcome in the ship's Forward Spa, with special massages, facials, manicures and pedicures designed just for them. Of course, adult treatments are more plentiful, with full-body offerings, beauty and hair service.
Zip Line
Soar above the Boardwalk nine stories high on the ship's zip line. The zip-lines cover a distance of more than 82 feet. It's located on Deck 16.
ROOMS/CABINS
Harmony of the Seas is Royal Caribbean's largest Quantum ship, featuring 2,747 guestrooms, of which 1,768 have balconies. Unique to this ship is its interior stateroom that provide balconies overlooking Central Park and the Boardwalk. The ship also offers singles for one up to the Family Presidential Suite for 14, fitting families of all sizes on board.
Interior Cabins
Seventy-six interior rooms feature "virtual balconies" with high-tech walls showcasing the exterior view on a realistic screen. These screens are floor-to-ceiling and include ocean sounds that you can mute. Interior cabins are small, measuring just 149 to 172 square feet, with some connecting options to create larger rooms.
Oceanview Cabins
Starting at 179 square feet, these standard cabins feature bay windows to enjoy the sea views. However, you can also select a Boardwalk View, Promenade View or Central Park View overlooking different decks of the ship – perfect for people watching from above! Family Oceanview cabins can sleep six people in 271 square feet of space. These cabins feature a king bed, pullout sofa bed and twin bunk beds.
Balcony Cabins
Starting at 182 square feet, these cabins have balconies overlooking the ocean with two small chairs and a table. Balconies can vary in size depending on location and range from 50 to 80 feet. Like the Oceanview choices, you may select a cabin with a balcony overlooking the Boardwalk and Central Park. These balconies are all 73 square feet in size. Family options feature the same sleeping arrangements as the Oceanview cabins.
Suites
The new Royal Suites experience provide the most luxurious of accommodations and special amenities exclusively to guests of these suites. Three tiers are available with Star Class, Sky Class and Sea Class.
Sky Suites are Grand Suites, with 371 square feet of interior space and 105 square feet of exterior space. Suites feature separate bedrooms and living rooms with convertible couches and can sleep four. Royal Family Suites are part of this class, offering space for a family of eight. Just four of these cabins are available, featuring two bedrooms, two bathrooms and a living/dining room with wraparound balcony. A master bedroom features a king bed, while the second bedroom offers a sleeper sofa and two pull-down beds. Royal Family Suites are 580 square feet with 238 square feet of balcony space.
Ten Owner's Suites are also part of Sky Class, with 556-square-feet of interior space and 243-square-feet of balcony space. Only sleeping four, the cabin provides a master bedroom with king bed and a living room with sleeper sofa and dining area.
The largest of the Sky suites is the Crown Loft Suite. This two-story cabin features a loft bedroom on the second floor and a living room with sofa bed and dining area. Each of the 29 cabins of this style feature floor-to-ceiling windows spanning the two floors.
Perks for Sky Class guests include all-day dining at Costal Kitchen, room service, VOOM, a one-day pass to the Thermal Room at the spa, priority restaurant reservations, theater seats, boarding and departure and Suites Beach at Royal Caribbean's private islands.
Star Suite guests enjoy the Ultimate Beverage Package, dining at the specialty restaurants, in-room cocktail service and complimentary mini bar, and free fitness classes and in-cabin movies. Guests of this class also have the luxury of the Royal Genie, whose wish is your command.
Special AquaTheater Suites are part of the Star Class with cabins overlooking the theater for private viewing of the shows. Six of these suites feature separate bedrooms and living areas in a space of 589 to 631 square feet, accommodating four to eight people. Two-bedroom versions sleeping eight also overlook the theater with wraparound balconies starting at 610 square feet. The cabins have two bathrooms, dining table and living area with sofa bed in space ranging from 673 to 823 square feet.
Sky Loft Suites are another grouping of two-story suites, these in the Star Class. Similar to the Loft Suites, the suites accommodate four.
For the most space, choose from the Presidential Family Suite or the Royal Loft Suite. These two suites are 1,142 and 1,524 square feet in size, respectively. Both provide two bedrooms, two bathrooms, living rooms with sofa beds and dining tables. These suites can sleep six.
Sea Class is the lowest of the special suite classes, with upgrades including L'Occitane bath produces. Offering 287-square-foot junior suites with 80-square-foot balconies, these are the smallest of the suite amenities with double beds or a king with separate sleeper sofa and the ability to accommodate up to five.
KID-FRIENDLY DINING
Royal Caribbean continues its Dynamic Dining program on Harmony of the Seas, where there are no fixed seating or tables and there isn't just one main dining room. Guests are welcome to walk into the three main dining rooms or free dining establishments between 5:30 and 10 p.m. Dynamic Dining Classic allows guests to follow the old-fashioned style of set dinner times with the same table and waiters at 6 or 8:30 p.m. Each restaurant provides appetizers, main courses and desserts, and three offerings are available: Silk, The Grande and American Icon. The three restaurants are each on a different floor, Deck 3, 4 and 5, but share an open area where diners can look up or down to see the other floors. Kids' menus are available at each restaurant.
American Icon, on Deck 3, only offers Dynamic Dining at night. Diners can enjoy breakfast here as they like, and lunch on at-sea days.
Complimentary dining is also available at the all-day Sorrento's Pizza, the lunch and afternoon Mini Bites, the spa's Vitality Cafe, Boardwalk Dog House, the all-day Windjammer Marketplace buffet, the breakfast and lunch Park Cafe and the 24-hour Cafe Promenade. Boardwalk restaurants do not open until 11:30 a.m.
The ship's at-fee restaurants feature excellent cuisine and renowned chefs and are well worth the highly coveted reservations. Children ages 13 and older are charged as adults, with kids younger charged a discounted price. The fee restaurants include:
150 Central Park
Created by the James Beard Award-winner Michael Schwartz, this seasonal, farm-to-table restaurant uses ingredients from South Florida farms. Located in Central Park, the restaurant features indoor and "outdoor" dining. Choose from a three- or four-course dinner option, paired with wine. Prices range from $45 to $89.
Coastal Kitchen
Suite guests and Pinnacle Members can enjoy this just-for-them restaurant on Deck 17. Coastal Kitchen features Mediterranean fare with California flair. Sky guests can dine here all day, while Star guests can arrive for dinners. Breakfast is offered 7:30 to 9:30 a.m., lunch from 12 to 1:30 p.m., and dinner from 5:30 to 9:30 p.m.
Chops Grille
The popular American Steakhouse, Chops Grille, is a dinner-only spot offering dry-aged steaks. Reservations are required for this Central Park-located restaurant. This restaurant $39 — and worth it — with reservations filling fast.
IZUMI
This reservation-required Japanese restaurant features hand-rolled sushi and teppanyaki prepared tableside. The restaurant is located on Deck 4 and is open for lunch from 12 to 1:30 p.m. and dinner from 6 to 9 p.m. Prices are a la carte with a Hibachi price of $35 to $40. Hibachi is only available for dinner.
Jamie's Italian by Jamie Oliver
This is one of the fastest reservations to go aboard Harmony, so book fast. The celebrity chef brings his signature Italian dishes to a family-style restaurant. Lunch, $20, is available from 12 to 1:30 p.m., and dinner, $25, from 6 to 9:30 p.m.
Johnny Rockets
Of course, this popular chain burger joint is located near the action where the kids hang out. It's not included in the dining package but you will find it serving between 11:30 a.m. and 7 p.m. A secret: breakfast is offered here at no additional charge. Shh!
Sabor
This modern Mexican restaurant, located on the Boardwalk, uses fresh and flavorful ingredients for daily fiestas and table-made guacamole. It is open for lunch and dinner.
Solarium Bistro
Located in the Solarium on Deck 15, this adult-only bistro serves healthy fare. Light breakfast, lunch and drinks at this bistro are included, with a dinner menu available with free and an additional cost menu.
Vintages
This wine bar offers tapas in its Central Park location. Open for lunch and dinner, there is an electronic, interactive wine menu available for its vast selection of vintages.
Wonderland
Also very popular for reservations, this whimsical dining spot offers an Alice in Wonderland theme. Using molecular gastronomy methods, food here is unique and not entirely kid-friendly. The two-story restaurant is also only open for dinner ($49), between 6 and 9:30 p.m.
Character Breakfast
Like its sister ships, Harmony features a DreamWorks Character Breakfast with Shrek, Fiona, Puss in Boots, Kung Fu Panda and more. The breakfast is an additional fee and requires reservations, taking place on at-sea days with two seating times available. The price is just $49 per cabin.
PLANNING & TIPS
Wi-Fi
Royal Caribbean touts its VOOM service as the fastest and best internet at sea. You can even stream videos using the service! However, this service doesn't come cheap, at $15 per day, per device. Discounts are available for multiple devices. Cellular at Sea is available for cell phone service.
Fitness Center
The fitness center on Harmony of the Sea includes all equipment one would expect at their local gym, including cardo and strength training equipment. Studios provide fitness classes, at a fee, such as aerobics, spinning and yoga.
Babies
Special packages are available that allows you to purchase diapers, wipes and food ahead of time to be delivered to your cabin for when you arrive.
FOR MOM AND DAD
Solarium
The adult-only Solarium at the front of the shop is a glass-encased, double-decker space with panoramic views. The area has its own bar and dining, as well as a quiet pool six hot tubs, four of which are suspended above the ocean!
Bars
There are nearly 20 bars in which to choose aboard Harmony, so definitely utilize the kids' programming to visit the bars and nightclubs found scattered about the ship. Deck 4, 5 and 6 offer the main nightlife hub, while Decks 8 and 9 and 15 and 16 are also hot spots. You can't miss the Bionic Bar on Deck 5, with two robotic arms mixing drinks you order via iPad. Be sure to also take a ride in the Rising Tide Bar, the first moving bar at sea. Climb on in and slowly descend from Deck 8 to Deck 5 and back as you enjoy a cocktail.
More From Family Vacation Critic:
5 Best Cruise Lines for Families
10 Best Cruise Ships for Teens
Carnival Cruises for Families
Our team of parents and travel experts chooses each product and service we recommend. Anything you purchase through links on our site may earn us a commission.