The first time we traveled as parents, with our oldest son, we completely overpacked for the weekend trip. I acted as if the mountain resort three hours from my house was in the middle of a remote desert and planned for every eventuality— we had no spare room in our midsize SUV. I even packed two bottles of infant Tylenol, in case I spilled one and the entire state of West Virginia had no drug stores.
Spoiler alert: I didn't need either bottle.
A decade into parenting, with four kids and a dog, I've gotten more efficient at packing. We've upsized from the SUV to a Toyota Sienna 8-passenger minivan. This allows us to fit more kids, but there's less cargo room. When our kids —now ages 9, 7, 7, and 2— were shorter, we could pack the entire floor of the van under their feet. Now three kiddos have feet that touch the ground, and our packing space has been curtailed dramatically. Yet, we still hit the road regularly and have devised tons of tips and hacks for the van, both to make packing easier and trips run more smoothly.
Packing Cubes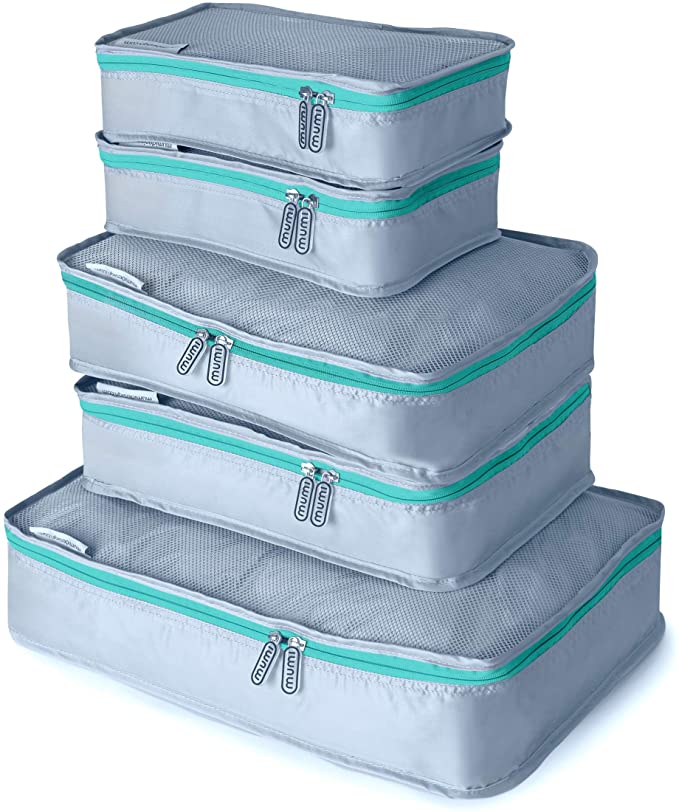 With four kids, clothes take up the most space. Several hacks we love are packing cubes and compressible bags. We love these mumi cubes—the smaller mesh ones are great for a day's worth of clothes and pajamas per kid, which avoids the clothing explosion that happens when we open our giant duffel upon arrival. The plastic-lined version is what we keep our toiletries in to avoid leaks. When you're squeezing a lot tightly into a van, or kids walk across bags, things pop open, and at least your whole wardrobe won't be covered in toothpaste. Compression bags like the ones by Nomatic allow the adults to squeeze our wardrobes down to their smallest possible size—no need to use a vacuum cleaner like the previous generation of space bags.
Laundry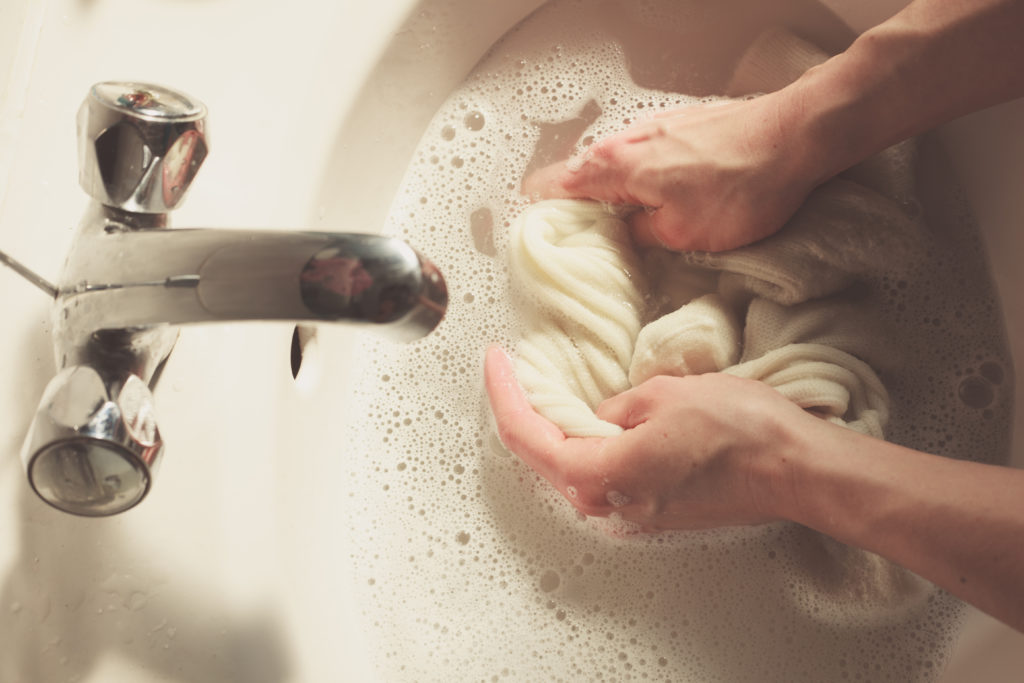 If we are going to be gone for a week, we only pack a half week's worth of clothes and do a load mid-trip. (Let's be honest, hiding in the hotel laundry room waiting for our clothes to dry with my favorite unoaked chardonnay is the only quiet time I get on our family "vacation.") There are several great options for washing clothes while traveling. If our destination has laundry facilities, I take a little bag of Tide pods or a small bottle of super concentrated detergent such as Swash—the bottle squirts out exactly what I need, without needing to measure and pack a gooey cap back into my luggage. If we are somewhere without laundry, I take laundry pens (we like Oxi Clean because they make many kid-stains invisible until you can laudner again). Tide travel sink packets are also great for a wash-and-line dry while at a cabin or tent camping.
Space-Saving Tricks
We've also found some space-saving alternatives to some of our bulky but essential family trip items. As a water-loving family of six, our beach towels were always a huge waste of space. We found these Nomadix towels– six of them folded take up the space of two typical beach towels, and they dry twice as fast hanging on the line.
We always check ahead if campsites or cabins have seating, but if not, compact chairs for mom and dad like Cliq fold to only the size of a water bottle, and can be shoved in any little gap we have after the larger items are packed. For the kids, they prefer either picnic blankets or portable hammocks, both of which pack up really small. The stroller is a much-needed item when we travel for our youngest, but our jogger barely fits in the van-—even without bags. Several small options we've found that still are tall enough to push comfortably are the Chicco Liteway and Pockit.
And while we don't opt to take bikes on most trips with us, our kids always have a fold-up scooter for navigating campgrounds or burning some energy in an empty parking lot. We stash these below the toddler's feet—my big kids have this Lascoota model, with bigger wheels that make rough terrain a bit easier. Our youngest loves this three-wheeled foldable scooter by Globber— one of the few in this size range we've found that collapses.
Maximize Space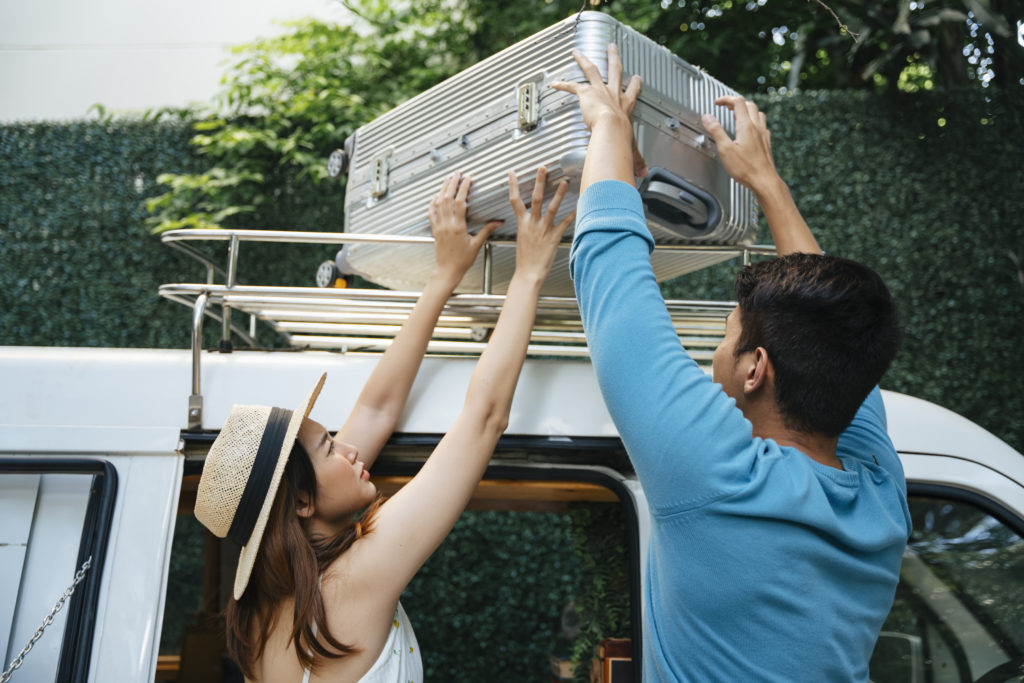 We try to squeeze as much stuff as we can on top of the car. While a hard-sided carrier is difficult to maneuver, we've had this soft-top Samsonite roof-top carrier for over a decade, and it shows no signs of wear. It's easy for even one adult to install and fill. We do a lot of late-night and early-morning packing to avoid the chaos of kids trying to "help," and we've also found a headlamp makes this process much easier. My favorite is this one by Third Eye—it's been on a dozen trips with us and hasn't needed new batteries yet, and it's super bright directable light helps us to secure our carrier safely with free hands, as well as root around in the car in the dark playing baggage Tetris.
Don't Forget the Snacks
We also pack some snacks the kids can easily access, which cuts down on stopping and wasting money at overpriced convenience stores. These silicone containers by ZipTop open into a little cup for loose snacks like fish crackers or pretzels, but they can't lose the lid (and whine about it). We also love pouches of food, and our older kids have been thrilled by the new Gogo Big Squeez, which are larger than the ones they ate as toddlers. (I also keep a cooler bag by my feet in the front, and honestly, nothing beats YETI. My friend boasts that she kept an ice cream pie frozen in a YETI cooler while driving from Pennsylvania to Alabama).
Involve the Kids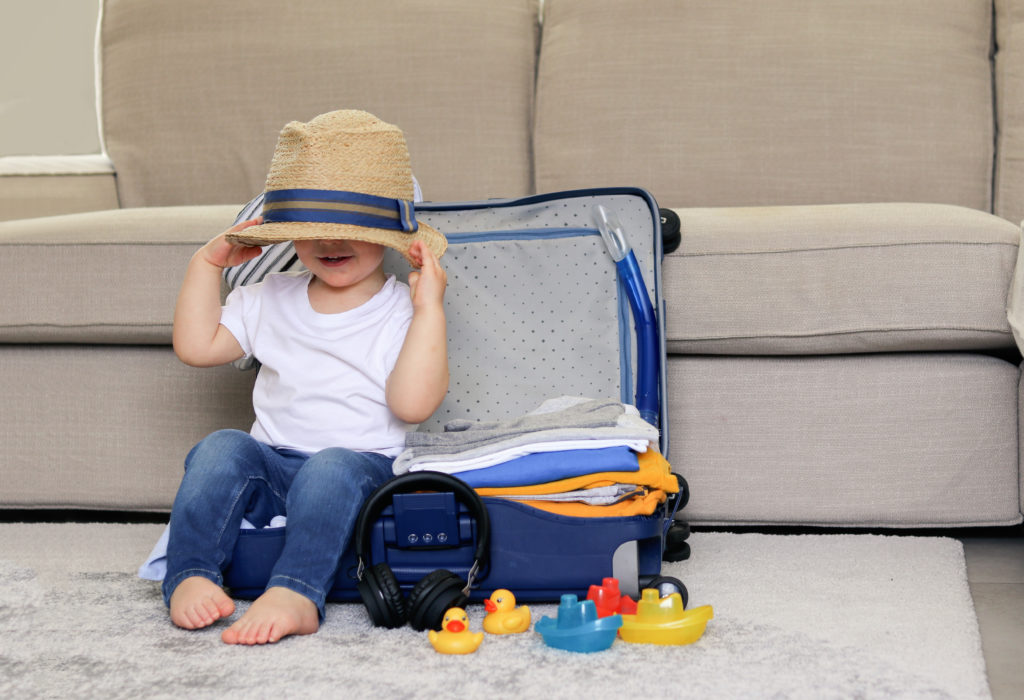 Lastly, while we try to keep our kids out of the way for the more hardcore packing, we do find letting them pack their own bag for the car is really helpful. They can choose a few special things to bring such as stuffed animals or books, and keep their bag right next to them.
My kids have had a million backpacks, but Wanderwild Packs work really well for us. These bags are super durable and comfortable for my kids (they actually don't complain about wearing them). The padded tablet sleeve keeps their devices safe from sibling feet as we scramble in and out of the van. Katie Duncan, co-founder of Wanderwild Packs, loves encouraging kids to be part of the process. "We're big believers that kids build really important life skills when they pack and carry their own things. The packing process helps to communicate what they should expect on the trip, and gives them agency on what they'll wear and bring for entertainment. When they are part of the process, they take ownership of helping to ensure they remembered all of the right things! We think kids build confidence and responsibility when they carry and access their own things. It sets the tone that they are part of the family team." We have definitely seen this to be true with our own kids.
As the weather breaks and we prepare for a summer of camping and road trips, we can't wait to jam our van full again and hit the road— with enough space to still be able to move and breathe, and even squeeze our "pandemic puppy" in, too.
Our team of parents and travel experts chooses each product and service we recommend. Anything you purchase through links on our site may earn us a commission.