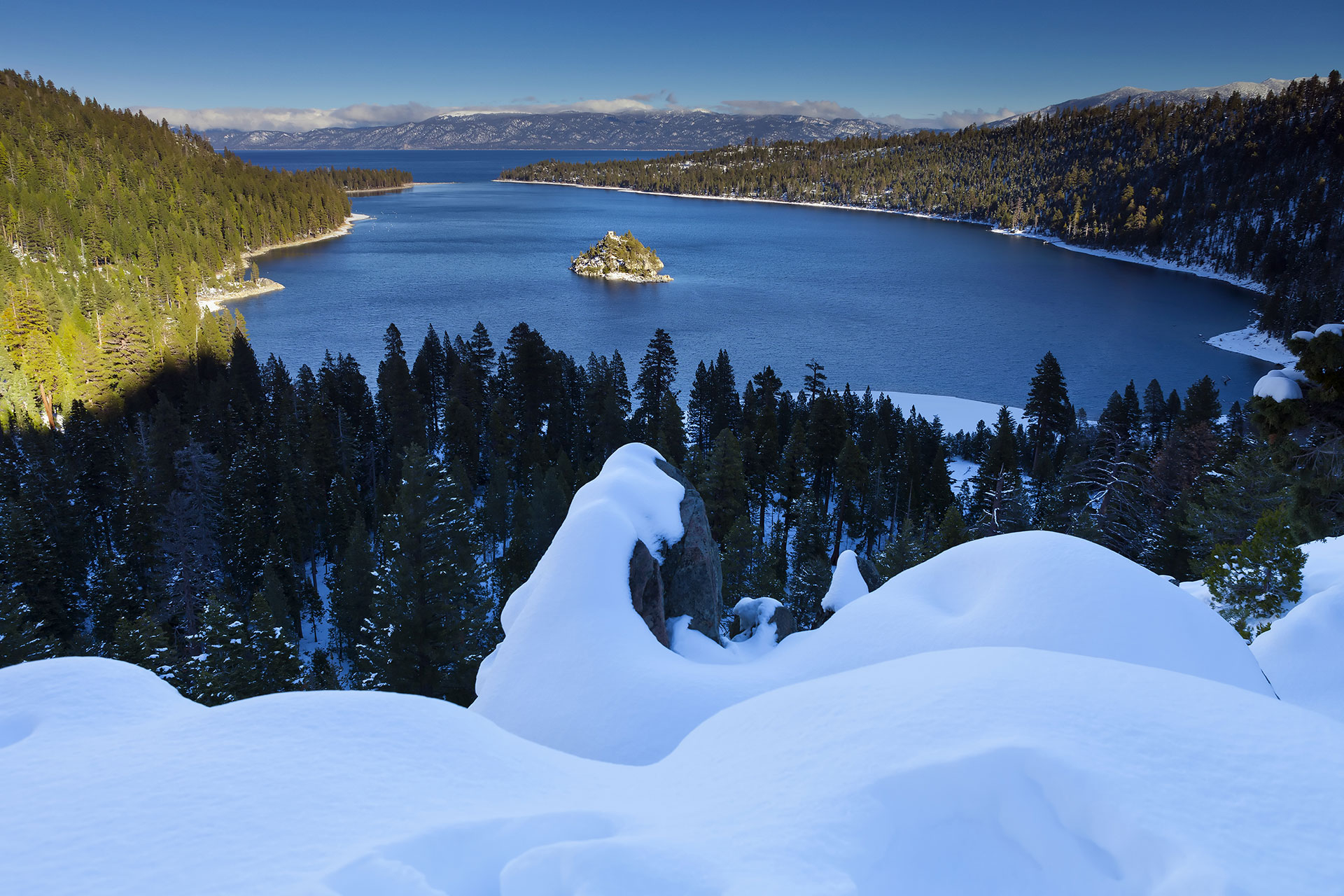 Ski enthusiasts throughout the world know Tahoe, thanks to the 1960 Winter Olympics at Squaw Valley USA. And, while Squaw is certainly a go-to resort for top-flight skiers (and families too, we might add), locals and regulars know that Squaw is but one of a bevy of fine resorts, each of which delivers its own particular brand of charm for families with skill levels that range from beginner to black-diamond.
1/10
Mt. Rose Ski Tahoe
Mt. Rose is known for being the closest resort to Reno. It's also an easy 15 minutes from the Incline community on the north shore. With eight chairlifts and runs covering 1,200 acres, Mt. Rose is a small, family-friendly resort that delivers an abundance of beautifully groomed terrain for beginners. It offers both a "Rose Buds" program for kids ages 4 to 10 years, and "Team Falcons," for kids 4 to 18 years old who want a more challenging experience.
Mt. Rose also offers lots of daily specials, so check the website regularly. The coolest deal of all is that kids 5 and younger ski free!
Recommended Hotel:
Hyatt High Sierra Lodge
2/10
Northstar
Northstar, located in Truckee, California, is yet another mountain in the Lake Tahoe area that leaves families in complete awe after every visit. Families will find 3,170 skiable acres available to them upon arrival, including 97 trails, 20 lifts, and a vertical drop of a whopping 2,280 feet. There are four on-mountain dining options so it's not necessary to unbuckle boots. Kids ages 2 to 6 can also enjoy the Minors' Camp Child Care if they're not quite ready to start skiing. If they are, they can check out one of the mountain's many ski and snowboard school options, including private and group lessons.
Recommended Hotel:
BEST WESTERN PLUS Truckee-Tahoe Hotel
3/10
Sierra-at-Tahoe
Sierra-at-Tahoe is an easy 12 miles outside of South Lake Tahoe, and offers 12 chairlifts and 2,000 acres of beauty with a view of Lake Tahoe at the top. This family-friendly ski resort is all about value but also offers gnarly, better-know-what-you're-doing, double black diamond runs for the true experts.
Kids (3 to 12 years) can learn to ski or snowboard in the Wild Mountain Childrens' Ski and Snowboard School with packages that include equipment rentals, half-day and all-day lessons, lift tickets and even a kid-friendly lunch. If kids get tired of skiing, they can hang out in the bounce house, eat snacks and do arts and crafts while their parents ski.
The Parent Predicament Ticket allows parents to share one adult lift ticket. One parent can ski while the other watches the baby, and later, the parents switch the baby and the lift ticket. That way, the little guy doesn't have to spend too much time (or any time) in daycare. If you are looking for daycare arrangements, Sierra offers a California-licensed daycare for kids ages 18 months to 5 years.
The Teach Your Kid lesson is specifically designed for parents who have 2- to 5-year-old children. The instructor works only with the parents to teach them how they can best teach their children the beginning basics of skiing. (Often, parents are great skiers in their own right but haven't learned the methods for teaching a toddler or preschooler how to ski.)
Recommended Hotel:
Hotel Becket
4/10
Sugar Bowl Ski Resort
This well-named ski resort is the closest resort to Sacramento and the San Francisco Bay Area and boasts stunning views of Donner Lake. Families flock to Sugar Bowl for a happy and reliable ski experience. With eight lifts serving 84 trails that slice over 1,500 acres, Sugar Bowl provides great snow days for everyone.
The Den Children's Learning Center is for ages 4 to 12 and half- and all-day packages include lessons, rentals, lift tickets and lunch for the kids, leaving parents free to ski. The little kids, ages 3 to 5, are called Sugar Bears and can play indoors and out, fully supervised, in a California-licensed daycare setting. Sugar Bears ride a magic carpet ride (100-foot-long moving sidewalk) to the bunny slope and are introduced at the little bear level to the sport. If they're tired, they'll go indoors for games, arts and crafts, and lunch.
Sugar Bowl also offers the Parent Ticket -- one parent can ski with a single lift ticket, while the other parent watches the children; then they can swap with the same lift ticket. A budget-friendly General Admission package for everyone, ages 13 to 69, is also available. You'll receive free rental equipment and a free, two-hour group lesson (for any level) on general admission days for the price of an adult chair lift ticket.
Recommended Hotel:
The Ritz-Carlton, Lake Tahoe
5/10
Squaw Valley USA
Being home to the 1960 Winter Olympics, Squaw Valley has received worldwide attention. So certainly Squaw caters to the expert ski crowd -- no doubt about it. But, 4,000 acres of beautiful mountain boast 45 percent intermediate terrain and beginners get the insanely gorgeous lake view at Squaw Valley. The beginners and intermediates go way, way up, where they learn to ski with a full view of Lake Tahoe to cheer them on. And, they'll find a very easy beginners path down at the end of the day.
Squaw offers a bevy of nice programs for varying ski levels, including an inexpensive Learn to Ski and Ride Weekend, a wondrous Mountain Top Full Moon Snow Shoe Tour (families love this one) and Women of Winter on Wednesdays. Squaw also offers free night skiing and is often called one of the best in the night skiing business. Several runs at all ski levels are beautifully lit.
If you're not crazy about skiing and need something fun to do when your family is on the mountain, choose from a wealth of fun activities at Squaw: great dining, cable car-riding, shopping, cross-country skiing or having a massage at the Resort at Squaw Creek. Families will also love ice skating, snowshoeing, snow tubing and wall-climbing.
Recommended Hotel:
Resort at Squaw Creek
6/10
Alpine Meadows
Alpine Meadows delivers incredible Lake Tahoe views throughout its 2,400 acres of mountain. But its true claim to fame is that it provides families with a classic ski and snowboard experience. Everything is compact and close by at Alpine Meadows. There's one base lodge, and it's easy to find and keep track of your family.
Enroll your kids in Alpine's Kids' Camp (3 to 12 years), where they'll receive ski or snowboard lessons and, later, can play in the indoor space and find lunch, games, movies and beanbag lounge time. (If you're enrolled in the Kids' Camp and pay a small fee, you'll receive a front-and-center parking spot that is just a stone's throw from the Kids' Camp itself.)
Parents might also want to check out the Alpine Adventure Guide Program. Up to five people are guided around the mountain by a top-level instructor. Reserve a half-day or a full day, and learn about hidden spots with a day tailored to your family's skill level.
Recommended Hotel:
The Village At Squaw Valley
7/10
Diamond Peak Ski Resort
Known for its family-friendly atmosphere, this Lake Tahoe ski resort offers a great learning environment for beginners, as well as challenging terrains and trails for expert riders. Since every run funnels into the main base area. This resort offers breathtaking views of Lake Tahoe, less crowded slopes for riders and reasonably priced lift tickets.
The Child Ski Center provides a fun learning experience for children 3 to 7. The Ski & Snowboarding School offers group and private lessons for beginners, intermediate and advanced skiers, and snowboarders. With smooth terrain and wide trails, beginners can learn how to ride the slopes, while more experienced skiers and riders perfect their skills and take on new tricks. The Diamond Peak Terrain Park is perfect for those looking to take on some extra thrills and excitement.
Recommended Hotel:
Hyatt Regency Lake Tahoe Resort
8/10
Heavenly Ski Resort
Providing 4,800 acres with four bases (two in California and two in Nevada -- Heavenly sits on the state dividing line), Heavenly has something for every skill level. Ride the gondola 2.4 miles to the top of Heavenly Mountain, and enjoy one of the most stunning views known to traveler-kind. From there, you have the tough decision of staying and playing at Adventure Peak or traveling up one of the chairlifts for skiing and snowboarding at all skill levels. Adventure Peak also provides tubing, snowshoeing, sledding and even ski bikes.
Heavenly offers ski school for kids and an all-day, California-licensed daycare for ages 18 months to 6 years.
Recommended Hotel:
Marriott Grand Residence Club
9/10
Homewood Ski Resort
Every single slope at Homewood provides a jaw-dropping view, paired with one of the most family-friendly, small ski resorts in Tahoe. It's a friendly place that offers a down-home personal touch; by the end of the day, the lift operators will know your kids' names.
Homewood offers a Mountain Rangers Academy for kids 3 to 12 years, where a "magic carpet" whisks kids and their skis up the mountain (similar to moving sidewalks at airports). Homewood also sports Critter Canyon, where kids will find life-size animals made of wood dotting the beginner ski trails. Ski instructors make a game of skiing around the animals and the kids, of course, love it!
Every child in ski school receives his or her own GPS unit and it is monitored inside the resort. Homewood will know exactly where to look for your child. (GPS units can also be rented for those not in ski school for a nominal fee.)
Recommended Hotel:
Pepper Tree Inn
10/10
Kirkwood Ski Resort
Kirkwood sits off the beaten path, about 35 miles south of Lake Tahoe's south shore off Highway 88. It's a little less than a two-hour drive from the Reno Airport to Kirkwood. Because of Kirkwood's location, the resort sees more snowfalls than other resorts in Tahoe.
It offers a kids' ski program for ages 3 to 12 that includes rentals, lift tickets, lunch and a California-licensed Mini Mountain daycare (for kids 2 to 6 years). Fifteen percent of the mountain is for beginners, 50 percent is intermediate, and 35 percent is black diamond so there are plenty of varying runs for everyone's abilities.
Recommended Hotel:
3 Peaks Resort and Beach Club
Our team of parents and travel experts chooses each product and service we recommend. Anything you purchase through links on our site may earn us a commission.