Family vacations don't just start when you get to your destination. It's also about making the journey part of the trip. And with fun rolling luggage that your kids can pull (or ride)—and hopefully even pack themselves—travel can be more fun and easier for everyone.
When it comes to kids' luggage, there are many cool options on the market. Some kids' luggage is adorned with cartoon characters and other funky designs, while classics like the Away and Herschel carry-on bags come in solid colors that will never be outdated.
When buying kids rolling luggage, consider the following:
Is the suitcase light enough that your child can pull it on their own?
Do the wheels roll easily?
And last but not least, is it durable?
These are our top picks for the best kids rolling luggage.
1. Trunki Original Kids Ride-On Suitcase and Carry-On Luggage
Best Kids Rolling Luggage For: Toddlers
There's something seriously alluring about a suitcase you can actually ride through the airport—or at least your child can. The Trunki kids suitcase scooter is one of our top picks! They can ride it, sit on it, or you can tow them to your gate with its handy multi-functional strap. Choose from many fun designs, like the bright pink Trixie, brilliant red fire truck, Trunki unicorn or orange tiger. The Trunki ride on suitcases are made out of durable, but lightweight plastic that can hold up to 75 pounds, and come with a five-year warranty. Once home from your trip, your child can use the Trunki suitcase as a toy trunk.
Related: 7 Carry-On Bags That Will Take the Stress Out of Travel
2. Jetkids Bedbox Ride-On Suitcase Bed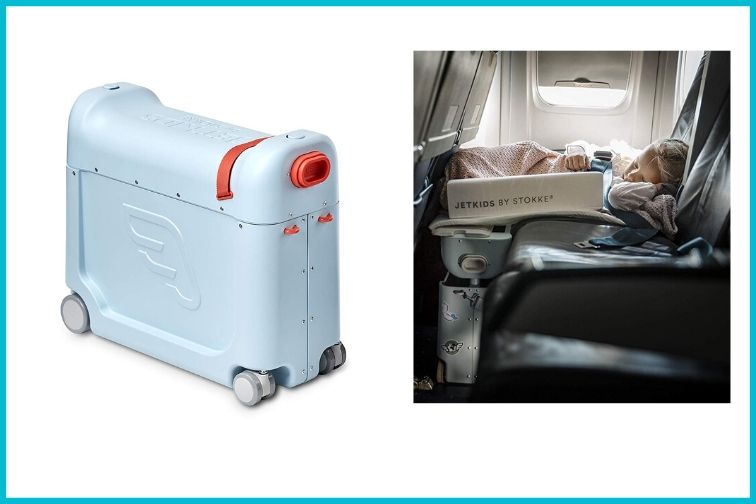 Best Kids Rolling Luggage For: Toddlers and Little Kids
It's hard not to love a kids suitcase scooter that your wee one can sleep in on long-haul flights, ride on through the airport, and store their toys and books in. The Jetkids by Stokke Bedbox ride-on suitcase will definitely turn heads in the airport, so expect the eyes of other envious parents wishing they didn't have to carry a child and pull their carry-on. Its swivel wheels are shock absorbing and will roll smoothly through airports and—get this—this bag turns into a bed! Your child will have the best seat on the plane. The Bedbox comes with a mattress, fits most economy plane seats, and the seatbelt can be worn whether laying down or sitting. The Jetkids Bedbox suitcase comes in pale blue, green or pink, and it includes stickers that your child can use to customize the case.
Related: Kids Travel Gadgets That Will Save Your Sanity
3. Heys America Travel Tots 18 Inch Luggage with Backpack
Best Kids Rolling Luggage For: Toddlers and Little Kids
The two-piece kids' wheeled luggage with matching backpack set from Heys America are so fun that they'll make airport time alluring to even the most reticent little traveler. The Heys backpack has padded adjustable straps, and the other piece of kids rolling luggage has inline skate wheels. These matching travel luggage pieces are practical and seriously cute.
Related: 15 Must-Haves for Your Kids' Carry-On Bags
4. Stephen Joseph Classic Rolling Luggage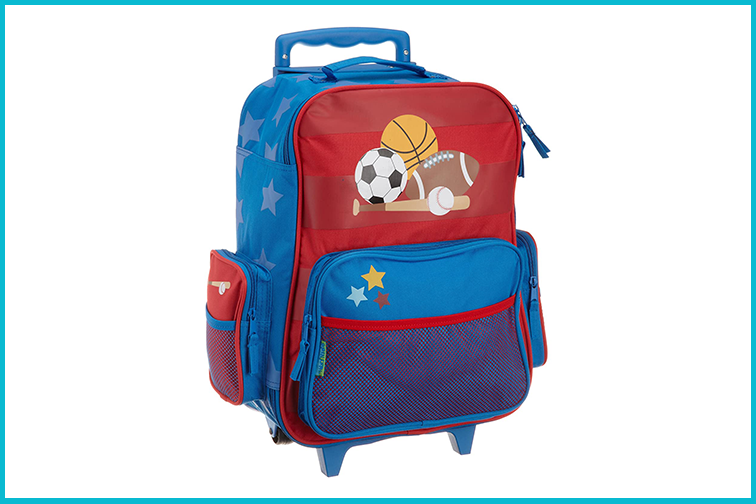 Best Kids Rolling Luggage For: Little Kids to Tweens
When it comes to variety, the Stephen Joseph Classic Rolling Luggage has you covered. With 19 designs, from princesses and airplanes to owls and sharks, you'll be able to find a pattern that will make any child excited to get packing. This bag is made from durable polyester, with several accessible exterior zipper pockets and an inner mesh organizational pocket. Best of all, it meets carry-on size requirements if your family is focused on packing light.
Related: The Ultimate Carry-On Bag for Moms
5. Skip Hop Kids Rolling Luggage
Best Kids Rolling Luggage For: Toddlers and Little Kids
They had us at the cute puppy design, but this kids rolling luggage also has some great practical features. The bag has a front zip pocket with dividers for easy-to-reach snacks and toys, a retractable 13-inch handle to nurture independence, and an adjustable mesh bottle pocket when you're parched and can't find a water fountain. It also has its own write-on name tag. The Skip Hop kids rolling luggage is made out of a sturdy canvas poly fabric. And it's also available in other cute animal designs like a butterfly and fox.
6. American Tourister Disney Hardside Luggage with Spinner Wheels
Best Kids Rolling Luggage For: Little Kids to Teens
Looking for Disney-themed luggage? This 28-inch spinner luggage is bigger than most featured here, but perfect for the kid who can't pack light and has to check a bag. Inside this Disney kids rolling luggage, there's a mesh divider and cross straps to keep clothes and other items in place. The Disney hardside luggage has a push button retractable pull handle and four multi-directional, 360-degree spinner wheels. This luggage comes in fun Mickey Mouse and Minnie designs—from Mickey Mouse multi-faces to Minnie Mouse red bows and Mickey Mouse pants—and a variety of other fun designs. The Disney suitcase comes with a 10-year warranty.
7. Rockland 2 Piece Soft Side Luggage Set
Best Kids Rolling Luggage For: Little Kids to Tweens
Unlike many other kids rolling luggage options featured here, this Rockland luggage is made out of a heavy-duty 600 denier fabric rather than a hard shell, so it can be squeezed more easily into tight spaces. The larger rolling bag has inline skate wheels, and a telescopic handle, as well as padded side and top grip handles. The storage is good—with two full-size zipper pockets in the front and three inside pockets to keep stuff organized. And the tote bag that it comes with has a detached shoulder strap and is fully lined. You can choose from many fun and colorful designs, from owls to pink giraffes or leopard for younger kids to solid colors for tweens and beyond.
8. American Tourister Curio Hardside Luggage
Best Kids Rolling Luggage For: Tweens and Teens
This luggage set from American Tourister comes in a variety of bright colors that are easy to spot on the baggage carousel. The 3-piece set is perfect for dividing up amongst several children or accommodating your family's notorious heavy packer. And while the size and design may be perfect for "tweens", we know some parents who would be happy to get their hands on one.
9. Herschel Trade Carry On
Best Kids Rolling Luggage For: Tweens and Teens
This Herschel suitcase comes in solid colors like a stunning vermilion orange and more classic navy. Or you can choose one of the floral patterns or gradients for something more funky. The hardshell Herschel Trade Carry On has a three-stage retractable trolley handle and neoprene padded handles, so it's comfortable to move through the airport. Inside is a zippered mesh storage space and adjustable garment straps to make packing easier. Overall impressions? Herschel makes quality suitcases that your child won't outgrow.
10. Kenneth Cole Reaction Out Of Bounds 4-Wheel Spinner
Best Kids Rolling Luggage For: Teens
In addition to being fashionable, these Kenneth Cole suitcases use a four-wheel spinner system for easy rolling and have an additional four feet on the side to allow them to remain stable while resting horizontally. The Kenneth Cole hardside luggage comes in three sizes, and the smallest carry-on has been tested to fit most overhead cabin requirements. These suitcases are lightweight, have a fully-lined interior with garment straps, and their telescoping handles are comfortable and easy to grip. They come in 14 fashionable colors, ensuring that even the pickiest teen can find something they love.
Related: 8 Best Carry-On Bags for Teens
Diana Ballon is a a Toronto-based family travel writer with a crappy suitcase that was a hand-me down from her brother that she can't seem to let go of. This is despite having a deep appreciation for just how far the luggage industry has evolved since her childhood. Find Diana's work on her personal website and follow her on Instagram, @dianamaryballon.
Our team of parents and travel experts chooses each product and service we recommend. Anything you purchase through links on our site may earn us a commission.