Puerto Rico's beautiful climate is just as inviting as Mexico and other parts of the Caribbean. All ages enjoy the beaches, water sports, history and culture, plus the wide array of resorts available. Although there aren't any true all inclusive resorts in Puerto Rico, these resorts offer all inclusive packages. Choose one of these all inclusive family resorts in Puerto Rico for your next vacation.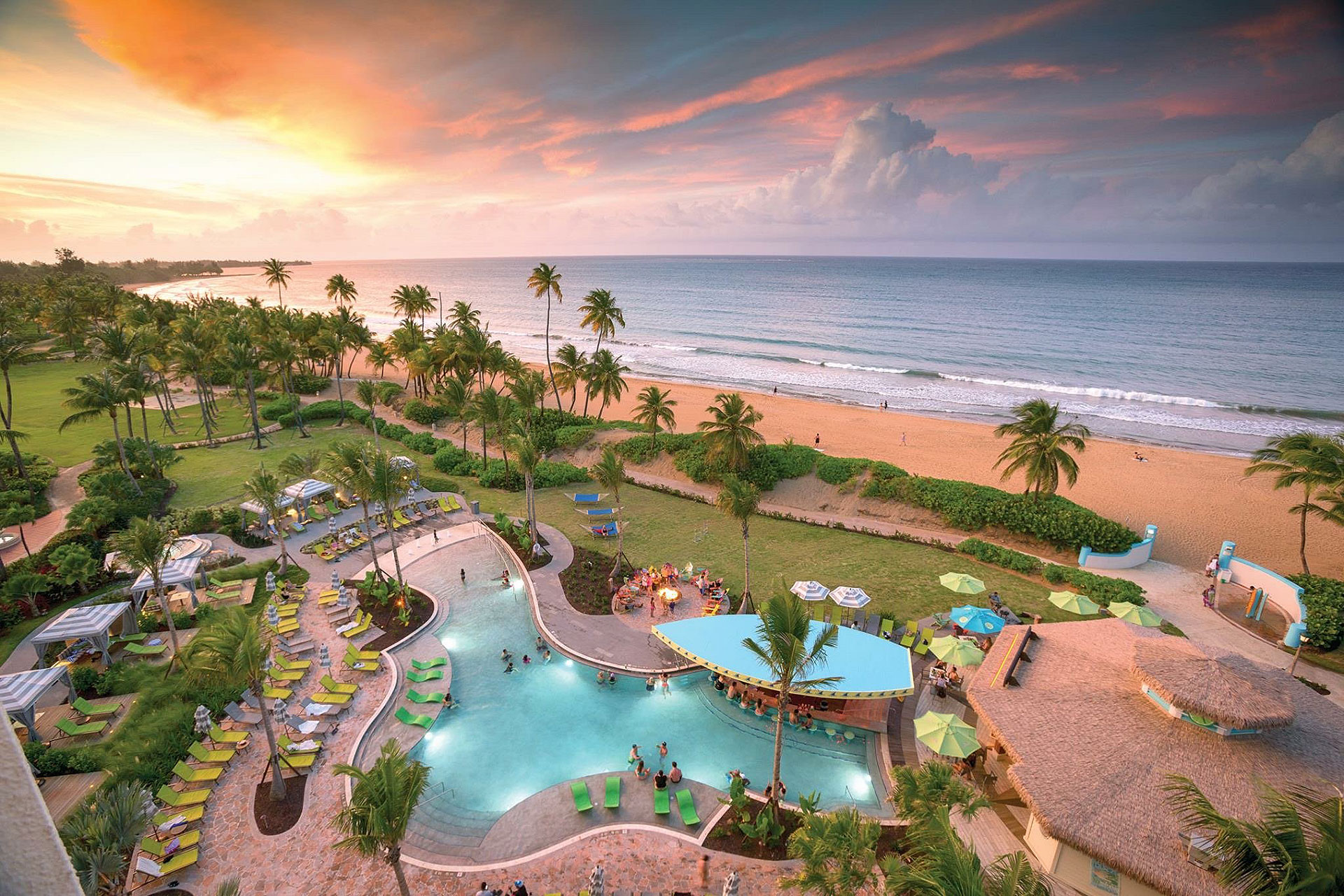 1. Wyndham Grand Rio Mar Puerto Rico Golf & Beach Resort
The Wyndham Grand Rio Mar Puerto Rico Golf & Beach Resort is an all-inclusive optional, beachfront resort. The 500-acre property sits on a mile-long stretch of golden sand and turquoise water. There are several swimming pools, including one with a waterslide and an adults-only pool. The tennis courts and golf courses are also fun for families. As an all-inclusive optional resort, the Wyndham offers travelers the option of all-inclusive pricing, with meals, beverages and accommodations covered in one rate.
Related: 5 Resorts That Received a Complete Makeover After the 2017 Hurricanes—and Why Now Is the Time to Go

2. Club Melia at Gran Melia Puerto Rico
Located just 25 minutes from San Juan International Airport (but far enough removed that families feel secluded), the Club Melia at Gran Melia Puerto Rico offers spacious guestrooms and suites. Book a Red Level room and enjoy additional amenities such as kitchenettes, DVD players, and private balconies. Red Level guests also receive Red Level Lounge access, with breakfast, free Wi-Fi, butler service and evening drink and snack service daily—all included in rates. Guests also enjoy two tennis courts, one basketball court, a kids' club, nightly entertainment, dance classes, and spa treatments, plus complimentary transportation and exclusive privileges to two world-class golf courses nearby.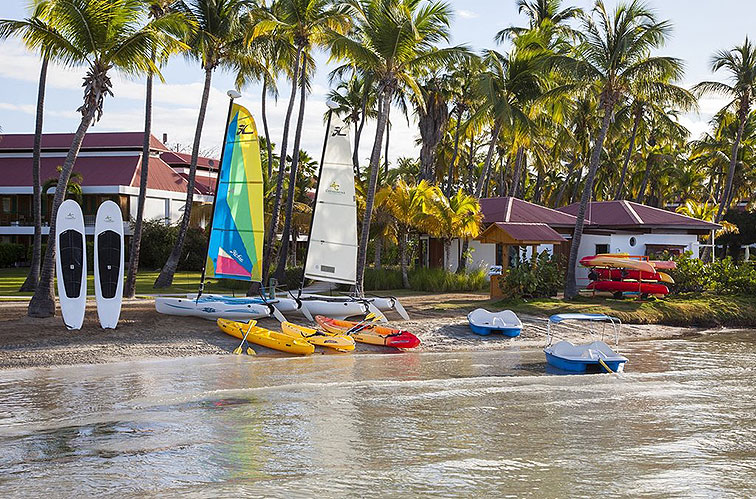 3. Copamarina Beach Resort & Spa
Families looking for an all-inclusive experience can book the Full American Plan or the Full American Luxury Plan at the Copamarina Beach Resort and Spa in Guanica, Puerto Rico. These add-on packages include breakfast and lunch daily at the Las Palmas Cafe and dinner daily at Alexandra's Restaurant or the Las Palmas Cafe. Soda, water and juice are included with the first, while house wine and beer are included with dinner in the second option.
Regardless of which plan you pick, the entire family will get to enjoy the resort's many activities, like kayaks, paddle boards and Hobbie Cats; a kids' playground; two swimming pools, plus two more just for kids; volleyball; tennis; sailing and more. Guestrooms and suites also include deluxe amenities, such as refrigerators, coffeemakers and free Wi-Fi. The largest suite can sleep up to six.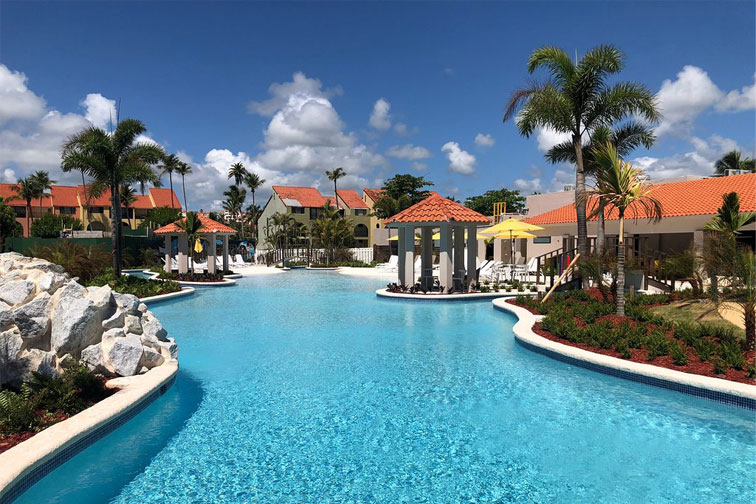 4. Wyndham Candelero Beach Resort
Relax at the Wyndham Candelero Beach Resort (formerly the Wyndham Garden at Palmas del Mar) and let your worries drift away by booking the Room & Meals Package. The all-inclusive plan offers guests breakfast, lunch and dinner daily, a $20 casino match bet coupon for adults and two welcome drinks for adults. Families will also enjoy rooms and suites with private balconies; the three-tiered pool with an infinity edge and swim-up bar; a complimentary resort shuttle to nearby golf and attractions and more. Onsite dining includes a sit-down restaurant, the pool bar (with lunch options), a wine cellar for late-night drinks and a pastry and coffee shop, which also has cookies—perfect for bedtime snacks. Room service is also available daily from 6:30 a.m. to 10:30 p.m.

5. Villa Montana Beach Resort
While it's not a true all-inclusive resort, the Villa Montana Beach Resort offers a near all-inclusive experience. With a children's playground, free bike rentals, in-room spa treatments, two pools, water sports and horseback riding, the options are endless. Additional fees may apply, but families can save elsewhere by booking the Modified American Plan, which includes breakfast and a three-course dinner daily, per guest. Beverages are not included, but the resort offers free coffee in the lobby each morning. Additional perks at the Villa Montana include free Wi-Fi, free parking, private patios or terraces in guestrooms, and a fully equipped gym.
Related: What to Pack for the Caribbean: 13 Essentials for Families
6. El Conquistador Resort, A Waldorf Astoria Resort
Note: This resort suffered damage during the 2017 hurricane season. While it's open to guests, it continues to undergo comprehensive restoration.
In 2016, El Conquistador Resort introduced a true all-inclusive experience in Puerto Rico! Located in Fajardo, the resort's all-inclusive package covers all meals, select alcoholic beverages, admission to the onsite Coqui Water Park, and access to all of the other amenities— including the resort's private oasis, Palomino Island, and an onsite scavenger hunt.

7. Las Casitas Village, A Waldorf Astoria Resort
Note: This resort is currently closed, having suffered damage during the 2017 hurricane season.
Next to El Conquistador Resort, Las Casitas Village offers the same all-inclusive package. Of the two hotels, Las Casitas Village is the more luxurious, with spacious villas with kitchens overlooking the ocean. The Waldorf Astoria Spa and an infinity-edge pool are also located closest to this hotel. But the Coqui Water Park—covered in the all-inclusive rates—is only a short walk (or complimentary golf cart ride) away.
Our team of parents and travel experts chooses each product and service we recommend. Anything you purchase through links on our site may earn us a commission.