When it comes to swimsuits, moms bring a lot of demands to the dressing room.
We want a bathing suit that hides our stretch marks, mommy pooch and other parts that aren't as firm or toned as we might like them to be; provides the perfect amount of support; and also accentuates our best features. After all, as my friend Crista says, "If you're going to be nearly naked, you might as well feel good about it."
Oh, and it needs to move with us as we chase our kids around at the community pool, beach or water park. It's a tall order—and it's no wonder most of us would rather be doing, well, literally anything other than trying on bathing suits.
That's why I was beyond excited when five friends, all in a range of sizes, agreed to tackle more than two dozen bathing suits with me in a quest for the most universally flattering swimsuits for moms. We purchased most of them on Amazon (which offers a generous return policy), and we made a party out of trying them on for each other, sipping some Champagne and making lots of jokes along the way.
Best One-Piece Swimsuits for Moms
1. Summersalt – The Sidestroke
Best for: Everyone
Why We Like It: Provides full coverage with flare
One of the best swimsuit brands online, Summersalt offers super-flattering one-piece swimsuits for women (as well as two-piece bathing suits). The Summersalt Sidestroke is one of the brand's bestselling swimsuits at it provides full coverage in the front and a fun criss-cross feature in the back. It's available in seven multi-color options, and three solid colors.
2. Tempt Me V-Neck Monokini
Best For: All figures
Why We Like It: Accentuates bust; downplays waist
This Tempt Me v-neck monokini bathing suit has collected a bit of an internet cult following for being flattering on several body types, and we found that reputation to be well-deserved. On both petite and larger bodies, the ruching down the bodice plus the mesh peekaboo at the bust provides just the right amount of flirtiness while still being totally family appropriate.
Related: 15 Beach Bag Essentials You Need for Summer
3. You Di An Front Cross Backless Bathing Suit
Best For: All figures
Why We Like It: Accentuates curves; downplays smaller chests (best for small and medium chests)
Some friends preferred this versatile You Di An backless bathing suit crossed at the back rather than at the front, while others with larger chests didn't always like the fit of the cups. "Not for big boobs, but the rest fits," said my friend Jessica. "I'd probably take the [sewn-in] cups out," said Crista. "But I feel pretty comfortable."
4. Shekini Skirted Ruched Retro Swimdress
Best For: Plus sizes
Why We Like It: Accentuates bust; downplays booty
I wanted to include at least a couple swim dresses in our batch, as some of my mom friends prefer them for an easy family day—you feel comfortable waiting in the snack stand or wading in the kiddie pool in these. I loved the nipped-in waist and peekaboo bust on this Skekini Skirted swimdress, but Jennifer warned of wayward cleavage, if that's an issue for you.
5. Zando Tummy Control Swim Dress
Best For: Medium to large frames
Why We Like It: Accentuates hourglass figure and legs; downplays booty
"Tennis, anyone?" several friends chimed as some of us modeled this Zando Tummy Control bathing suit, but I thought it struck a perfect balance between flirty and covered-up, and steered clear of "matronly" territory, which can sometimes happen with swimdresses. "Modest and cute," said Tina, who liked the sexy mesh fabric at the top and the thigh-hugging shorts underneath the skirt.
6. SELINK Women's Long Sleeve Rash Guard
Best For: Beach-going mamas
Why We Like It: Accentuates waist; downplays arms
Moms love rashguard suits for their kids, and more of us are also trying them out for ourselves and enjoying the benefit of more sun protection and the ease of keeping everything in place with no fuss. This long-sleeved rashguard option offers cute print options that flatter your figure while keeping your upper body protected from the sun's harsh rays. Jessica called this "slimming," but like most of the rashguard suits, it felt a little warm unless you're planning on getting in the water ASAP. It is made from a UPF 50+, quick-drying fabric.
7. CUPSHE Women's Happy Ending Solid One-Piece Swimsuit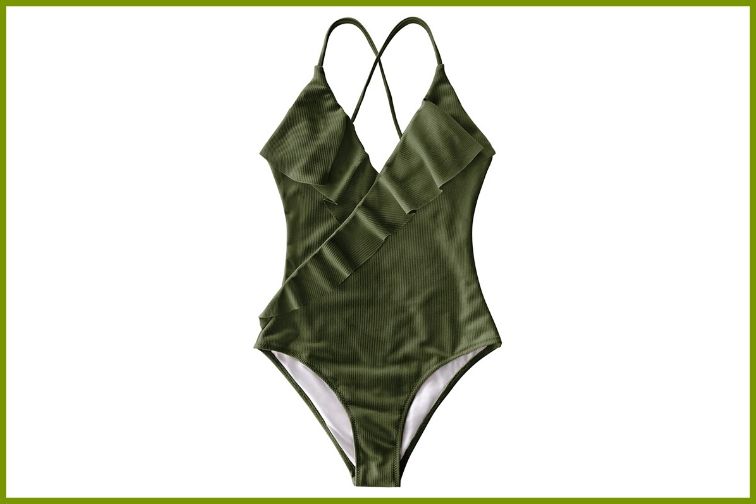 Best For: A mom looking for a flirty suit that is on trend; great for moms with small to medium busts
Why We Like It: The CUPSHE Women's Happy Ending Solid One-Piece Swimsuit is super cute on various sizes (from small to XL). We like the ribbed fabric and the ruffled neckline, and the criss-cross straps at the back make you feel secure enough that you won't feel like you're going to fall out. Note that CUPSHE sizing tends to run small, so size up when ordering.
RELATED: The Best Travel Swimsuits for Any Type of Vacation
8. B2prity Women's One-Piece Backless Monokini
Best For: Everyone
Why We Like It: We like the B2prity Women's One-Piece Backless Monokini suit provides a sexy peekaboo option for the cleavage, but still works on a variety of sizes (and chest sizes). The tie at the neck makes it adjustable, and there's a light amount of tummy support and ruching to make it a solid pick for the average mom bod. I purchased this one; I liked the fit and loved the pink print (there are several cute print options).
9. COCOPEAR Vintage Skirted Swimsuit
Best For: Moms who prefer skirted suits with a hint of sexiness; great for plus-sized moms
Why We Like It: Some of my mom friends prefer a skirted swimsuit option for better coverage, and the COCOPEAR Vintage Skirted Swimsuit was the best we found. My friend Jennifer couldn't resist taking it home with her. It features shorts underneath the skirt. While some skirted options skew a little matronly or sporty, the supportive and ruched bust area on this suit looks feminine and elegant, especially on plus sizes.
10. SimeShine Women's One-Piece Long Sleeve Swimsuit
Best For: Petite moms
Why We Like It: More moms are exploring rash guard swimsuits to help shield their skin from harmful sun rays (while minimizing sunscreen application time), and the SimeShine Women's Floral Rash Guard suit is a great example of a cute, yet practical option. It has a padded bra, and is quick-drying.
Best Two-Piece Swimsuits for Moms
11. COCOSHIP Women's Mesh Striped High Waist Bikini Set
Best For: Smaller busts, longer torsos
Why We Like It: The tassel details and the high-waisted bottoms give this retro-inspired swimsuit a little extra pizzazz. Our mom testers noted that it runs small, so size up as much as two sizes. We also preferred it in the print fabric options as opposed to plain white. It comes in loads of patterns and colors.
12. ReachMe Twist-Front Halter Two-Piece
Best For: Curvy moms
Why We Like It: The ReachMe Twist-Front Halter Two-Piece is a home run for moms who have some curves to show off. The waistband of the bottoms is wide and forgiving (it doesn't dig in like other bikini bottoms—a big complaint among fellow moms) and the halter top showcases "the girls" nicely, while keeping them firmly in place. I'm not normally a bikini kind of gal, but this one sold me.
RELATED: The Essential Beach Packing List
13. Yonique Racerback Tankini Swimsuit with Shorts
Best For: Sporty moms
Why We Like It: The Yonique Racerback Tankini will keep up at the water park with your active kids. We also like the cute booty-hugging shorts; plus the tank top has a sheer detail at the top, which keeps it from looking too "just came from the gym." I don't normally prefer these kinds of suits, but I kept this one for all the future boating trips, surfing lessons and rainforest treks that are on my vacation bucket list.
14. Marinavida Ruffle-Top High-Waist Two-Piece
Best For: Small to medium busts
Why We Like It: With a criss-cross back and a peplum detail at the waist, this romantic-inspired two-piece swimsuit is gorgeous on a variety of figures. Moms with larger busts should note that there isn't a lot of support at the top, with boobs sometimes spilling out of the sides.
Related: 11 Best Packable Women's Sun Hats for Travel
15. Holipick Flounce Tank Top with Boyshorts
Best For: Medium to large busts
Why We Like It: Here's another adorable shorty option. Some moms felt this two-piece swimsuit was a little "outfitty," but it was a hit with a lot of us. Moms who aren't fastidious with their bikini shaving/waxing, we see you and salute you; here's your suit. The ruffly top draws attention up to the bust line, while the shorts will accentuate your booty so well, you might as well slap a peach emoji on it.
16. Summer Mae Ruffle Tankini Set
Best For: Apple- or pear-shaped bodies
Why We Like It: Once again, this more-modest-than-a-bikini two-piece bathing suit draws attention away from the mid-drift you might not be feeling super confident about, with a cascading ruffle down the tummy, paired with high-waisted bottoms. The top is padded and wire-free, giving support where needed without the discomfort.
17. CUPSHE Tankini Set
Best For: Moms with round tummies
Why We Like It: This two-piece swimsuit for moms offers a great compromise between bikini and tankini, showing a little gap of skin at the high waist area. The keyhole and bow detail at the bustline add a playful vibe and set this swimsuit apart form other tankini options. If you haven't felt confident enough to wear a bikini in a while, try this one.
RELATED: 5 Comfortable and Packable Dress Shoes You Can Actually Walk In
18. Septangle Women's Two-Piece Halter
Recommended For: Everyone, particularly moms who are pear-shaped
Why We Like It: To be honest, the Septangle Women's Two-Piece Halter (in sizes 10 to 20 Plus) doesn't look like much in the product photo or out of the package. But when most of us tried it on, VAVOOM! It was an incredible, universally flattering suit with a fully adjustable criss-cross back and cute buns-hugging boy shorts that didn't dig in or ride up. This suit looked phenomenal on several friends of different sizes.
"It has the right amount of padding at the top that doesn't feel like armor," said my friend Tina, who ended up buying this suit. "The bottoms smooth my butt, and they're tight but not digging in. It's a hint of sexiness, but you can still wear it with your kids."
19. Angerella Women

Vintage Polka Dot High Waisted Bathing Suits Bikini Set
Recommended For: Everyone
Why We Like It: We pushed our boundaries a bit to try on several two-piece suits, and this Angerella swimsuit was attractive on plus sizes and small frames alike. The high waist combined with the molded underwire bra-like top creates a great look for moms interested in flaunting a bit more skin than a typical tankini.
"There's support, which is really important when you have big boobs," said my friend Jessica, who took this one home. "I don't mind being sexy around my kid, but if I have to worry about my boob falling out, then I can't be with my kid."
20. Tempt Me Scrunched One-Shoulder Two-Piece
Recommended For: Moms who don't mind showing off a little cheek
Why We Like It: The Tempt Me Scrunched One-Shoulder Two-Piece offers one of the most stunning tops of any we tried. Ruched throughout the bodice and beautifully draped across the shoulder, it creates an ultra feminine silhouette. However, moms who were less than confident about their backsides were a little unsure about the high cut of the bottoms. Crista liked this one the best, but thought if she bought it she might wear it with different bottoms.
21. Tempt Me Two-Piece With Off-Shoulder Ruffled Crop Bikini Top
Recommended For: Moms who want to dip their toes into two-piece waters without a full-on bikini; great for masking upper arms and tummies
Why We Like It: It's been several years since some of us ventured out in a two-piece, but the latest crop of high-waisted and retro-looking swimsuits were flattering enough to give us the confidence we'd need to pull this off at the beach or pool. This Tempt Me Two-Piece is great for moms who might be less than confident about their upper arms, and the ruffles draw attention away from the lower body. The high-waisted bottoms provide good tummy coverage.
Crista liked this suit, but still wasn't sure if she'd feel confident enough to wear it on an average day at the pool. "I would have to be going somewhere with my husband, she said. "But the ruching covers all the mom belly and stretch marks. I mean, I've had twins."
Cynthia J. Drake is a travel writer based in Austin, Texas, where she lives with her husband and two sons. Since becoming a mom, she's been stranded at sea with her family, gotten lost in the Rocky Mountains, dealt with more than her fair share of public vomiting, and still can't wait for the next trip. She writes regularly for AAA magazines, Austin American-Statesman, Texas Highways and Cruise Critic. Follow her on Facebook and Twitter.