Not only is a cruise to Alaska at the top of many families' bucket lists, but it's also a convenient way to sample The Last Frontier.
The standard Alaska cruise used to feature a week-long itinerary departing from either Seattle, Washington, or Vancouver, British Columbia, and traveling to Seward or Whittier (or the reverse). Now, in addition to those one-way cruises to Alaska, families can find round-trip cruises through the Inside Passage, longer cruises to and from California, and smaller ships that maneuver inside fjords (where larger ships can't).
Here, we highlight 10 Alaska cruises that are especially good for families, including what the ships have to offer onboard, as well as family-friendly port excursions.
1. Princess Cruises
In 2019, Princess Cruises celebrated its 50th year sailing to Alaska. Princess has won multiple industry awards for "Best Cruise Line in Alaska" (11 consecutive years including 2019), and currently has eight ships sailing to Alaska. Current Princess Alaska cruises include round-trip Inside Passage sailings of 14 days from Los Angeles, 10 days from San Francisco, seven days from Seattle, and seven days from Vancouver. In addition to the round-trip Inside Passage cruises, Princess Cruises also offers one-way "Voyage of the Glaciers" sailings northbound from Vancouver and southbound from Anchorage. Princess also owns five wilderness lodges throughout Alaska to create a seamless land and sea vacation.
In 2019, Princess Cruises won for Best Shore Excursions in Cruise Critic's annual Editors' Picks Awards, thanks the line's wide range of excursions designed to appeal to almost everyone. Through its partnership with Discovery & Animal Planet, Princess Cruises offers shore excursions tailored to animal lovers, as well as science and nature enthusiasts. Discovery & Animal Planet exclusive tours include: Black Bear, Wildlife & Nature Walk; Discover Alaska's Whales; and Underground Mine Exploration & Gold Panning.
The "North to Alaska" onboard program brings authentic Alaska experiences to life through local seafood while real Alaskans come aboard to share their stories. Sled dog fans will love "Puppies in the Piazza," where husky puppies are available for photos and snuggling, and Iditarod sled dog champion musher Libby Riddles tells tales of her winning Alaska races.
Related: How to Communicate on Cruise Ship: 5 Ways to Stay Connected

2. Disney Cruise Line
In 2011, the Disney Wonder offered its first Alaska voyage, and the seven-night summer sailings have proved very popular ever since. Between May and September 2020, the Disney Wonder visits Dawes Glacier, Icy Strait Point, Skagway, Juneau and Ketchikan during week-long, round-trip cruises from Vancouver. Onboard, the spirit of Alaska is incorporated through themed entertainment and authentic experiences, including meet and greet opportunities with Disney characters dressed in northern attire, presentations from naturalists familiar with the region, as well as exclusive food and beverage offerings and cooking demonstrations.
Disney's port excursions highlight the beauty of Alaska while bringing local culture and customs to life. During many of these excursions, there are special Disney touches, characters, and storytelling. In Skagway, guests can explore the Liarsville Gold Rush Trail, a camp nestled beside a waterfall where music, puppetry and panning for gold with classic Disney characters immerse guests in the gold rush era. While visiting Ketchikan, guests can look on as professional fishermen haul in the catch of the day in 700-pound king crab pots during the Bering Sea Crab Fisherman's Tour.
After a behind-the-scenes tour of the ship, Disney Cruise Line guests have an exclusive opportunity to dine with the crew and listen to stories about life on the Bering Sea over freshly caught King and Dungeness crab. Several Ketchikan excursions include a visit to the Exclusive Great Alaskan Lumberjack Show, a rollicking competition created for families that features some of the world's top timber sport athletes going head-to-head for bragging rights and the title, "Bull of the Woods." This enhanced performance features additional segments developed exclusively for Disney Cruise Line guests.
Families looking for even more Alaska immersion can add-on an Adventures by Disney package to their Disney Cruise Line sailing. This Adventures by Disney cruise package includes the benefits of two Adventure Guides, exclusive activities both on and off the ship (including meals), private welcome and farewell receptions, all photography, special VIP experiences, and more.
Related: What to Pack for a Disney Cruise: The Ultimate Packing List
3. Royal Caribbean International
Royal Caribbean International currently has three ships sailing to Alaska: Ovation of the Seas, Radiance of the Seas, and Serenade of the Seas. Ovation of the Seas is presently the largest ship sailing to Alaska—with all the bells and whistles families might expect on a 4,000-plus passenger mega-ship. One particularly awe-inspiring feature is North Star that offers panoramic views of jaw-dropping Alaska landscapes from a glass-enclosed capsule that ascends 300 feet above the ocean. Ovation of the Seas sails seven-night itineraries roundtrip from Seattle through the Inside Passage with stops in Skagway, Juneau, and more. Other onboard amenities include a theme park-like atmosphere complete with FlowRider surf simulator, RipCord skydiving by iFly, and a SeaPlex indoor active space that includes bumper cars, roller skating, trapeze school, and more.
Radiance of the Seas sails seven-night, one-way itineraries between Seward and Vancouver, where families can enjoy the sights of Hubbard Glacier and the Inside Passage. Land options can extend the cruise vacation by three to seven nights in order to visit Kenai Fjords National Park, Denali National Park & Preserve, and more. All cruise tours are led by local guides who take families deep into Alaska's interior via bus, train, and optional flightseeing tours. Serenade of the Seas travels roundtrip on seven-night cruises that include time in Ketchikan, Alaska, and cruising through Tracy Arm Fjord. Possible excursions include dog-sledding, helicopter rides, and glacier hikes.
Both Radiance and Serenade of the Seas are much smaller ships compared to Ovation of the Seas (2,100 vs. 4,000 passengers). These mid-sized ships tout ocean-facing glass elevators and floor-to-ceiling windows throughout, allowing breathtaking views of the Last Frontier. Onboard the two Radiance Class ships, families can climb rock-wall towers for panoramic views, enjoy poolside movie nights under the stars, and dine at venues including Chops Grille, Giovanni's Table, and Izumi.
4. Norwegian Cruise Line
In 2018, Norwegian Cruise Line launched the 4,000 passenger Norwegian Bliss, a ship specifically designed for Alaska cruises, and in spring 2021, Norwegian Encore (built in 2019) will sail to Alaska from Seattle, bringing Norwegian Cruise Line's total to five ships in the Last Frontier. The newest ships offer thrilling amenities such as a two-level go-kart track where electric cars reach speeds up to 30 mph, an open-air laser tag course, and an expansive water park with two multi-story waterslides including one that extends over the edge of the ship and loops down to the deck below.
For those looking for smaller ships, the Norwegian Sun has less than 1,000 staterooms and was refurbished in 2018, adding a Spinnaker Lounge where guests can grab a drink and watch the scenery pass through panoramic windows.
Norwegian Cruise Line's Alaska itineraries include five- to 12-day round-trip sailings from Seattle, as well as week-long one-way cruises to/from Seward, Alaska. In partnership with Alaska Native Voices, cruises that sail into Glacier Bay National Park have Cultural Heritage Guides onboard to interpret the 25-million-acre World Heritage Site.
Norwegian Cruise Line has also invested in the ports of Icy Straight Point, Ketchikan, and Juneau to create shore excursions for visitors to experience the land, wildlife and native peoples of Alaska. Many of these investments are in partnership with Alaska native-owned corporations and built with environmentally sustainable practices in order to maintain the natural setting. A high speed gondola will transport families to attractions such as the world's longest ZipRider zipline, accessible coastal brown bear viewing platforms, whale watching, and fishing excursions. A second will transport guests further up the mountain, offering spectacular views of icefields, the Fairweather Range and Glacier Bay National Park & Preserve. A network of hiking trails will allow families to explore the wilderness via a 340-foot suspension bridge swaying over a box-canyon with a 900-foot vertical drop. Another nature trail at the top-of-the-mountain wanders around a glacially carved pond.
Finally, for families wishing to see more of Alaska's interior, four- to seven-day land tours can be added to Norwegian's one-way cruises exploring Seward, Homer, Girdwood, Anchorage, Talkeetna, Denali, and Fairbanks via motorcoach or Alaska Railroad.
5. Holland America Line
Seven Holland America ships sail in Alaska from April through September on roundtrip cruises from Seattle or Vancouver, or one-way between Seward and Vancouver. For those interested in Glacier Bay National Park, Holland America offers the most itineraries that include the scenic destination. In 2020, families can cruise to Alaska aboard the Eurodam, Koningsdam, Maasdam, Noordam, Oosterdam, Volendam and Westerdam.
This is the inaugural season for Koningsdam (launched in 2016) in Alaska, sailing seven-day Inside Passage itineraries roundtrip from Vancouver. The luxurious Pinnacle Class ship has outstanding service and dining and a number of entertainment options including Music Walk, Rolling Stone Rock Room, and World Stage, and more. Holland America Line is currently the only cruise line with seven-day roundtrip itineraries from Vancouver that include Glacier Bay National Park.
Families with more time might consider the 14-day Great Alaska Explorer Voyages aboard the Maasdam. This smaller ship (1,258 passengers) provides an intimate atmosphere with plenty of room at the rail to watch passing scenery. Maasdam's itinerary sails roundtrip from Vancouver and travels around the Kanai Peninsula calling upon Anchorage, Homer, and Valdez. Excursions include Zodiac boats departing directly from the ship for close-up views of glaciers, wildlife and scenery, all guided by an expert.
Every Holland America ship in Alaska includes onboard programming about local Alaska culture and history. Cruises to Glacier Bay bring on a national park ranger as well as a native Huna speaker. Other presentations include Alaska naturalists, bush pilots, and mushers from the Iditarod dog sled race.
For explorers who want to travel further into the Alaska interior, Holland America offers multiple land packages that spend up to three nights at Denali National Park & Preserve—maximizing the chances of mountain viewing. Finally, Holland America is the only cruise line that offers a land tour option to Dawson City, home of the Klondike Gold Rush in Canada's Yukon Territory.
6. Carnival Cruise Line
Carnival Cruise Line is expanding its presence in Alaska with two ships in 2020 and a third coming in 2021. In 2020, Carnival Spirit sails week-long roundtrip cruises from Seattle, and Carnival Miracle will offer 10- and 11-day Alaska cruises from San Francisco for the first time ever. In 2021, Carnival Freedom will operate out of Seattle. A mix of itineraries includes Inside Passage ports of Ketchikan, Juneau, Skagway, Icy Strait Point, cruising Tracy Arm Fjord, and Victoria, British Columbia.
For families wanting to truly explore Alaska, Carnival offers a variety of shore excursions from adventurous helicopter flightseeing to traditional salmon bakes and gold panning. Onboard, Carnival offers special menu items featuring Alaska fare including freshly caught local game, seafood, and fish, and a naturalist points out animal and sea life from the bridge for guests to photograph. Carnival Cruise Line's kids program, Camp Ocean (for children ages 2 to 11), offers Alaska-themed activities for kids exploring the Last Frontier.
7. Celebrity Cruises
Families with older children or multigenerational groups looking for a premium vacation experience might consider Celebrity Cruises. In 2020, Celebrity sends three ships to Alaska, visiting 12 Canadian and U.S. destinations, and spending more time in port. Celebrity Eclipse and Celebrity Solstice sail seven night, round-trip cruises from Vancouver and Seattle. Ports on these sailings include Endicott Arms & Dawes Glacier, Hubbard Glacier, Icy Straight Point, Juneau, and Ketchikan to name a few (check specific itineraries for more details).
Celebrity Millennium will offer two, seven-night, one-way Alaska itineraries—one northbound from Vancouver, the other southbound from Seward, AK—making it easy to combine a tour of interior Alaska with a cruise. Both Celebrity Millennium cruise itineraries feature the Inside Passage and call upon Ketchikan, Icy Straight Point, Juneau, Skagway, and Hubbard Glacier. Celebrity Cruises offer land and sea packages extending the cruise from Seward on to Anchorage, Talkeetna, and Denali National Park. On the southbound cruise from Seward, Alaska, families can add on a Canadian Rockies tour and travel to Lake Louise in Banff National Park.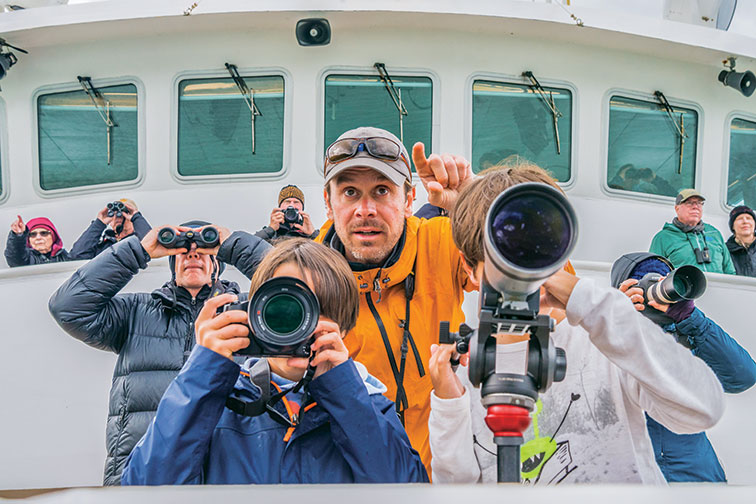 8. Lindblad Expedtions
Lindblad Expeditions partners with National Geographic to create exclusive family programming. Its National Geographic Global Explorers program is designed for kids and teens to develop the attitudes, skills and knowledge of an explorer. Activities include earning a Zodiac boat driver's license, recording wildlife sightings in their field notebook, and learning to be a storyteller through photos, video, and more.
Families can choose from a selection of Alaska itineraries—ranging from six days to a 22-day end-to-end coastal cruise stretching all the way from Ketchikan to Nome. The 100-guest ships, National Geographic Quest and Venture, and the 62-guest sister ships, National Geographic Sea Lion or Sea Bird, travel past wildlife-filled islands and deep into channels to find bears, eagles, bubble-netting whales, and more. Family activities include hiking, kayaking, paddle boarding, biking, and exploring. Cultural programming include First Nation performers, as well as sailing with a team of naturalists and photographers.
9. UnCruise Adventures
Voted "Best for Adventure" by Cruise Critic, UnCruise Adventures specializes in off-the-beaten path itineraries. UnCruise zigs when the big ships' zag, allowing passengers to avoid crowds in ports. The expedition-style cruises sail seven to 14-day itineraries around Glacier Bay National Park and as far south as Seattle. In addition, UnCruise Adventures cruises can be paired with an optional six-day pre-cruise Alaska Railroad excursion to Denali National Park.
For family travelers, UnCruise Adventures has designed specific family-focused departures called Family [F]UnCruise Discoveries. The Family Discoveries program offers summer camp at sea programs with activities for everyone to experience together.
Alaska-based family travel writer, Erin Kirkland of AKontheGo, sails onboard as the UnCruise Youth Adventurist on the 76-passenger Wilderness Discoverer, July 4 and August 1, 2020 Alaska Fjords & Glaciers Cruise, as well as the July 3 and 31, 2021 Northern Passages Glacier Bay Cruise on the 86-passenger S.S. Legacy. Activities include beach parties, kayaking and paddle board relays, local history and culture talks, arts and crafts, photography lessons, and more.
10. Windstar Cruises
Windstar Cruises is a small ship cruise line consistently rated as one of the best under 500 berths. Windstar's smaller vessels can access Alaska fjords, inlets, and coves not available to large ocean liners. While children younger than 8 aren't allowed on Windstar Cruises, it's a great choice for families with tweens and teens. These smaller ships jettison the frills of the mega ships to focus on connecting as a family over authentic local experiences such as wildlife watching on deck and enjoying meals together.
Windstar's small ship cruises in Alaska include lectures and onboard educational programming from a team of six experts who sail with the ship throughout its journey. This team of scientists and naturalists also lead optional Signature Expedition tours. Excursions include kayak and Zodiac boat trips directly from the ship, giving guests more time for extreme close-up views at sea level. The tours offer breathtaking perspectives of icebergs, calving glaciers, and gorgeous natural habitats.
Signature Excursions help guests experience the active wildlife of Alaska first-hand while cruising by rafts of sea otters, spotting sea birds overhead or sea lions lounging on mini-icebergs, all while keeping an eye on shore to spot bears and more.
Dave Parfitt lives in Rochester, New York, with his wife and two daughters. A runner with a PhD in neuroscience, he lived in numerous Northeastern and Midwestern U.S. cities before taking a college job in the Finger Lakes. He's traveled worldwide, but a Walt Disney World trip with two budding princesses is the trip that elicited the family travel wanderlust. He shares his vacation tips and tricks on AdventuresbyDaddy.com.
What to Pack for Your Next Trip
For info on these editor-selected items, click to visit the seller's site. Things you buy may earn us a commission.
Our team of parents and travel experts chooses each product and service we recommend. Anything you purchase through links on our site may earn us a commission.