San Diego's 70 miles of sparkling beaches include lots of great places to sink your toes into the warm sand. Read on to find San Diego's best beaches for boogie boarding, sandcastle building, amusement park rides, surf lessons, and seeing hang gliders launch from the seaside cliffs above.
1. Mission Point on Mission Bay
Just over the bridge from SeaWorld, Mission Point is a great city park beach where you can turn the kids loose on the playground and relax in the grassy picnic area or nap beneath shady trees. Even on the hottest days, you'll find a breeze at Mission Point, and kite flying is popular here. This soft, white-sand beach is sheltered inside Mission Bay, and the waters are calm enough for little ones to swim safely. A 20-minute walk along the pathway takes you to Belmont Park with an amusement park, shops, restaurants and beach on the Pacific Ocean with a completely different vibe. Highlights include people watching and enjoying a drink at sunset.
Recommended Hotel: Bahia Resort Hotel
2. La Jolla Shores
Broad, sloping and beautiful, the white-sand beach at La Jolla Shores is one of the best family-friendly spots in San Diego. Parking is convenient, bathrooms are ample, and a fun playground sits on the sand just steps from the ocean. You can watch the resident sea lions or take a surfing lesson. Rent a kayak and explore the sea caves with your teens or take them snorkelling at the La Jolla Underwater Park to see leopard sharks and stingrays. Don't miss the sea dragons at the nearby Birch Aquarium. At the end of the day, splurge on fine dining at one of the oceanfront hotels or watch the sunset while kicking back around one of the beach's fire pits.
Recommended Hotel: Hotel La Jolla, Curio Collection by Hilton
3. Seaside Beach in Cardiff State Beach
When you need an escape from SoCal beach crowds, head for this hidden gem in San Diego's North County. Families love Seaside Beach's long stretch of sand parallel to Highway 101 for a few reasons. It's less busy than other area beaches and has easy-in, easy-out access from a parking lot where you can find a spot most of the time. The beach is great for boogie boarding, surfing and swimming. For a free family-friendly diversion, head to the nearby Nature Collective for interesting events and a stroller-accessible one-mile loop that takes you out on the estuary to look at shorebirds.
Recommended Hotel: Rancho Valencia Resort & Spa
4. Moonlight Beach
The main beach in Encinitas, Moonlight Beach is where the North County kids spend their summers. Parents appreciate the gradual slope of the beach for swimming and the significant presence of lifeguards here. Join in a beach volleyball game on one of the three courts or let the kids burn off energy on the playground and large grassy area. There's a place on the beach where you can rent gear—everything from beach chairs and umbrellas to boogie boards and surf boards. The snack bar is open during summer, but you'll also find iced coffee and ice cream shops within walking distance. Picnic tables, barbecues, and fire pits invite you to linger into the evening.
Recommended Hotel: Four Seasons Residence Club
5. Coronado Beach
Picture-perfect in practically every way, this clean, wide beach of powdery white sand with shimmering flecks of silver and gold spreads out in front of the Hotel del Coronado, a National Historic Landmark built in 1888. It's worth a beach break to wander through the hotel (currently undergoing a $200 million restoration) to see where princes, presidents and celebrities have stayed. The stretch of sand in front of the hotel is ideal for beach walks. You'll likely see elaborate sand sculptures and, at the far north end near the naval base, lots of furry neighbors at the dog park. Save time to explore the beautiful residential streets in the area.
Recommended Hotel: Coronado Beach Resort
6. Silver Strand State Beach
Just down the road from Coronado Beach on the same spit that rims San Diego Bay, this urban beach is only 15 minutes from downtown. Rent a bike at Silver Strand State Beach and cruise the seven-mile strip to take in views of the skyline across the bay on one side and the Pacific Ocean on the other. The calmer, warmer water on the bay side is great for swimming. In summer the wide, unobstructed beach is a popular spot for camping and fishing from the shore. The wind picks up in winter, drawing kite surfers to this stretch.
Recommended Hotel: Loews Coronado Bay Resort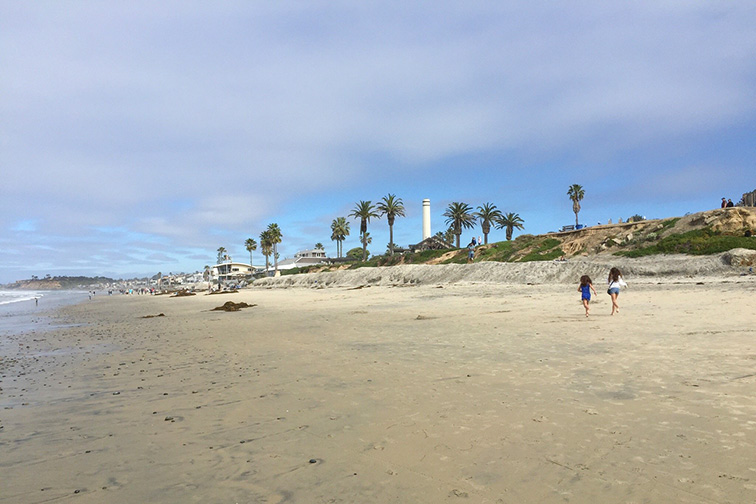 7. Del Mar City Beach
On sunny days Del Mar City Beach gets crowded and finding parking can be tricky, but it's worth the effort. This family-favorite beach is a beautiful spot for swimming and checking out the Southern California surfing scene. On the hillside above the beach, a fun play structure and grassy picnic area are ideal spots to relax or throw a ball. The coastal Powerhouse Park here has all the facilities you need and, in summer, offers free outdoor concerts at sunset. Train tracks run right along the park, and kids love seeing the cars pass by so close. Walk south along the beach to see colorful eroding bluffs. Restaurants and shops are also within a short walk.
Recommended Hotel: Doubletree Hotel San Diego/Del Mar
8. Carlsbad City Beach
In San Diego's North County, the charming seaside town of Carlsbad isn't overrun with souvenir shops and tourists, but still has a busy beach town vibe. The village is perched above the water, and several different stairways along Ocean Street lead to the city beach. The uncrowded three-mile beach, part of Carlsbad State Park, offers great swimming and surf fishing. Walk to the northern end to reach the entrance to Buena Vista Lagoon, a well-known bird-watching destination. At low tide you can walk across the inlet of the lagoon to get to St. Malo Beach.
Recommended Hotel: Carlsbad Inn Beach Resort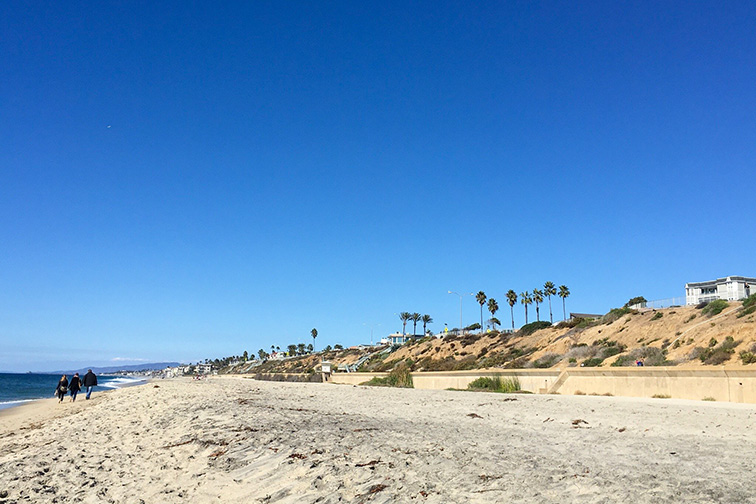 9. South Ponto Beach
At the city border of Carlsbad and Encinitas, South Ponto Beach is a friendly little beach in an undeveloped area. The sandy spit sits at the inlet to Batiquitos Lagoon and is secluded by high sand dunes. It's quiet here, without all the shops and restaurants that cluster around other San Diego beaches, but the beach still has the essentials for families: public restrooms and showers. South Ponto Beach is known for bodysurfing or watching the occasional surfing competition. In summer the campground on the bluff fills up. During winter, kids of all ages like to collect the polished stones that wash up on the shores.
Recommended Hotel: La Quinta Inn San Diego Carlsbad
10. Torrey Pines State Beach
Located beneath towering red-hued bluffs, Torrey Pines State Beach becomes a narrow stretch of sand at high tide. The tide brings in lots of seashells and packs down the sand for easy walking, which makes this a favorite spot for beachcombing. Kids love seeing the hang gliders launch from the clifftop above the beach. If you want to take in clifftop views and see the area's native pine trees, join a guided nature tour on weekends through the trails of Torrey Pines State Natural Reserve Park. The beach is a terrific post-hike reward. Families gather at the north end of the beach for safe swimming and playing by the lagoon. Farther south, surfers ride the big winter swells. Parents beware: This southern section of beach is clothing optional.
Recommended Hotel: Hilton La Jolla Torrey Pines
Jamie Moore is a Vancouver Island-based freelance travel writer. Her work has appeared in USA Today, Yahoo News, WestJet magazine, SmarterTravel, WhattoPack.com, and other media outlets. Follow her on Twitter, @jmemoore.
What to Pack for Your Next Trip
For info on these editor-selected items, click to visit the seller's site. Things you buy may earn us a commission.
Our team of parents and travel experts chooses each product and service we recommend. Anything you purchase through links on our site may earn us a commission.