Don't let social distancing get you down! If you're stuck at home with a toddler, we've got some great inspiration for when this is all over.
Toddlerhood is an awkward travel age. Toddlers are too young for most resort kids' clubs, too short for amusement park rides, and too sleepy for full-day excursions. But they are old enough to want to experience, enjoy, eat, (and break) everything. Toddlers are super curious, delighted by new activities and seem eager to get in the mix with the rest of the family, but what destinations are a good fit for their unique needs?
Editor's note: Considering booking a trip? Opt for a flexible option, and always follow all local and national guidelines for travel at your destination and when returning home.

1. Crystal River, Florida
Go beyond the beaches and theme parks to experience a once-in-a-lifetime wildlife encounter with one of Florida's most incredible creatures—the manatee. Drive just an hour's North of Tampa to the charming town of Crystal River. Dubbed the "Manatee Capital of the World," it's one of the only places where you can swim alongside wild manatees. From mid-November to March, these gentle giants migrate to the warm protected coves of Crystal River, making it the perfect spot to observe them.
Plantation on Crystal River in Kings Bay offers snorkeling tours for the whole family. There are no age restrictions, so as long as there is an adult present, kids of all ages can enjoy the boat ride and get in the water. All snorkeling gear and wet suits are provided, but be sure to bring snacks, towels, and warm clothes for the kids to change into afterward. Toddlers are too young to snorkel, but even swimming beside a harmless 1,300-pound herbivore is absolutely unbelievable.
Recommended Hotel: Plantation on Crystal River

2. Bermuda
Just a two-hour flight from New York City, the pink beaches of Bermuda are the perfect backdrop for toddler-travel. One of our favorites is Horseshoe Bay Beach in Southampton parish. If you head to the western end of this crescent-shaped beach, you'll find Baby Beach, a calm pool of turquoise water perfect for young children.
For a fun, free, nautical-themed playground, head to the Royal Naval Dockyard. It features a 21-foot-tall replica of St. David's Lighthouse that they can slide down, and a 70-foot-long "moray eel" to crawl through. Swim with dolphins at Dolphin Quest or learn about animals at the Bermuda Aquarium, Museum, and Zoo. Even the youngest will gaze in wonder at stalactites at the Crystal & Fantasy Caves before wolfing down an ice cream at the nearby Bailey's Bay Ice Cream Parlour, a favorite among local families.
Recommended Hotel: Fairmont Southampton

3. Barcelona, Spain
Despite how much you hear about swarms of tourists in this bucket-list European city, Barcelona is a particularly family-friendly city. The locals famously love kids and there are a ton of play spaces even in the middle of restaurant-lined squares, where parents can sip Sangria while the kids play.
One of our favorite places is the playground nestled in the Park Plaça de la Sagrada Família. Kiddos slide, swing and frolic around on the jungle gym, all against the backdrop of Gaudi's stunning Sagrada Família.
Little ones love the Barcelona City Tour, an open-air, double-decker hop-on, hop-off bus tour that makes stops around the city's highlights, including: the Gothic Quarter, the seafront, Agbar Tower, Plaça Catalunya and Las Ramblas. Children under age three are free, but be advised that there are no seat belts so be prepared to hold on tight.
Another hot spot is Park Ciutadella, the Central Park of Barcelona. Toddlers can feed ducks in the lake, spot wild green parrot (called Monk Parakeets) fly from tree to tree, and watch the Cascada waterfall fountain. This is also where you'll find local street performers who create ginormous bubbles—always a hit with the toddler crowd.
Recommended Hotel: Hotel Roger De Lluria

4. Myrtle Beach, South Carolina
Another great toddler-focused beach destination is Myrtle Beach, South Carolina. The white beach coastline, known as The Grand Stand, stretches some 60-miles, so there's plenty of opportunity for sandcastle building and shell collecting.
Stroll the boardwalk and hop aboard the SkyWheel, a 187-foot Ferris wheel that's free for kids age two and under. Spot tiger sharks at Ripley's Aquarium or check out WonderWorks, an interactive science museum with special space, weather and sound zones for the little ones.
One of our favorite places for a fun family outing is Brookgreen Gardens. It's over 9,000 acres of meticulously-manicured botanical gardens. There's a butterfly house, enchanted storybook forest, zoo with indigenous animals and discovery zone with hands-on exhibits for kids. Between the 250-year-old oak trees and the funky states, Brookgreen Gardens is the perfect setting for a family picnic.
Recommended Hotel: South Bay Inn & Suites
Related: 7 Best Hotels With Water Parks in Myrtle Beach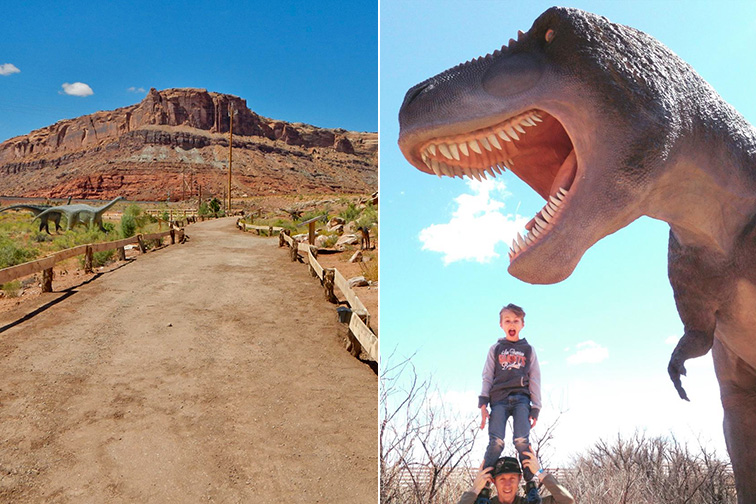 5. Moab, Utah
If your toddler is a dinosaur enthusiast, Moab is a hot bed for fossils and "dino" history.
They'll love Moab Giants. This place is part outdoor paleo-amusement park, part playground featuring giant life-size replica dinosaurs that roamed the area some 150 million years ago. They also have easy walking trails for the kiddos, dinosaur wagons, mini excavation sites and 3D videos that recreate the Jurassic era.
To avoid the hottest times of the day, it's best to get there as soon as the attraction opens at 10am. There is an onsite café where you can get snacks and ice cream.
From there, check out Arches National Park for some incredible views of its red sandstone rock formations. The best spot for kids is Sand Dune Arch. It's like a giant sandbox of fine red sand nestled between a narrow outcrop of rock walls. It is perfect for young kids to play, make sand angels, scramble up rocks and explore. It's shaded, so it's nice and cool, and it's a very short walk from the parking lot.
In terms of accommodations, Under Canvas Moab is a fun choice. It's glamping, teepee style, with all the amenities of home. It's a manageable middle ground for families who want a mix of the camping and hotel experience. There are king-sized beds and a wood burning stove for the parents, and pack' n plays for the littles. When we visited, the staff was extremely engaging with our kids, and offered activities such as morning crafts, sunset hikes and S'mores by the fire.
Recommended Hotel: Under Canvas Moab

6. Prince Edward Island, Canada
Canada's smallest province has something for parents and kids alike, including dramatic shorelines, antique wooden lighthouses, delicious fresh seafood, the beloved children's character Anne of Green Gables, and marine life.
Little ones will love beach combing for shells, chasing crabs and digging for clams along the red sandstone beaches of Prince Edward Island. Take a horse-drawn carriage ride at The Anne of Green Gables Museum, or hop on the Harbour Hippo, an amphibious tour bus where kids can experience land and sea in the island's capital city of Charlottetown. If you want a little pioneer action, head to the Orwell Corner Historic Village, where kids can see blacksmiths, learn to churn butter and make ice-cream like it's 1890.
The highlight of a family trip to PEI is a sunset boat cruise on The Fiddling Fisherman. This locally-run family business takes small groups out on the water for a lobster dining experience. Kids can help haul in lobster traps, handle the crustaceans and learn to play the spoons. It's a fun-filled evening of live local music culminating in delicious, fresh-from-the-ocean meal. And, being out on the water, breathing in the fresh sea air, is guaranteed to make your little one sleep soundly.
Recommended Hotel: Rodd Royalty

7. Keystone, Colorado
If you're thinking of a ski vacation for the fam, head to Keystone in the Colorado Rockies. One of the best things about Keystone is its kids programming, from après ski milkshake socials to fireworks displays. There's a daily Ripperoo's Parade with floats, music, mascots and free cookies. For some indoor fun, there's a free play space at Kidtopia Headquarters, with giant foam LEGO sets, a craft station and games to keep the kids engaged.
You can also take the gondola up to the top of Dercum Mountain to see the Kidtopia Snow Fort, dubbed the "World's Largest Snow Fort," with slides and mazes.
Keystone also makes traveling with kids easier with free front-row family parking and complimentary red wagons to help lug gear to the mountain. Kids under 12 ski free when parents book two or more nights at one of Keystone's accommodation options. Full-day ski lessons are available for kids as young as three. There's also a great childcare center for youngsters from two months to six years old.
Recommended Hotel: Keystone Lodge & Spa

8. San Diego, California
A classic choice for a family-friendly getaway is the sunny shores of Southern California. Start with a visit to the San Diego Zoo, one of the country's best, with more than 3,700 animals and special wildlife encounters. Beyond seeing lemurs, giraffes and lions, toddlers will love the three-minute ride on the Bolboa Park Miniature Train, and the Elephant Play Yard, an open-air area with cool things for kids to climb.
For a safari experience, head to the San Diego Zoo Safari Park for a 60-minute guided cart tour. Here, you'll get a behind-the-scenes look at the animals as they roam in large, free-range enclosures.
In terms of kid-friendly museums, the backyard play area at the San Diego Natural History Museum and the immersive art programs at The New Children's Museum are must-visits for the toddler set.
From digging for "dino" fossils at LEGOLAND's Explorer Island, to Sesame Street-themed rides at SeaWorld, to simply eating ice cream and flying kites overlooking the bay in Seaport Village, San Diego serves up a ton of toddler-friendly activities.
Recommended Hotel: Rancho Bernardo Inn
Julia Dimon is a family travel expert and a co-host on Word Travels, a 40-episode TV series about the real lives of travel writers, broadcast worldwide on National Geographic Adventurea and Travel Channel UK in over 100 countries and 21 languages. Julia has been featured as a travel expert by CNN, ABC Nightline, New York Times, Conde Nast Traveller, Travel & Leisure, Forbes Traveler, MSNBC, E! News, Outside Magazine, and the Travel Channel, among other major outlets. She is also the author of "Travel Junkie: A Badass Guide to Solo Female Travel," featuring travel tips and advice for young women.
A mom of two, Julia aims to empower likeminded parents to get out of their comfort zones and explore the world with their young children. For more family travel tips and vacation ideas, check out her website, JuliaDimon.com.
Our team of parents and travel experts chooses each product and service we recommend. Anything you purchase through links on our site may earn us a commission.