Planning the perfect ski vacation for the whole family is a tall order. Some prefer snowshoeing or snow tubing while others would rather race downhill. Then there are days when the gang wants to take a break from the snow and splash around in a water park or roast marshmallows by a fire. We've compiled 11 ski resorts that suit a variety of tastes in our list of the best ski resorts for kids for the 2020-2021 season. While some offer more challenging terrain than others, all of the resorts offer lessons for kids and adults, so it doesn't matter if your household consists of expert skiers or novices.

1. Northstar California Resort – Truckee, CA
This year-round destination resort in Lake Tahoe, California, goes beyond skiing to keep the whole family entertained day or night. Glide on the ice-skating rink or escape from the cold in a heated cabana. A playground that overlooks the ice-skating rink presents more opportunities for family fun with snow tubing and build-your-own hot cocoa and cupcake stations (if you have room after eating the S'mores served by the fire every afternoon). There's even a movie theater showing family-friendly films.
Recommended Hotel: Catamount Lodge – Tahoe Mountain Lodging
2. Bretton Woods – Bretton Woods, NH
Secluded in the White Mountain National Forest, Bretton Woods provides an ideal family environment for a winter vacation. Little ones ages 3 to 5 will enjoy the day-long ski and snow play program that offers an intro to winter sports, lunch, and nursery supervision. Parents can also drop their kids off at the childcare center, which offers board games, arts and crafts, and snacks. Après-ski parties designed just for kids bring tykes up close with wildlife, celebrate the Chinese New Year, and provide other unique diversions.
Recommended Hotel: The Lodge at Bretton Woods
3. Park City Mountain Resort – Park City, UT
One of the joys of vacationing in Park City is that it's a quick 35-minute ride from the airport, which gives families more time to hit the slopes. The resort groups ski and snowboard lessons according to age: 4 to 6, 7 to 14 and a class just for 3-year-old kids. Parents can enjoy some adult ski time while kids between 6 weeks and 6 years can play in the snow under supervision in the childcare facility. At night, enjoy a horse-drawn sleigh ride through the snow to experience a true winter wonderland.
Recommended Hotel: Grand Summit Hotel
4. Jackson Hole Mountain Resort – Teton Village, WY
Nothing screams kid-friendly like a ski map filled with mountains with names like Princess Woods or Mr. Toads Wild Ride, which you'll find at this ski resort for kids, just south of Grand Teton National Park. Though known for its challenging courses, Jackson Hole Mountain Resort offers private and group lessons for kids as young as 3. The Kids Ranch provides childcare, including evening programs with sledding and pizza. Spot deer, moose and other wildlife on the slopes or while on a dog-sled ride.
Recommended Hotel: Four Seasons Resort and Residences Jackson Hotel
5. Crystal Mountain Resort – Thompsonville, MI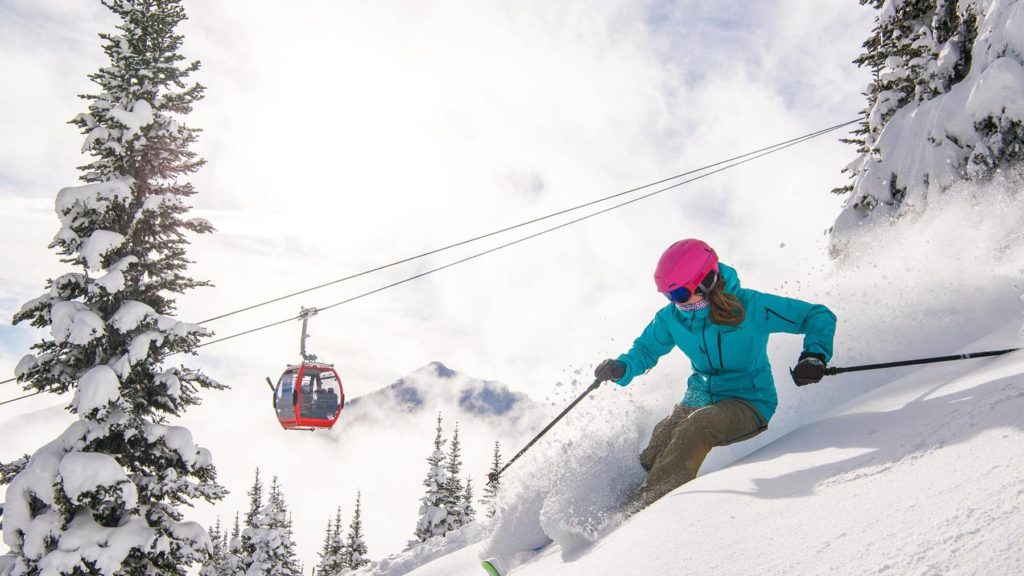 Tucked in a secluded corner of Northwest Michigan, Crystal Mountain Resort offers a bevy of activities to keep the kids busy when they're not on skis. Seasonal scavenger hunts and board game rentals are free, as is use of the ice skating rinks, though skate rentals cost extra. During winter, the outdoor water playground turns into a snow-filled laser tag adventure for kids 7 and older. After the sun sets, share stories and roast marshmallows at the family campfire.
Recommended Hotel: Crystal Mountain Resort
6. Breckenridge Ski Resort – Breckenridge, CO
Featuring four terrain parks and the highest ski lift in North America (nearly 13,000 feet), Breckenridge provides all the thrills for an experienced skier. The resort doesn't leave out newbies though, offering group and private lessons for teens and kids as young as 3. Parents who want to ski with older kids can book a day of childcare along with an hour-long ski lesson for little ones between 2 and 4. When kids tire of skiing, the Mountain Top Children's Museum and a winter alpine coaster will keep them busy.
Recommended Hotel: DoubleTree by Hilton Breckenridge
7. Whiteface Mountain – Wilmington, NY
A two-time host of the Winter Olympics, the Lake Placid resort is naturally a great destination for skiing and other cold-weather sports. Whiteface Mountain lays claim to the biggest vertical drop (3,430 feet) east of the Rockies while the Olympic Village will satisfy thrill-seekers with its Olympic track bobsled (for guests at least 48 inches). Younger kids will have fun, too. Cub Camp provides arts and crafts, games, and sing-alongs for kids ages 1 to 6, while the Play-n-Ski program combines skiing and indoor play time for kids ages 4 to 6.
Recommended Hotel: Whiteface Lodge Resort & Spa
8. Aspen Snowmass – Aspen, CO
This all-season resort in one the best ski destinations goes all out in the winter to impress visitors. Aspen Snowmass goes beyond ski and snowboard lessons to offer snow bike rentals and instruction. (Yes, that's a bike that travels on snow). The V.I.K. (Very Important Kids) program includes storytelling, cookie decorating, and other après-ski activities just for kids. Experience a family-friendly, winter wonderland party on Friday nights with S'mores, dancing, and hot chocolate.
Recommended Hotel: Pokolodi Lodge
9. Massanutten Resort – Massanuten, VA
Massaanutten Resort, open year-round, caters to families with an endless array of activities. Ride the lazy river or surf the waves in the massive indoor water park or enjoy virtual reality and arcade games. For outdoor fun, go ice skating or snow tubing in a park that offers up to 16 lanes and a 120-feet vertical drop. The resort has dedicated a portion of its ski area to beginners, making it an ideal ski resort for kids.
Recommended Hotel: Massanutten Resort
10. Camelback Mountain Resort – Tannersville, PA
Camelback Mountain Resort offers all the necessities for a successful ski vacation in the Poconos—ski and snowboard lessons, tubing, two terrain parks, and a mountain coaster where rides are self-controlled—go as fast or as slow as you want!. There are also several options for dining and accommodations, including the Camelback Lodge & Indoor Water Park. Spend your days on the slopes and your nights on the slides!
Recommended Hotel: Camelback Lodge & Indoor Water Park
11. Smugglers' Notch – Jefferson, VT
Smugglers' Notch in Vermont is a dream destination for skiing families—and with good reason. The resort offers several incentives for families, such as Kids' Night Out, a childcare service with dinner and activities, and a FamilyFest Package that includes lodging, lift tickets, activities and more. Children as young as 2 and a half can learn to ski, and all new skiers are placed in lessons with other children their age. When teens aren't ice skating, snowmobiling or Airboarding, they can hang at Teen Alley, where there are video games, music, movies, organized events and new friends to meet. Our favorite offering at Smugglers' Notch? Adaptive programs for those with special needs, from skiing to arts and crafts.
Recommended Hotel: Smugglers' Notch Resort
Julekha Dash is a Maryland food, travel and arts writer who loves dining out and traveling with her family. You can follow her latest adventures on Twitter and Instagram.
What to Pack for Your Next Trip
Our team of parents and travel experts chooses each product and service we recommend. Anything you purchase through links on our site may earn us a commission.