Milestones are a part of raising kids at all phases of their early lives—and there are milestones of importance to note, too, when it comes to graduating from car seat to car seat as your children grow.
Booster Seat Requirements
There will come a time when your child's weight exceeds the forward-facing limit for their car convertible or traditional forward-facing car seat (usually between 40 and 65 pounds, depending on the seat).
And that's when it's time to move on to a booster seat, which is generally defined as a car seat that has the ability to be used with your car's seat belt, as the primary restraint for the child by raising the child to an appropriate height so that it fits. (Some booster seats also have the option of being used in five-point-harness mode before transitioning to seat belt mode).
As a general rule, children should use seats with five-point harnesses until they grow out of them, according to the National Highway Traffic Safety Administration. And today, there are many booster seats that come with five-point-harness options that allow you to keep your child in a harness beyond the limits of other convertible car seats.
Many children love the transition to a booster seat in seat belt mode because it allows them more freedom to move as opposed to the constraints of a five-point-harness, but it's important not to rush the transition.
The main purpose of booster seats is to ensure that a car's seat belt fits as it should across the laps of little people. A properly fitting seatbelt lies across the child's upper thighs and fits snugly across the shoulders and chest, according to the NHTSA. Belts that rest on the child's stomach or across their face and neck are dangerous.
Booster Seat Options
Boosters come in highback versions with or without harnesses, in backless versions to be used with a car's seat belt and in hybrid highback and backless versions that transition between the two modes to meet your needs.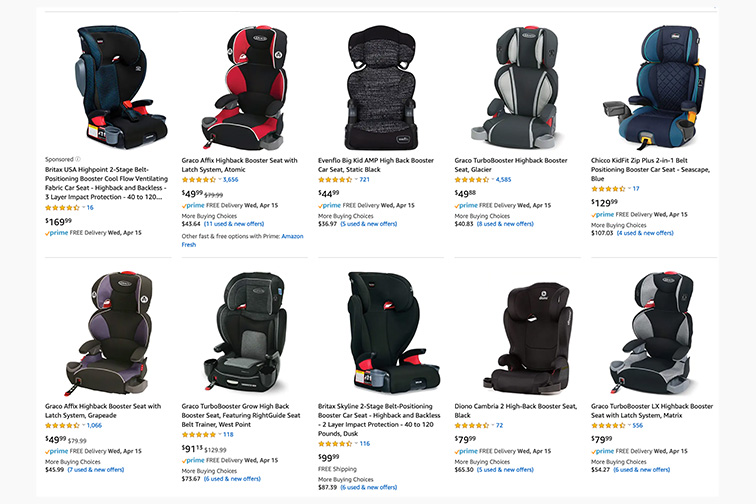 Highback Booster Seats
The benefit of a highback booster seat is that it gives extra support to a child's neck and head. A seat like this is particularly useful in cars with lower seat backs or cars that don't have headrests. Note that all children should ride in the backseat of a car until they are 13 years old and at least 4 feet, 9 inches tall and can pass the five-step seat belt test, a checklist that's detailed on many car seat safety websites including SafeRide4Kids.com
Backless Booster Seats
Backless booster seats provide the same function as a highback booster seat by boosting a child's height so that the seatbelt fits safely and securely across their waist, but backless varieties lack the head and neck support of a highback booster (this also makes them much easier to travel with, since they're just a fraction of the size).
Now that you understand your options, it's up to you to determine which booster seat works best for your child's needs. Read on for a few of our tried and true favorites across different categories.
1. Evenflo Spectrum 2-in-1 Booster Seat
A top option for a light, affordable highback booster seat, the Evenflo Spectrum 2-in-1 Booster Seat scores top marks in safety reviews, making it a go-to once your child has outgrown the need for a five-point-harness and is ready to ride in a seatbelt booster seat. The seat can also be removed from the highback portion and used as a seat belt booster only, and nine height-adjustment positions let this product grow with your child, too, from a minimum of 40 pounds up to 110 pounds. Users like the fact that older kids are able to buckle themselves into this seat with ease, and they appreciate the seat's lightweight (just over 11 pounds) build and two cup holders. In short, it's a great all-around booster seat at a great price.
Related: Evenflo Chase vs. Evenflo Maestro: Which Evenflo Car Seat Is Best For Your Family?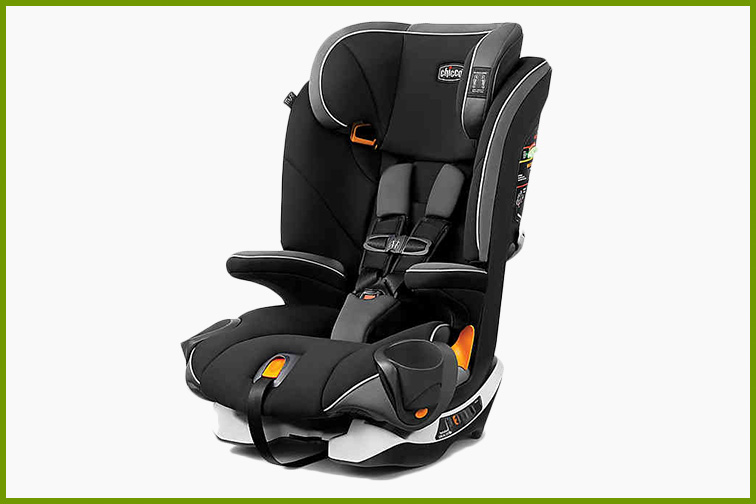 2. Chicco MyFit Harness + Booster Seat
Here's another top entry in the harness and seat belt booster category. The Chicco MyFit Harness + Booster Seat is designed for kids weighing between 40 and 100 pounds, with higher shoulder strap slots designed to let your child grow with comfort in harness mode before you're ready to transition to the booster's highback seatbelt mode. Do note that this booster seat doesn't have a backless booster mode, so that's something to consider if you're looking for a seat that strips down to the basics for easier travel. Comfort is key with this seat thanks to four different recline modes that ensure you child will be as comfortable as they were in their convertible car seat days.
3. Britax USA Grow with You ClickTight Harness-2-Booster Car Seat
They don't exactly give this popular Britax booster seat away, but if you're looking for one that lets you keep your child in a harness booster for a very long time (up to 65 pounds) and transitions to belt-positioning mode for kids up to a whopping 120 pounds, it's a great pick. The Britax USA Grow with You ClickTight Harness-2-Booster Car Seat tips the scale at 25 pounds, so you probably won't be thrilled to travel with it. But it goes the distance with features that include four cup and snack holders and a harness and headrest that move together so you can use just one hand to adjust it to fit as your child grows. Installation couldn't be easier, too—open, thread and buckle close, and you're good to go.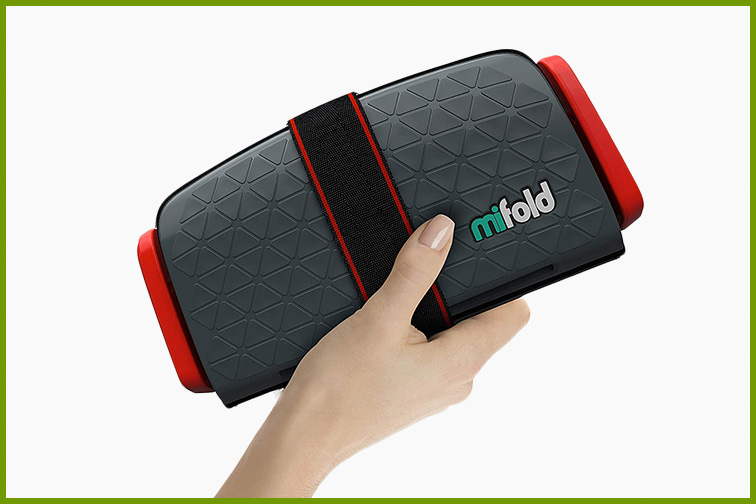 4. MiFold Grab and Go Booster Seat
For a backless booster seat that's exceedingly portable and compact and truly designed for travel (it weighs just 1.7 pounds and folds down to fit easily inside a kid's backpack or a big purse), it's hard to compete with the MiFold Grab and Go Booster Seat. Designed for kids four and older between 40 and 100 pounds who no longer need to be in a harness seat and are comfortable riding in a backless seat belt booster, this is the one you want to have handy in your car's glovebox for when you might have an impromptu carpool passenger along, and also the one to bring along on trips when you plan to rent a car or use taxis and ride share services. It's the far and away fly weight winner of the bunch.
Related: Best Travel Car Seats, According to an Expert
5. Cosco Topside Backless Booster Car Seat
Sometimes simple is best—and when the price is right, we say, all the better. If you're looking for a backless booster seat that works at home and hits the road on your travels with as much ease, too (toss it into your carry-on suitcase for a flight), the Cosco Topside Backless Booster Car Seat is one of the best options out there in the backless booster category. The simple design weighs just two pounds and is suitable for kids weighing between 40 and 100 pounds, raising them to just the right height in your car to make the seatbelt fit properly. Users happy to forgo bells and whistles like cup and snack holders appreciate the booster's slim design and the fact that three of these seats can sit alongside each other in the backseat of a sedan with plenty of room to give.
6. Graco AFFIX Highback Booster Seat with Latch System
Designed to safely transport kids between 40 and 100 pounds in high-back and backless booster seat modes, the AFFIX is a solid contender by Graco with a lot of satisfied users. For users who dread installation, the one-hand front adjust latch system makes this seat pretty much as easy as possible to safely install. The headrest adjusts to varying levels to grow with your child and the seat transitions to backless mode, too, for use as a seat belt booster when the time is right. In both modes, the car seat stays securely attached to your car's seat, too, which makes this booster easier for kids who like—and our old enough to be trusted to do it correctly—to buckle themselves in.
Related: Graco 4Ever vs. Extend2Fit: Which Graco Car Seat Is Best For Your Family?
7. BubbleBum Inflatable Backless Booster Car Seat
Only 13 inches wide when fully blown up, the inflatable BubbleBum car seat is a thing of genius that packs down to next to nothing and works to safely transport kids between 40 and 100 pounds in backless booster mode. The profile is so slim (read: there are absolutely zero bells and whistles on this thing) that the booster keeps bigger kids comfortable even when riding in the middle seat between two adults and can also be used three-across with room to spare. And it weighs just over a pound, so if you're transporting the booster from the cab to the restaurant and back to the car, you can deflate it and throw it right into your hand bag.
8. Graco TurboBooster Backless Booster Car Seat
Ease of installation and a sturdy design that doesn't flip over when your kids get in and out of it are a few of the oft-cited perks of this backless booster car seat. The Graco TurboBooster Backless Booster Car Seat is suitable for kids between 40 and 100 pounds and has two hideaway cup holders at the bottom sides for storing snacks and drinks while maintaining the seat's slim profile. Adjustable armrests add an extra element of comfort for kids that you won't find in the more basic inflatable backless boosters.
9. Graco TurboBooster Highback Booster Seat
For the two-in-one option of the aforementioned backless booster with the benefit of having the highback booster seat option to use, too, it's worth paying what amounts to about twice as much for the Graco TurboBooster Highback Booster Seat. This version easily transitions between the two modes and grows with kids between 40 and 100 pounds. Open loop belt guides make it easy to make sure you're threading the car's seatbelt correctly, whether you're in highback or backless mode.
Longtime travel writer and adventurer Terry Ward lives in Florida with her husband and young son and daughter. She's constantly on the lookout for the next Scandinavia Airlines Kids Fly Free deal to save money on flights to Norway, her favorite place to visit both in the winter (Northern Lights!) and summer (Midnight Sun!). A travel writer since 2001 (read: long before the kids came along), she's written for such publications as Endless Vacation Magazine, Conde Nast Traveler and Scuba Diving Magazine, among many others. Find Terry on her website, Terry-Ward.com.
What to Pack for Your Next Trip
For info on these editor-selected items, click to visit the seller's site. Things you buy may earn us a commission.
Our team of parents and travel experts chooses each product and service we recommend. Anything you purchase through links on our site may earn us a commission.