It may be the age of Netflix and Disney+, but there's still plenty of fun to be had enjoying movies the old-fashioned way—and what could fit the bill better than a drive-in? Though many families don't realize it, there are still lots of outdoor movie theaters around the U.S. where you can watch a film through your windshield or on a picnic blanket, popcorn included, of course.
Whether you're looking for a fun roadside attraction on your family road trip, or you just want to spend family movie night somewhere besides the living room, drive-in movie theaters are a fun option during the summer.
These are some of our favorite outdoor movie theaters, along with a complete state-by-state listing of all the drive-in movie theaters in the U.S.
1. The 66 Drive-In – Carthage, MO
Route 66's iconic drive-in is one of the classic outdoor movie theaters: a historic establishment that looks much the same as it did in 1949 (with a few updates in the actual technology, of course). At the concession stand, you can order fresh hot pizza, popcorn, nachos, hot dogs, pretzels, Dippin' Dots, and drinks. An original playground is still intact as well, and is available for play before the show begins.
Make It a Trip: Go to Carthage's Kiddieland mini-amusement park, where four fun rides can be enjoyed on weekend afternoons for 50 cents apiece. Stay in nearby Joplin and pay a visit to the Wildcat Glades nature center.
Recommended Hotel: Homewood Suites by Hilton Joplin
2. Goochland Drive-In – Hadensville, VA
Typically when we think of drive-in movie theaters, we picture surviving relics of the 50s and 60s—and many of them are precisely that. Not so with the Goochland Drive-In, which was built just a few years ago by two parents who noticed a lack of affordable family fun in the area. The drive-in features current-release family movies, a playground for kids (it closes when the show starts), and a snack bar serving favorites from nachos and popcorn to cotton candy and snow cones, as well as less common options like veggie burgers and gluten-free brownies.
Make It a Trip: Stay about half an hour away in Charlottesville, where you can visit Monticello, go hiking, and sample wine (and grape juice) fresh from the vineyards.
Recommended Hotel: Hilton Garden Inn Charlottesville
3. Harvest Moon Twin Drive-In – Gibson City, IL
Another outdoor movie theater with a modern twist is the Harvest Moon Twin, which emphasizes sustainability and energy-efficiency. In 2009, it became the world's first wind-powered movie theater, thanks to its Skystream turbine, which currently creates more than 30 percent of the drive-in movie theater's electricity—with a goal to eventually reach 100 percent.
The theater also features energy-efficient appliances, recyclable products, LED lighting, and other earth-friendly components. Plus, you'll find an excellent snack bar and gift items, and fun special events are hosted throughout the year.
Make It a Trip: Catch a college football game at the Memorial Stadium in Champaign, feed the goats at Curtis Orchard, and beat the heat at the Sholem Aquatic Center.
Recommended Hotel: Drury Inn & Suites Champaign
4. Amusement Park Drive-In Theatre – Billings, MT
Plan to arrive early to this one-of-a-kind outside movie theater, where the kids may be able to spend time enjoying amusement-park rides before the show. There is (or possibly "was") even a small roller coaster built around the movie screen: as the theater ages, it's unclear whether this ride is still intact and operational. Check their website or give them a call before making a trip out, as the other rides seem to be closed often these days as well. Either way, you'll be able to enjoy a film or two while munching on popcorn, funnel cake, and hot dogs from the concession stand; alternately, you can bring your own food for a small fee.
Make It a Trip: Meet the animals at ZooMontana (where kids can become "junior zookeepers"), see ancient rock art at Pictograph Cave State Park, and whoosh down the slides at Reef Indoor Water Park. (Also, you're only about four hours from Yellowstone, so…)
Recommended Hotel: BEST WESTERN PLUS Kelly Inn & Suites
5. Wellfleet Drive-In Theater – Cape Cod, MA
This cash-only theater in Cape Cod is really more of a theater complex, since you'll also find retro mini-golf, a playground for kids, an old-fashioned snack bar, and the Dairy Bar & Grill featuring burgers, pizza, ice cream, and even beer. If you're planning to make a day out of it, arrive before 3 p.m. (Wednesday to Sunday) to browse the large flea market for collectibles, clothing, jewelry, and more.
Make It a Trip: Hit the Cape Cod beaches, visit the Wellfleet Bay Wildlife Sanctuary, and learn to catch waves at the Cape Side Surf School.
Recommended Hotel: Eventide Resort Motel and Cottages
6. Coyote Drive-In – Fort Worth, TX
Whereas many drive-in movie theaters stick to films that are suitable for younger kids, the Coyote in Fort Worth, Texas, offers the best of both worlds, with a variety of movies that will appeal to kids (G or PG) or to teens and adults (PG-13 and a few R). The menu at the canteen has similar variance: the food—from pizza to chili cheese dogs—will appeal to all ages, but the draft beer and house wines have a specific audience in mind.
Make It a Trip: Visit the lions and tigers (and Safari Splash water park) at the Fort Worth Zoo, step back in time at the Log Cabin Village, and brush up on history at the Texas Civil War Museum.
Recommended Hotel: Towneplace Suites Fort Worth Downtown
7. Bengies Drive-In Theatre – Baltimore, MD
Featuring the largest outdoor movie theater screen in the U.S. (52 feet high by 120 feet wide), Bengies in Baltimore is the drive-in to hit when you want a perfect picture. The theater dates back to 1956, has a nostalgic atmosphere, and accepts cash only. Their snack bar includes hot meals like burgers and pizza, movie favorites like popcorn and candy, and nostalgic items like soda floats and Sno-Balls—plus fresh-baked cookies and mini-donuts.
Make It a Trip: Go eye-to-eye with a shark at the Baltimore National Aquarium, stroll the Inner Harbor, and get hands-on at the Port Discovery Children's Museum.
Recommended Hotel: Fairfield Inn & Suites Baltimore White Marsh
8. Shankweiler's Drive-In – Orefield, PA
At America's oldest drive-in movie theater, the technology has managed to keep up with the times, though you'll still enjoy that nostalgic feel. The theater strives to maintain a family atmosphere, so the films might not appeal to teenagers, but younger kids will have a blast. The snack bar serves traditional fare: hot dogs, popcorn, ice cream, candy, and more.
Make It a Trip: Explore the Lehigh Valley—the Lehigh Valley Zoo (just down the street), Crayola Experience in Easton, the Allentown Farmer's Market, the Da Vinci Science Center, Dorney Park & Wildwater Kingdom, and more!
Recommended Hotel: Staybridge Suites Allentown West
9. Delsea Drive-In – Vineland, NJ
At New Jersey's only remaining drive-in, you'll find films for kids and adults, and a menu that you've probably never seen at a movie theater before! Although they offer the classics like popcorn, soda, and candy, there is an equally extensive selection of healthy choices, from snacks like fruit, stir-fried asparagus, and hummus with carrots to full meals like shrimp with brown rice, veggie burgers, and teriyaki chicken with edamame. Gluten-free guests have plenty to choose from, and the theater even provides a small selection of Atkins foods. No need to sacrifice your diet here—unless, of course, you want to.
Make It a Trip: See a show by the Cumberland Players, visit Wheaton Arts and Cultural Center in Millville to see glass blowing, and walk around the Cohanzick Zoo.
Recommended Hotel: Hampton Inn & Suites Vineland
Drive In Movie Theaters in the U.S.
Most drive-ins play double features, meaning that you can enjoy two films for a single admittance fee (which are typically dirt cheap to begin with!). Also note that at most of these establishments, bringing outside food/beverages is prohibited and can result in expulsion. They don't make much money from the tickets alone, so load up on concessions and think of it as supporting a fun community activity.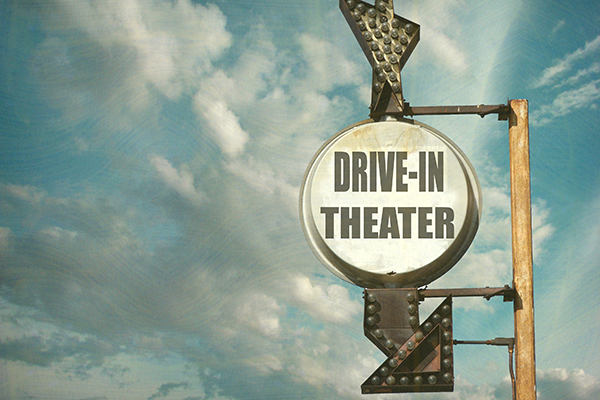 Full List of Drive-In Movie Theaters in the U.S.
Arizona
Glendale 9 Drive-In, Glendale
Arkansas
112 Drive-In Theater, Fayetteville
Kenda Drive-In Theater, Marshall
Stone Drive-In Theater, Mountain View
California
West Wind Drive-Ins, Concord, Sacramento, San Jose and Santa Barbara
Devil's Night Drive-In, Los Angeles
Hi-Way Drive-In Theater, Santa Maria
Madera Drive-In Theater, Madera
Mission Tiki Drive-In, Montclair
Paramount Drive-In, Paramount
Rubidoux Drive-In, Riverside
Santee Drive-In Theater, Santee
Station Cinema, Barstow
Smith's Ranch Drive-In, Twentynine Palms
South Bay Drive-In Theatre, San Diego
Sunset Drive-In, San Luis Obispo
Van Buren Drive-In Theatre, Riverside
Vineland Drive-In, City of Industry
Colorado
88 Drive-In Theater, Commerce City
Comanche Drive-In, Buena Vista
Holiday Twin Drive-In, Fort Collins
Mesa Drive-In Theater, Pueblo
Star Drive-In Theatre, Montrose and Monte Vista
Tru Vu Drive-In, Delta
Connecticut
Mansfield Drive-In Theatre and Marketplace, Mansfield Center
Pleasant Valley Drive-In, Barkhamsted
Southington Drive-In, Southington
Florida
Swap Shop Drive-Ins, Fort Lauderdale, Lake Worth and Tampa
Ocala Drive-In, Ocala
Joy -Lan Drive-In, Dade City
Ruskin Family Drive-In Theatre, Ruskin
Silver Moon Drive-In, Lakeland
Georgia
Jesup Drive-In Theater, Jesup
Starlight Drive-In, Atlanta
Swan Drive-In Theater, Blue Ridge
Tiger Drive-In, Tiger
Wilderness Drive-In, Trenton
Idaho
Sunset AutoVue, Grangeville
Motor Vu Drive-In, Idaho Falls
Parma Motor-Vu, Parma
Spud Drive-In, Driggs
Terrace Drive-In Theatre, Caldwell
Teton Vu Drive-In, Rexburg
Idan-Ha Drive-In Theater, Soda Springs
Illinois
Cascade Drive-In, West Chicago
Route 34 Drive-In, Earlville
Route 66 Drive-In, Springfield
Harvest Moon Twin Drive-In Theatre, Gibson City
McHenry Outdoor Theater, McHenry
Midway Drive-In Theatre, Sterling
Sky View Drive-In, Litchfield
Skyview Drive-In Theater, Belleville
Indiana
Canary Creek Cinemas Drive-In, Franklin
13-24 Drive-In, Wabash
49er Drive-In, Valparaiso
Auburn Garrett Drive-In, Garrett
Bel-Air Drive-In, Versailles
Cinema 67 Drive-In, Spencer
Georgetown Drive-In, Georgetown
Holiday Drive-In Theatre, Mitchell
Huntington Twin Drive-In, Huntington
Lake Shore Drive-In, Monticello
Skyline Drive-In Theater, Shelbyville
SkyVue Drive-In Theatre, New Castle
Starlite Drive-In, Bloomington
Tibbs Drive-In Theatre, Indianapolis
Tri-Way Drive-In Theatre, Plymouth
Holiday Drive-In Theater, Rockport
Melody Drive-In Theatre, Knox
M.E.L.S. at the Starlite Drive-In Theatre, Thorntown
Centerbrook Drive-In, Martinsville
Iowa
61 Drive-In Theater, Delmar
Valle Drive-In, Newton
Superior 71 Drive-In Theater, Spirit Lake
Blue Grass Drive-In, Blue Grass
Grand View Drive-In Theater, Grandview
Kansas
Boulevard Drive-In, Kansas City
Kanopolis Drive-In Theater, Kanopolis
Starlite Drive-In Theatre, Wichita
Kentucky
27 Twin Drive-In Theater, Somerset
Bourbon Drive-In Theater, Paris
Calvert Drive-In Theatre, Calvert City
Franklin Drive-In, Franklin
Judy Drive-In, Mt. Sterling
Mountain View Drive-In, Stanton
Skyline Drive-In Theatre, Greensburg
Stanford Drive-In, Stanford
Try City Drive-In, Beaver Dam
Twin Hills Drive-In Theatre, Harrodsburg
Maine
Bridgton Twin Drive-In, Bridgton
Prides Corner Drive-In, Westbrook
The Saco Drive-In, Saco
The Skowhegan Drive-In, Skowhegan
Skylite Drive-In, Madawaska
Maryland
Bengies Drive-In, Middle River
Massachusetts
Leicester Triple Drive-In, Leicester
Mendon Twin Drive-In, Mendon
Wellfleet Drive-In Theater, Wellfleet
Michigan
Capri Drive-In Theater, Coldwater
Cherry Bowl Drive-In Theatre, Honor
Hi-Way Drive-In, Carsonville
Summer Drive-In, Plymouth
Danny Boy's Drive-In, Ionia
US 23 Digital Drive-In Theater, Flint
Ford Drive-In Theater, Dearbon — the largest drive-in theater in the U.S.!
Minnesota
Long Drive-In Theatre, Long Prairie
Sky-Vu Drive-In Theatre, Warren
Starlite Drive-In, Litchfield
Vali-Hi Drive-In Theatre, Lake Elmo
Verne Drive-In Theater, Luverne
Champions Drive-In, Elko
Missouri
19 Drive-In Theater, Cuba
21 Drive-In, Van Buren
66 Drive-In Theatre, Carthage
Barco Drive-In, Lamar
B & B I-70 Drive-In, Kansas City
B & B Moberly Drive-In, Moberly
Pine Hill Drive-In, Piedmont
Starlite Drive-In, Cadet
Phoenix Drive-In, Houston
Sunset Drive-In, Aurora
Montana
Silver Bow Twin Drive-In, Silverbow
Amusement Park Drive-In, Billings
Nebraska
TK-Starlite Drive-In, Neligh
Sandhills Drive-In, Alliance
Nevada
West Wind Drive-Ins, Las Vegas and Reno-Sparks
New Hampshire
Northfield Drive-In, Hinsdale
Milford Drive-In, Milford
Weirs Drive-In Theater, Weirs Beach
Northern Nights Drive-In, Lancaster
New Jersey
Delsea Drive-In Theatre, Vineland
New Mexico
Fiesta Drive-In Theatre, Carlsbad
Fort Union Drive-In, Las Vegas
New York
Fair Oaks Drive-In Theatre, Middletown
56 Auto Drive-In Theater, Massena
Bay Drive-In Theatre, Alexandria Bay
Black River Drive-In, Watertown
Delevan Twin Drive-In, Delevan
Elmira Drive-In, Elmira
El Rancho Drive-In, Palatine Bridge
Ozoner 29 Twin Drive-In, Broadalbin
Finger Lakes Drive-In, Aurelius
Glen Drive-In, Glens Falls
Greenville Drive-In, Greenville
Hathaway's Drive-In, North Hoosick
Hi-Way Drive-In Theatre, Coxsackie
Hollywood Drive-In, Averill Park
Hyde Park Drive-In, Hyde Park
Jericho Drive-In, Glenmont
Malta Drive-In Theatre, Malta
Midway Drive-In Theatre, Minetto
Overlook Drive-In, Poughkeepsie
Portville Drive-In, Portville
Silver Lake Twin Drive-In, Perry
Sunset Drive-In, Middleport
The Transit Drive-In, Lockport
Unadilla Drive-In, Unadilla
Valley Brook Drive-In, Lyons Falls
Warwick Drive-In, Warwick
Four Brothers Drive-In, Amenia
North Carolina
Badin Road Drive-In, Albemarie
Eden Drive-In, Eden
Raleigh Road Outdoor Theatre, Henderson
Sunset Drive-In, Shelby
Ohio
Mayfield Road Drive-In, Chardon
Midway Twin Drive-In, Ravenna
Sidney Auto Vue Drive-In, Sidney
Aut-O-Rama Twin Drive-In Theatre, North Ridgeville
Blue Sky Drive-In, Wadsworth
Dixie Twin Drive-In, Dayton
Elm Road Drive-In Theatre, Warren
Hi Road Twin Drive-In, Kenton
Holiday Auto Theatre, Hamilton
Lynn Drive-In, Strasburg
Magic City Drive-In, Barberton
Melody Cruise-In, Springfield
Melody 49 Drive-In, Clayton
Skyborn Drive-In, Fairborn
Wilmington Drive-In, Wilmington
Skyview Drive-In, Lancaster
Skyway Twin Drive-In, Warren
South Drive-In, Columbus
Springmill Drive-In, Mansfield
Starlite Drive-In, Maria Stein
Star View Drive-in, Norwalk
Starlite Drive-In, Amelia
Sundance Kid Drive-In, Oregon
Field of Dreams Drive-In Theaters, Tiffin and Liberty Center
Van Del Drive-In, Middle Point
Winter Drive-In, Wintersville
Oklahoma
Admiral Twin Drive-In, Tulsa
Beacon Drive-In, Guthrie
Chief Drive-In Theatre, Chickasha
Corral Drive-In, Guymon
Tower Drive-In, Poteau
Winchester Drive-In, Oklahoma City
El-Co Drive-In, Shattuck
Oregon
99 W Drive-In, Newburg
La Grande Drive-In, La Grande
M-F Drive-In, Milton-Freewater
Motor Vu Drive-In, Dallas
Pennsylvania
Shankweiler's Drive-in Theatre, Orefield — the oldest drive-in theater in the U.S.!
The Bar Ann Drive-In, Portage
Becky's Drive-In Theatre, Walnutport
Brownsville Drive-In, Grindstone
Circle Drive-In, Dickson City
Comet Drive-In Theatre, Connellsville
Cumberland Drive-In, Newville
Dependable Drive-In, Coraopolis
Evergreen Drive-In, Mount Pleasant
Family Drive-In, Kane
Riverside Drive-In, North Vandergrift
Garden Drive-In, Hunlock Creek
Haar's Drive-In, Dillsburg
Hi-Way Drive-In, Carrolltown
Laurel Drive-In, Hazleton
Mahoning Drive-In, Lehighton
Midway Drive-In Theatre, Mifflintown
Moonlite Drive-In Theatre, Brookville
Palace Gardens Drive-In, Indiana
Pike Drive-In, Montgomery
The Pioneer Drive-In, Butler
Silver Drive-In, Johnstown
Skyview Drive-In, Carmichaels
Sunset Drive-In, Waterford
Twin Hi-Way Drive-In, McKees Rocks
Super 322 Drive-In, Clearfield
Rhode Island
Rustic Drive-In, North Smithfield
South Carolina
Greenwood Auto Drive-In Theatre, Greenwood
Monetta Drive-In, Monetta
Highway 21 Drive-In, Beaufort
South Dakota
Midway Drive-In, Miller
Hilltop Drive-In Theatre, Gregory
Pheasant City Drive-In, Redfield
Pheasant Drive-In, Mobridge
Winner Drive-In Theatre, Winner
Roy's Black Hills Twin Drive-In Theatre, Hermosa
Tennessee
Macon Drive-In, Lafayette
Hi-Way 50 Drive-In, Lewisburg
The Swingin' Midway Drive-In Theatre, Etowah
Parkway Drive-In, Maryville
Pink Cadillac Drive-In, Centerville
Sparta Drive-In, Sparta
State Line Drive-In, Elizabethton
Summer Drive-In, Memphis
Twin-City Drive-In Theatre, Bristol
Valley Drive-In Theater, Waverly
Stardust Drive-In Theatre, Watertown
Montana Drive-In, Estill Springs
Higgins Moonlite Drive-In, Woodbury
Birdsong Drive-In, Camden
Texas
The Showboat Drive-In Theatre, Hockley
Bazos Drive-In, Granbury
Graham Drive-In Theatre, Graham
Last Drive-In Picture Show, Gatesville
Sky Vue Drive-In Theatre, Lamesa
Tascosa Drive-In Theatrer, Amarillo
Town & Country Drive-In, Abilene
Wes-Mer Drive-In, Mercedes
Sandell Drive-In, Clarendon
Stars & Stripes Drive-Ins, Lubbock and New Braunfels
Galaxy Drive-In Theatre, Ennis
Big Sky Drive-In, Midland
Sky Vue Drive-In Theater, Tyler
Coyote Drive-In, Fort Worth
Utah
Basin Drive-In, Mt. Pleasant
Echo Drive-In, Roosevelt
Motor Vu Drive-In & Swap Meet, Riverdale
Redwood 6 Drive-In, West Valley City
Vermont
Fairlee Drive-In Theater, Fairlee
Sunset Drive-In Theatre, Colchester
Virginia
Central Drive-In Theater, Norton
The Family Drive-In Theater, Stephens City
Hull's Drive-In Theatre, Lexington
Park Place Drive-In, Marion
Starlite Drive-In, Christiansburg
Mayberry Drive-In, Moneta
Gooshland Drive-In, Hadensville
Washington
Blue Fox Drive-In, Oak Harbor
Rodeo Drive-In Theatre, Port Orchard
Skyline Drive-In Theatre, Shelton
Wheel-In Motor Movie, Port Townsend
West Virginia
Meadow Bridge Drive-In, Meadow Bridge
Sunset Drive-In Theater, Shinnston
Wisconsin
Field of Scenes Drive-In, Freedom
Big Sky Twin Drive-In, Wisconsin Dells
Gemini Drive-In, Eau Claire
Highway 18 Outdoor Theatre, Jefferson
Moonlight Outdoor Theatre, Shawano
Sky-Vu Drive-In, Monroe
Skyway Drive-In Theatre, Fish Creek
Starlite 14 Drive-In, Richland Center
Chilton Twilight Outdoor Theater, Chilton
Stardust Twin Drive-In Theater, Chetek
Wyoming
American Dream Drive-In, Powell
What to Pack for Your Next Trip