The goal of every family vacation should be bonding rather than bickering, but between juggling transportation, schedules, demands and attitudes, it's easy to forget why we planned a family vacation in the first place. Trying to keep everyone happy can be totally overwhelming and stressful, and let's be honest—that defeats the point of going on vacation.
To truly bond as a family while traveling, everyone has to be as relaxed as possible, and it's a lot easier to achieve that if expectations are clear. That's why we think there are two main tactics to keep unpleasantness to a minimum while maximizing the bonding potential of your family vacation: 1. Have no agenda at all or 2. Plan a goal- or task-oriented trip.
Depending on the personalities in your family, one tactic may be more ideal than the other. For example, if your kids are extroverts, they may be more content to hang in a beach house or embark on an extended road trip together. If you have introverts, though, they may do better if there's an activity to focus on, rather than trying to make peaceable conversations the whole time.
Here are 10 ideas for family bonding vacations—some low-key and relaxing and others adventurous and a bit challenging, too.

1. Camping in the Grand Canyon
Visiting the Grand Canyon is an undeniably unforgettable experience, and one that's sure to garner some gorgeous family memories. Camping in the canyon, though, takes it to a whole new level. It's for sure a quiet and laidback experience like most camping trips, but with setting up, cooking, cleaning up, starting and maintaining a fire, it also gives everyone in the family something to do when they get bored or just need a little space. Plus, camping in general offers plenty of learning experiences for children of all ages. There are four developed camping sites in Grand Canyon National Park, all of which can be accessed by vehicle. Some are first-come, first-served, while some require reservations; one can accommodate RVs. For more information on availability and facilities, click here.
Recommended Hotel: Yavapai Lodge

2. Touring Denali National Park
Alaska's Denali National Park is a bucket list destination for many Americans, and there are tons and tons of things to keep kids occupied and entertained throughout the park. Experiencing the jaw-dropping scenery alone is enough to create special bonding moments with your children, but you can also hike the winter trails together, participate in family science programs, take an onsite bus to a sled dog demonstration and help your kids get set up in the Junior Ranger program. It's the Alaskan wilderness, though, so less experienced families might consider hiring a guide for a few days, participating in the Hike with a Ranger program and/or spending the nights at a local inn and returning to the park for more exploration over the course of several days. More adventurous families can even spend a few days camping in the park.
Recommended Hotel: Denali Bluffs Hotel

3. Drive the Pacific Northwest Coast
The Pacific Northwest coast offers travelers some truly phenomenal views to enjoy for miles and miles on end. Starting in Oregon, families can travel along the coast to Washington by car up the Olympic Peninsula, with a stop in Olympic National Park. Detours to cities such as Portland and Seattle provide the perfect opportunity to take a break from the outdoors and explore cultural attractions like Powell's City of Books in Portland and the Space Needle in Seattle. Though much of the trip could be on four wheels, there are lots of accommodation options, including hotels, vacation rentals and even campgrounds at various points along the coast.
Recommended Hotel: Olympic Lodge

4. Hike the Appalachian Trail
A family vacation along the Appalachian Trail on the East Coast makes for an epic trip for families with children of all ages. The A.T. runs all the way from Georgia to Maine and encompasses a number of state and national parks, with everything from hiking trails of all levels to historic landmarks including Revolutionary and Civil War sites. The trail provides an opportunity to travel through several states on one trip or visit a new state and learn about its landscape and history. Because the trail is so massive, it's possible to allow everyone in the family to contribute to the planning and choose sites and activities to include in your itinerary. There are campsites throughout the trail, but many access points are also close to cities where comfy hotels are an option.
Recommended Hotel: Quality Inn Harpers Ferry

5. Cycle the Cape Cod Rail Trail
Cape Cod is an incredibly relaxed, low-key destination with a little something for every personality in the family to enjoy, from classic beach days to touring the Cape Cod Brewery in Hyannis (yes, the Kennedys' Hyannis) to window shopping in Provincetown. A highlight of visiting Cape Cod is definitely cycling the Cape Cod Rail Trail. Because the trail is 22 miles long, cycling is a super-popular way to explore it, allowing for plenty of sightseeing at places such as the Brewster Flats and the Hacker Wildlife Sanctuary. You can do a few miles a day with overnight stops in between or attempt to tackle the entire trail in one day. There are tons of beaches along the way, as well as horseback riding trails, small towns with quaint centers, and beautiful state parks.
Recommended Hotel: Heritage House Hotel

6. Experience Life on a Ranch
Who wouldn't get a kick out of staying at a working dude ranch? There are dozens of legitimate dude ranch resorts across the U.S., many of which are all-inclusive and cover accommodations, tours, activities and authentic ranch-style meals in nightly rates. C Lazy U Ranch in Colorado and Rocking Horse Ranch Resort in New York, for example, both have children's and teens' programs, as well as scheduled family activities during the evenings, horseback riding, skiing, snow tubing, ice skating and many other activities for the entire family to enjoy together. At resorts such as Westgate River Ranch in Florida, you can even attend a live rodeo on select nights.
Recommended Hotel: Rocking Horse Ranch Resort

7. Drive Route 66
A road trip along Route 66 is an iconic way to see America, and between planning out an itinerary together, enjoying all of the quirky sights along the way and spending long stretches of time in a car fending off boredom together between stops, there are endless opportunities for family bonding. A cross-country drive from Illinois to California—or any segment along the way—complete with visits to sights like the Meramec Caverns in Missouri and Cadillac Ranch in Texas is sure to be an experience. It definitely takes a bit of planning, but it'll be well worth it to see your kids marvel at some of the most unique attractions and stunning landscapes in the country.
Recommended Hotel: Drury Inn & Suites Amarillo

8. Spend a Week at the Jersey Shore
Yes, that Jersey Shore! There are lots of states you can visit for a beach vacation with the family, but a trip to the Jersey Shore offers a lot in a very small geographic area, making it easy to please nearly everyone. There are dozens of beach towns and beaches from which to choose, from bustling Point Pleasant and Wildwood to the more serene Cape May and Lavallette, with even more lodging options, from gorgeous beach house rentals to budget motels. Most beach towns can be easily traversed on foot and some are so close together, you can walk from one to the next in less than half an hour. There are fantastic dining options, mom and pop shops and classic boardwalk scenes around every corner, and if you tire of the shore, both New York City and Philadelphia are easily accessible by car or train.
Recommended Hotel: ICONA Diamond Beach

9. Go to Summer Camp Together
Sure, you can send your kids away for a week or two at sleepaway summer camp, but why miss out on all the fun? Take your brood on an old-school vacation at one of several family summer camps throughout the U.S. You and your kiddos can swim, boat, fish, craft and roast marshmallows to your hearts' content. YMCA Camp Pendalouan in Michigan has family camp, father/son camp and mother/daughter camp, all of which offer visitors the chance to bond while learning new skills like archery and canoeing and participating in exhilarating activities like ziplining and riflery–all for a super-affordable price. If you plan in advance, you might even be able to snag a spot at Tyler Place Family Resort in Vermont, a resort that feels like summer camp, surrounded by stunning landscapes.
Recommended Hotel: Tyler Place Family Resort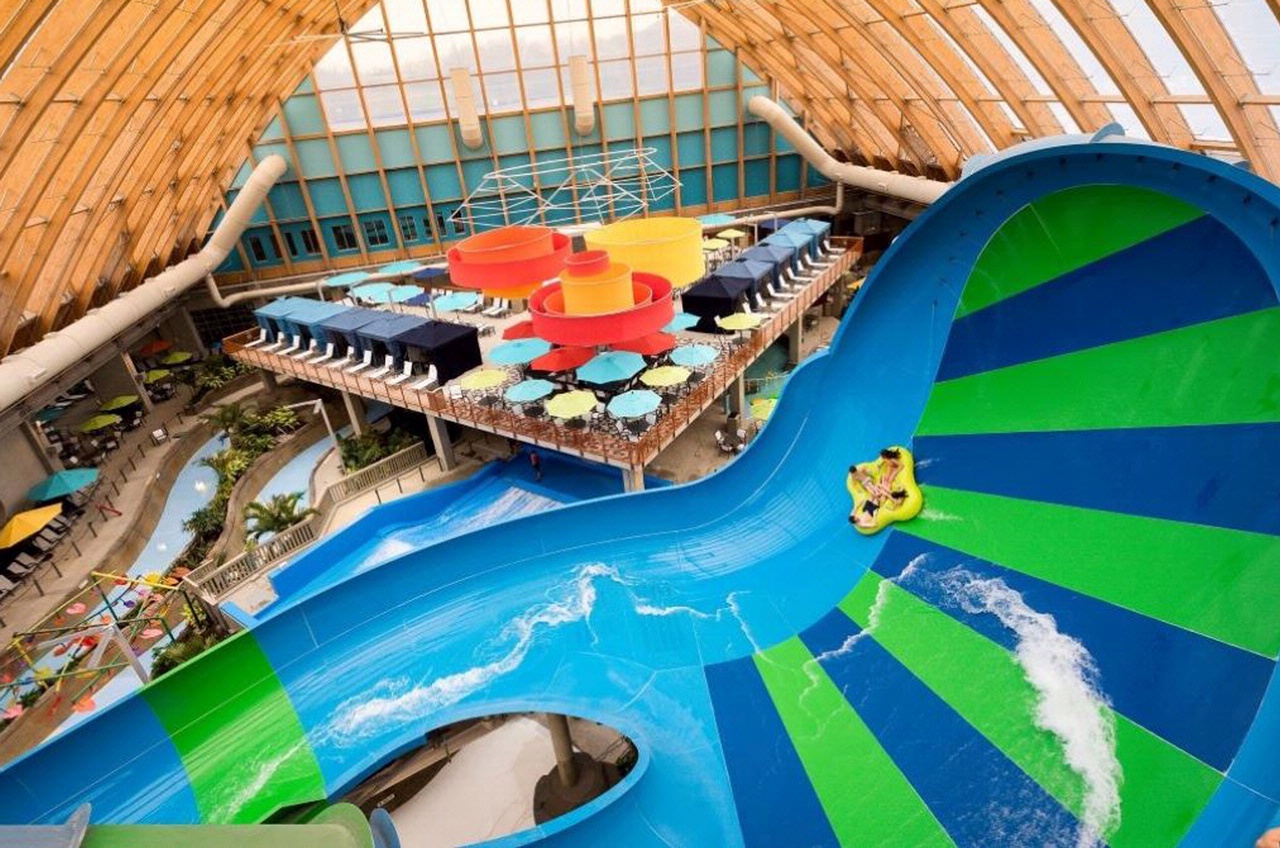 10. Visit an Indoor Water Park Resort
While they might seem a bit cliché, the indoor water park resorts that continue to crop up all over North America are actually a fantastic option for families, especially those who might not have a ton of vacation time and budget to spare. Kids go absolutely berserk for these places, which are really one-stop vacation spots. Though most of them aren't all-inclusive, you literally don't have to leave the resort once you step foot inside. While the water parks are the main feature, there are also usually arcades, bowling, and other dry activities like ropes courses, billiards, themed story times, arts and crafts, dining venues, spas and more, all in the same place. Everything is designed for maximum family enjoyment and as long as you make it clear to your kids what you will and will not be splurging on at the resort, it's a pretty stress-free and hands-off way to enjoy full-on family time.
Recommended Hotel: Kartrite Resort & Indoor Waterpark
Shayne is a freelance writer and editor who has been passionately covering all things travel, food, wellness and parenting for over a decade. Experiencing the world and its diversity of cultures through travel is one of her favorite things to do, especially alongside her adventure-loving kids and husband. More of her work can be found on SmarterTravel.com, CruiseCritic.com, MamasLatinas.com, VivaFifty.com, CafeMom.com and her personal blog, fitmamilife.com. Shayne's work has also appeared on Huffpost, ABC News and BabyCenter.com.
What to Pack for Your Next Trip
For info on these editor-selected items, click to visit the seller's site. Things you buy may earn us a commission.
Our team of parents and travel experts chooses each product and service we recommend. Anything you purchase through links on our site may earn us a commission.