You've booked your first family ski trip… now what? So much preparation goes into the experience that it can seem downright intimidating, especially for beginners. That's why we've rounded up several tips, with advice from start (packing the right gear) to finish (actually getting out on the slopes).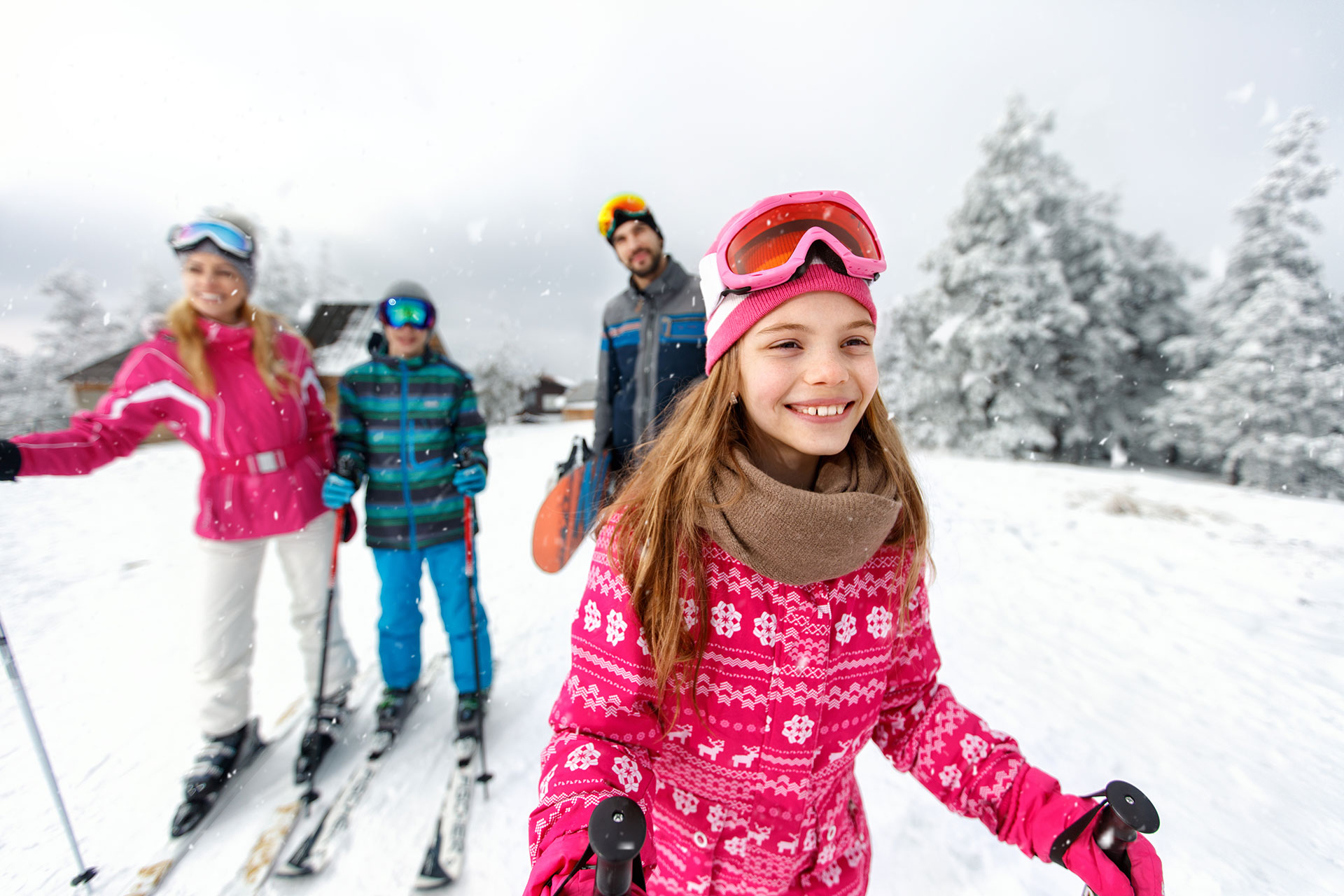 What to Pack
-Skin-tight, thermal underwear/layers, such as Under Armor shirts and pants
-Ankle socks and thick knee socks, also known as ski socks
-Toe warmers
-Turtlenecks
-Ski pants (preferably with suspenders)
-Gloves and mittens
-Ski goggles
-Face mask that covers your entire face except for your eyes (which will be covered by ski goggles)
-Head warmer to wear under helmet — covers your entire head, as well as cheeks, ears and neck
-Walkie Talkies to communicate with family members on the mountain (cell reception can be scarce on the slopes)
Related: 8 Essential Items for First-Time Kid Skiers
What to Rent at the Resort
Skis. A staff member will fit you according to your height and your skill level.
Snowboards. Again, a staff member will match you up with a snowboard that is best for your size.
Boots. Be sure to try them on with both your ankle socks and ski socks on to ensure they fit.
Poles. Beginners don't need ski poles right away — it's easier to navigate the powder without them (and when you're ready, you can go back and rent a pair later in the day or trip).
Helmets. It's not the most fashionable ski item, but you can't hit the slopes without it (we skied right into a shed our first time around — it's best to be armored and ready!).
What to Do Before Hitting the Slopes
1. Locate the locker room to store belongings while on the mountain. You can also store your gear in the locker overnight if you plan to stay at a resort lodge (it's much easier than lugging everything back and forth). Lockers are typically coin-operated and a change machine should be located nearby.
2. Find the nearest lift ticket booth to pick up your already purchased passes (you can pre-purchase lift tickets online before your arrival, which will save time and avoid lines at the resort). Then head to the rental shop to pick up your equipment (equipment can also be rented in advance at a shop offsite). Ask a staff member to adjust skis so they'll easily pop off in case of a fall, and make sure they're as short as possible. The shorter the skis, the easier they are for learning.
3. Pick up maps of the mountain so nobody gets lost. Green dots signify beginner trails, blue squares signify intermediate trails, and black diamonds signify expert trails. There is usually a key located on one of the bottom corners of the map to further help you read it. It also might be good to designate a meeting point and time in which to reconvene.
4. Head to your designated area, whether it be the ski school meeting place or the nearest chairlift, and prepare for a day of fun — don't forget to take a break over some yummy hot chocolate! If carrying poles, be sure to hold them in one hand when gearing up to sit on the chairlift — that way you can use your other hand to grab onto the chairlift.
5. If you get tired and want to take a break from the slopes, ski resorts often have other activities like snow tubing, ice skating and snowshoeing. If you are new to skiing, take it easy for the first few days, and don't overdo it.
How to Dress: 5 Steps
1. Put on your turtle neck first, then your tight-fitting pants and shirt, and then your pajamas or long johns.
2. Put on your ankle socks, then your ski socks (wearing both pairs of socks is best — ski boots don't keep your feet very warm!). Roll them over your thermal underwear or pajama pants so that when you buckle into your ski boots, they don't bunch up and feel uncomfortable.
3. Tuck your toe warmers in your boots and your hand warmers in your gloves or mittens before placing your hands and feet inside. If you plan to use ski poles, put on mittens; otherwise, gloves are best.
4. Next, put on your ski pants and adjust suspenders.
5. Slip on your head warmer and buckle up your helmet before putting your goggles on.
Lessons
You'll want to take a lesson before braving your first trail. We recommend booking lessons ahead of time, as they tend to fill up quickly. This will also give you one less thing to worry about upon arriving to the mountain. Most ski resorts offer lessons for all ages, usually in these variations:
Private Lessons
Enjoy a one-on-one lesson from a highly skilled skier without the added pressure of other beginners surrounding you. Lessons range in time depending on the mountain you're visiting, but are typically either one, two, three or six hours long. These lessons are great for parents, though kids might want to learn in the company of others who are their age.
Kids' Lessons
These lessons are usually offered to big groups (separated by age) and usually take place in half- or full-day (six hours) sessions. Lift tickets are typically included in the price of these lessons.
Teen Programs
Programs vary by resort, but teens between age 13 and 16 usually learn together in all-day (six hours) programs that might include a group lesson, lift tickets, lunch, and snacks.
Childcare
Childcare is available at many resorts, and it's typically recommended that you pass your youngsters off with a full change of clothes, diapers, food, indoor footwear, their favorite blankets or stuffed animals, and clothes for the chilly outdoors. Some resorts pair childcare with beginner lessons.
Day's End
Store your skis in the locker you snagged at the start of the day, and head to the base lodge for some sugary waffles, refreshing cocktails and relaxation. Many ski lodges offer activities, such as pool tables, along with live entertainment.
More From Family Vacation Critic:
10 Best Ski Resorts for Families in 2017-2018
9 States Where Your Kids Can Ski Free This Winter