Ever since the debut of Disney's Frozen in late 2013 (and its sequel, Frozen 2, out in 2019), kids (and adults) have been enchanted by the magical abilities of icy Elsa and the adventures of her ever-optimistic sister, Anna.
Inspired by Hans Christian Andersen's The Snow Queen, Frozen is an epic journey through an eternal wintry landscape to the kingdom of Arendelle. Disney found inspiration for those spectacular landscapes from the real-life scenery of Norway, with its jagged mountains, roaring waterfalls, ice-blue fjords and fascinating indigenous Sami culture.
But Norway isn't the only place your kids can live out their Frozen fantasies. We've found several Frozen-inspired vacations your kids will love.
1. Norwegian Spring Break Experience with Up Norway
For the first in forever… sorry, we had to. Let's start again.
For the first time ever, Up Norway is offering a one-week journey inspired by Frozen. The Norwegian Spring Break Experience includes dog and reindeer sledding through a forest; a fjord cruise to Bergen, the inspiration for Arendelle; a traditional Nordic family meal; a stay in an igloo hotel and more! The trip is nearly all-inclusive, with breakfast, select dinners, accommodations and transfers covered in the cost.
2. Frozen at Disney World
Of course you can experience Frozen at Disney World! At Disney's Epcot, you can board a boat to Arandelle and experience a real-life version of the movies in Frozen Ever After. The slow-moving ride is appropriate for all ages, with no height restrictions.
Other highlights for Frozen fans include For the First Time in Forever: A Frozen Sing-Along at Disney's Hollywood Studios; meet-and-greet and photo opportunities with Anna and Elsa in the Magic Kingdom; and a chance to meet Olaf at Disney's Hollywood Studios. Disney World is expected to add a Frozen land in the next few years.
3. Frozen at Disneyland
At Disneyland in California, Frozen fans can meet Anna, Elsa and Olaf in Hollywood Land. They can also see Frozen – Live at the Hyperion, a theatrical adaptation of the movie. Dining packages with three-course meals and show tickets are available.
4. Frozen on Disney Cruise Line
The Frozen fun continues on the high seas, where guests of Disney Cruise Line's Wonder and Fantasy can experience not one, not two, but three Frozen-inspired shows: A Tale of Two Sisters, Songs to Melt a Frozen Heart, and Under the Ice. Frozen-themed deck parties, as well as opportunities to meet the beloved characters, are also offered on the Disney Wonder and Disney Fantasy.
Even better is the chance to meet Anna and Elsa on a port excursion! In Alesund, Norway, kids will get to meet their favorite characters in charming Sunnmøre Village.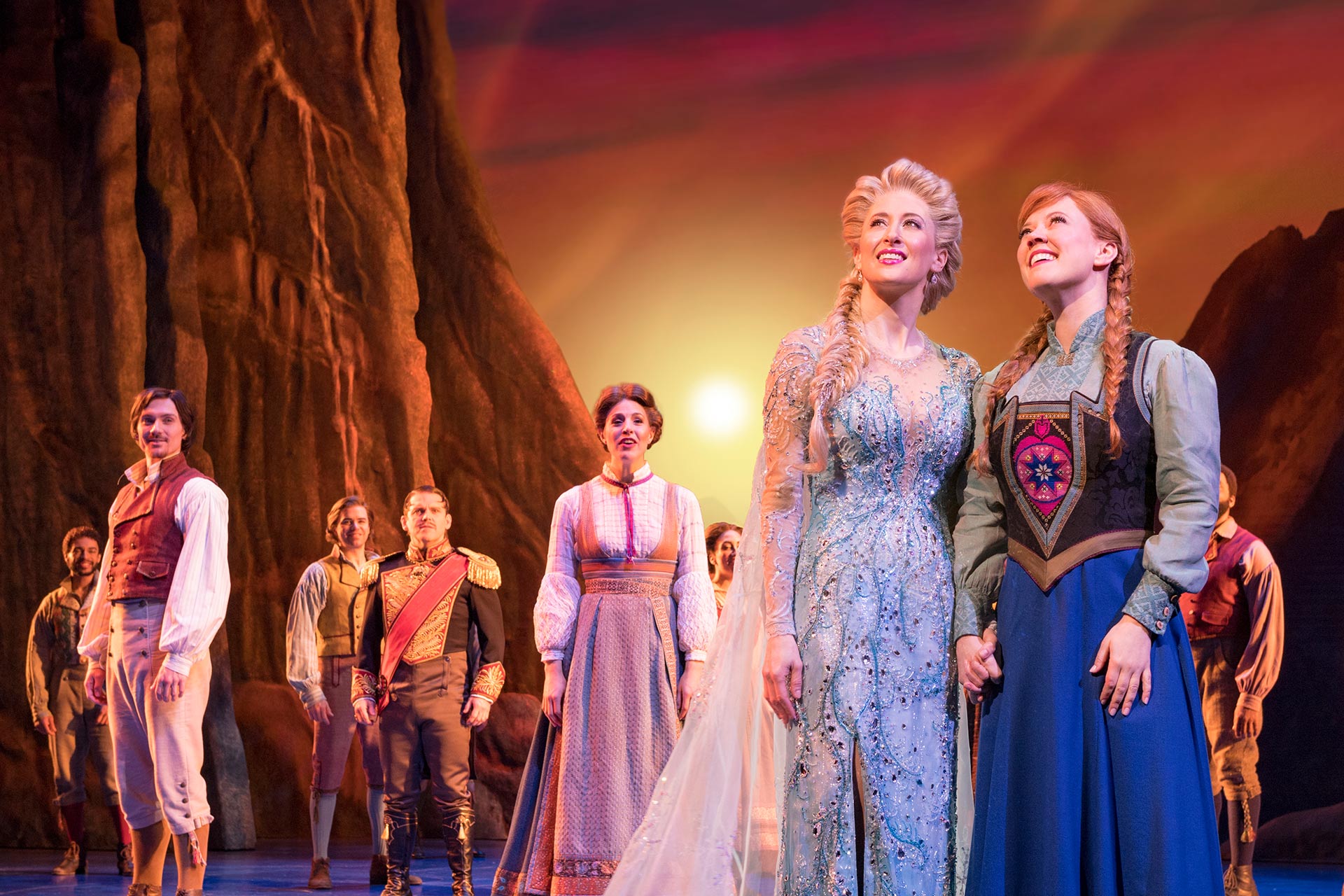 5. Frozen The Musical on Broadway
Undoubtedly one of the best shows for kids on Broadway, Frozen The Musical brings the iconic film to life with fan-favorite songs such as "Let It Go" and "Do You Want to Build a Snowman?", plus original songs written for the Broadway production. Special effects include ice that shoots out on to the stage when Elsa makes her transformation and freezes the town of Arandelle, as well as "snow" that blankets the stage and even makes its way to the first few rows of the audience. The show takes place at the St. James Theatre in New York City, with both matinee and evening performances available. Kids are encouraged to wear their princess crowns and gowns!
6. Frozen The Musical on Tour
Can't make it to New York City or want to see the show closer to home? Good news: Frozen the Musical is touring! The North American tour includes 12 shows in major cities across the U.S. Visit FrozenTheMusical.com/Tour to see show dates and locations.
7. Adventures by Disney Norway Itinerary
The ultimate Frozen-themed vacation, Adventures by Disney's Norway Itinerary includes visits to 15 attractions in Bergen, Flåm, Geiranger and Oslo, overnight accommodations in each city, and 17 meals, making it a nearly all-inclusive family vacation. Highlights of the eight-day trip include a fjord safari, river rafting, folk dancing, and a visit to a working farm.
What to Pack for Your Next Trip
For info on these editor-selected items, click to visit the seller's site. Things you buy may earn us a commission.
Our team of parents and travel experts chooses each product and service we recommend. Anything you purchase through links on our site may earn us a commission.