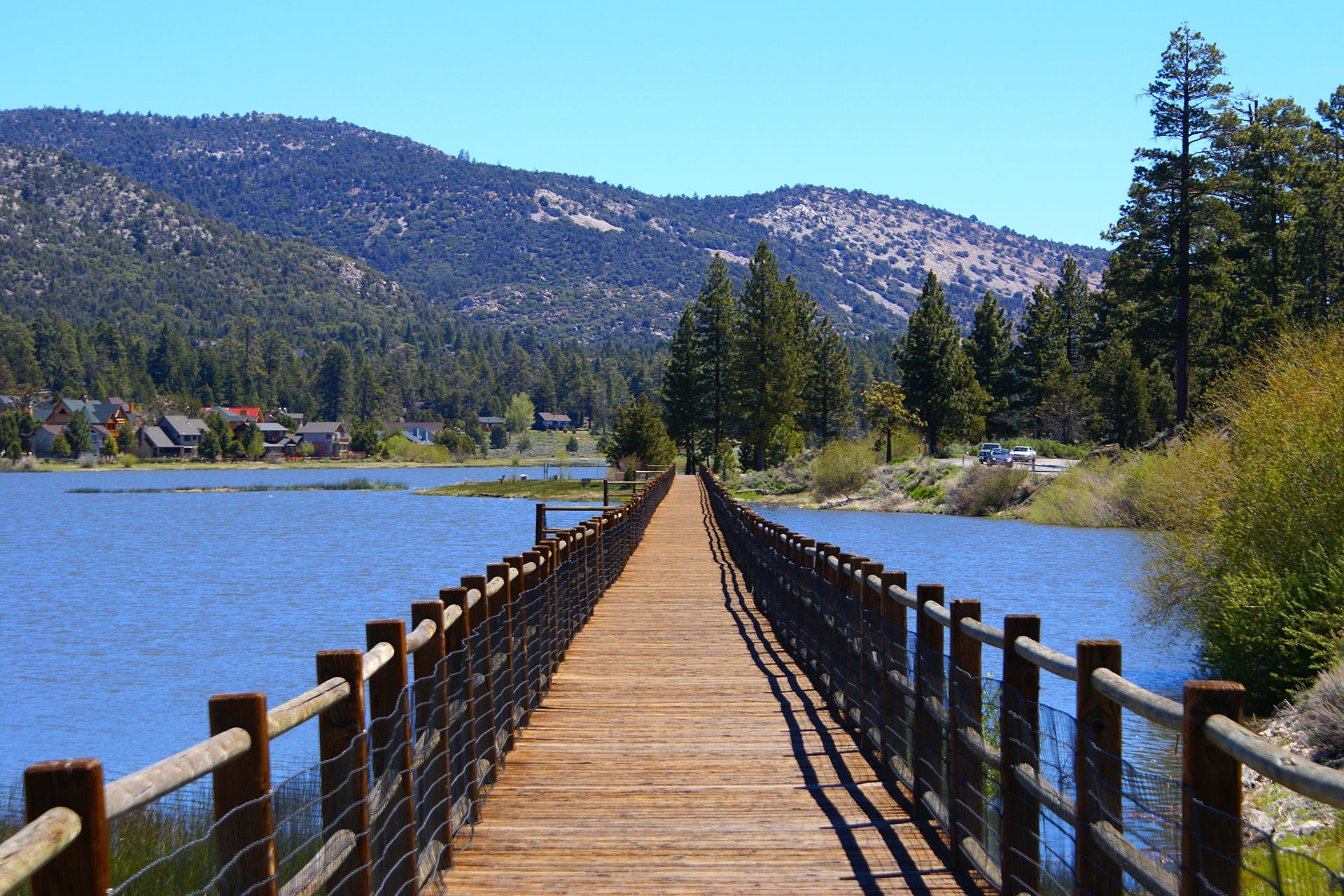 For city dwellers, Big Bear Lake is a welcome respite from urban hustle and bustle, but isn't so secluded that a visitor is likely to pine for home. Just a two-hour drive from L.A., Big Bear (which has elevations between 6,750 feet to 9,000 feet) is a vacation destination in both warm and cold weather. When it snows, there's skiing, snowboarding and sledding. During the rest of the year, there's swimming, boating, hiking, biking and more. With its lush wilderness and wildlife (yes, there really are bears), the main thoroughfares around the lake can get jammed with the kind of traffic city folks will find familiar. The good news is that the resort town also has big-city amenities, such as restaurants ranging from pizza and seafood to Thai food. Best of all, it is both family and pet friendly, with plenty of Big Bear Lake lodging.
Written by Liane Bonin Starr
1/10
Pine Knot Guest Ranch
With wood-burning fireplaces, stocked kitchenettes and Jacuzzi tubs,
Pine Knot Guest Ranch
makes staying in very appealing -- but kids and grown-ups alike will want to visit the onsite barn, which has llamas and rabbits available for petting. With most cabins accommodating up to six people, you'll want to make a weekend of it -- which is a good thing, given that the ranch has a two-night minimum. Cabins have outdoor BBQs and large porches, so if the weather allows, outdoor dining is within easy reach. The ranch is just a five-minute walk to the village and hiking trails, so while you'll still feel you've been able to get away from it all, you're never far from activities.
2/10
Big Bear Frontier Cabins and Hotel
With 57 guestrooms and cabins,
Big Bear Frontier Cabins and Hotel
doesn't skimp on space. While cabins can sleep up to eight people and feature multiple bedrooms (and some have Jacuzzis), Big Bear Frontier outfits hotel rooms with king or queen beds, fireplaces and mini-fridges. The rooms have full kitchens with a dining area, while every room, whether a cabin or in the hotel, has access to free Wi-Fi. For those trying to decide between a hotel room or Big Bear cabin, take note: BBQs and picnic tables can be found outside of every cabin for those who prefer to eat in. But deciding where to stay won't be your only conundrum. Given that the lake is right outside Big Bear Frontier, choosing between waterfront activities there and the onsite pool may be the toughest decision you make during your trip.
3/10
Marina Resort
At
Marina Resort
, every room faces the lake, which is a rare perk in Big Bear. While rooms tend to be on the cozy instead of spacious side, reviewers have noted that the grounds are well-maintained and rooms have been recently renovated. While hotel rooms sleep a maximum of four, larger parties can rent a two-story or single-level condo next door -- or even the entire building -- at Forest Shores, a partner of Marina Resort. Families will be happy to see that the Marina Resort has not only a pool and Jacuzzi, but also features a playground, Ping-Pong table, a beach volleyball court and a horseshoe toss. (But don't let kids play in the onsite fish pond -- you could be fined.)
4/10
Snow Lake Lodge
Snow Lake Lodge
has just 37 guestrooms, but each one comes with appealing amenities. A king bed and sofa bed, gas fireplaces, a full kitchen and two full bathrooms make for comfortable rooms, though they only sleep up to four people. Though the lodge is somewhat dated, the rooms are clean and the service is great. While there is a swimming pool on the grounds, wintertime guests may be more excited about the limited number of covered parking spaces.
5/10
Northwoods Resort
Located at the gateway to the Village,
Northwoods Resort
stands out for its prime location and relatively reasonable rates. Guestrooms are basic and slightly dated, but also exceptionally clean and spacious. Those looking for a luxury getaway may be disappointed in the lack of amenities; however, there is an onsite pool, free parking and free Wi-Fi.
6/10
BEST WESTERN Big Bear Chateau
The
BEST WESTERN Big Bear Chateau
lives up to its European name with upscale lobby decor, but still delivers reasonable rates for the area. The 80 guestrooms feature fireplaces, refrigerators and free Wi-Fi, and microwaves are available on request. While the chateau has an onsite cafe, breakfast is complimentary for guests daily. Most rooms have double beds, though rollaway beds are available (for an additional fee) in rooms with only one bed. Guests will appreciate that the chateau is close to Big Bear Lake, but when the weather doesn't allow for outdoor games, the onsite game room -- which has air hockey, Ping-Pong, arcade games, board games and billiards -- is a nice fallback.
7/10
Lagonita Lodge
Located on Big Bear Lake,
Lagonita Lodge
offers condo-style accommodations with one- and two-bedrooms complete with full kitchens and gas-burning fireplaces (and many have lake views, too). Be sure to request an updated room at this Big Bear Lake hotel. For those who aren't planning to hire a boat or personal watercraft onsite (the dock is free for guests to use), all-day activities organized for guests include museum visits, pancake breakfasts, BBQs and more. The exercise room, outdoor spa and indoor pool and spa, while not large, are fine for relaxing apres-ski.
8/10
Robinhood Resort
Divided into three themed properties -- Sherwood Forest, Robinhood Inn and Wishing Well --
Robinhood Resort
has a number of options for guests when it comes to accommodations. Sherwood Forest is the resort's upscale choice, with rooms that include fireplaces, kitchenettes and in-room spas. Robinhood Inn is an older property with most of the same amenities, and Wishing Well is a small inn located in Big Bear Village. Guests of the Wishing Well noted that those looking for a quiet stay request a room away from the street, and those bothered by some wear may prefer Sherwood Forest. While the locations of all the buildings are close to Big Bear Lake and the village, those who don't care to venture far can dine onsite at Nottingham's Tavern and Friar Tuck's Tavern.
9/10
Worldmark at Big Bear
With 120 studio, one- and two-bedroom condos available,
Worldmark at Big Bear
has a world of options for guests. While the Big Bear resort has timeshares, nightly rentals are also available -- and all accommodations come with kitchenettes or kitchens, fireplaces, balconies or patios and guest laundry facilities to make a stay of any length comfortable. While the Worldmark is only a few minutes from the Village, the onsite pool, separate children's pool, tennis courts, fitness center and game room make staying at this Big Bear hotel easy.
10/10
Honey Bear Lodge and Cabins
Choose a hotel room or cabin at
Honey Bear Lodge
and you'll likely have enough space -- accommodations can sleep six to eight people. The dog-friendly lodge location is also at the end of a cul-de-sac, making for a quiet atmosphere that's still close to downtown. Families will be happy to find the onsite playground and shady picnic area, though those looking to unwind may want to make sure they choose rooms away from them.
Our team of parents and travel experts chooses each product and service we recommend. Anything you purchase through links on our site may earn us a commission.