Catalina Island may technically be part of Los Angeles County, but this tiny island (just 22 miles long and 8 miles across at its widest point) off the California coast feels a world away. Although Catalina is only an hour away from Los Angeles or Orange County, reaching the island isn't easy (or cheap). Round-trip tickets via ferry range from $70 to $75, and traveling to the island by private boat or helicopter is even pricier. Catalina Island Hotels for families can also be an investment. Tourism is the primary industry for the island, with over 1 million visitors a year, but with fewer than 4,000 full-time residents in Avalon and a limited number of hotels, beds are in high demand. Add the expense of shipping everything — sometimes even water — to the island, and you aren't likely to find bargains. But once you've arrived, luxury choices with endless pools and Jacuzzi tubs are available, and budget choices can be found.
It's also easy to find fun activities to make the journey worthwhile. Days can be spent playing miniature golf, hiking, scuba diving, snorkeling or kayaking, and the island's multitude of zip- lines are a recent draw. Eco tourists can view frolicking local dolphins or, from a safe distance, the island's bison population. Even with so much to do, the good news is that visitors don't need a car — the populated area of the island is small enough that everything visitors might need is within easy walking distance, though taxis, trolleys and bike rentals are also readily available.
Written by Liane Bonin Starr
1/9
Pavilion Hotel
This beachside hotel has wowed reviewers with its attention to detail -- in-room chocolate-covered strawberries, a complimentary European breakfast, a wine and cheese cocktail hour, iPad loaners and a hotel employee arriving at the ferry to transport luggage are just a few of the perks that receive praise. The two-story hotel has 71 rooms, which offer two queens or a king bed, and children under 12 are free of charge if they use existing bedding. In the evenings, guests are encouraged to stick around with a fire ring and hosted movie nights, and during the day, kids might enjoy the courtyard lanai or children's playground at the
Pavilion Hotel
.
2/9
Aurora Hotel
Though rooms are on the small side in this pint-sized hotel of just 18 guestrooms and suites, the largest can sleep four adults or two adults and two children comfortably. Refrigerators, microwaves, sofa beds and flat-screen TVs make the most of the space, though it should be noted the hotel, which is on a short but steep hill, is not handicap- or wheelchair-accessible. Guests of the
Aurora Hotel
can enjoy a rooftop deck with an ocean view, an onsite spa, a complimentary continental breakfast and Friday wine and cheese receptions. Reviewers praised the excellent service for smoothing out any minor rough edges, too.
3/9
El Terado Terrace
Families looking to spread out (not a given in most of Avalon) will appreciate
El Terado Terrace
's suites and townhomes, the largest of which can sleep up to six people. Most suites and townhomes have fully equipped kitchens and living areas, and townhomes have two bedrooms, two bathrooms and dining areas. Balconies with their own grills give guests additional options for eating in.
Note:
While spacious, the hotel is also located up a steep hill and may be further from the beach than some may like.
4/9
Casa Mariquita Hotel
With just 22 guestrooms and suites, this family-owned boutique hotel has small rooms but stands out for excellent service and close proximity to the beach. Guests appreciate the in-room mini-fridges, complimentary beach towels, and onsite kitchen area. Breakfast at
Casa Mariquita Hotel
is complimentary, and while there is no pool or Jacuzzi, guests can do some impromptu bird watching in the hotel's two courtyards. All rooms have two queens or a single king bed, and the penthouse has two private balconies, a fireplace and a full kitchen.
5/9
The Avalon Hotel on Catalina Island
A boutique hotel with just fifteen guestrooms,
The Avalon
caters to guests with a taxi service pick-up from the boat terminal, loaner laptops, afternoon refreshments and a complimentary breakfast. Before exploring the island, guests can also borrow binoculars and GPS units from the front desk. While not all rooms have balconies, everyone has access to the 360 degree views of the island from the rooftop patio. Guests are also encouraged to visit (and hand feed) the friendly koi fish in a pond on the garden patio. Families will want to make sure they can reserve one of the few rooms with a king bed or a queen bed plus a Murphy bed, as most rooms only have a queen bed option.
6/9
Hotel Metropole
Recently remodeled, this small hotel on the beach has 52 guestrooms and suites, many of which are outfitted with balconies, king or queen beds and fireplaces. A complimentary continental breakfast is also offered at
Hotel Metropole
. Families looking for a sleepy getaway may want to look elsewhere, as the ground floor of the hotel is the French Quarter-inspired Metropole Market Place. The market features boutiques selling clothing, fine art, jewelry and even an espresso bar. The hotel features suites that sleep up to six people.
7/9
Hotel Vista Del Mar
This small, 15-room hotel is located on the beach, though for kids the real appeal may be the fresh-baked cookies and milk at turndown. Most rooms at
Hotel Vista Del Mar
have fireplaces, refrigerators with wet bars, Jacuzzi tubs and, most importantly, ocean views. Reviewers praise the level of service and cleanliness of the hotel. Some of the accommodations are small, however. While there's no cable TV, there is a complimentary DVD library with DVD players in the room.
8/9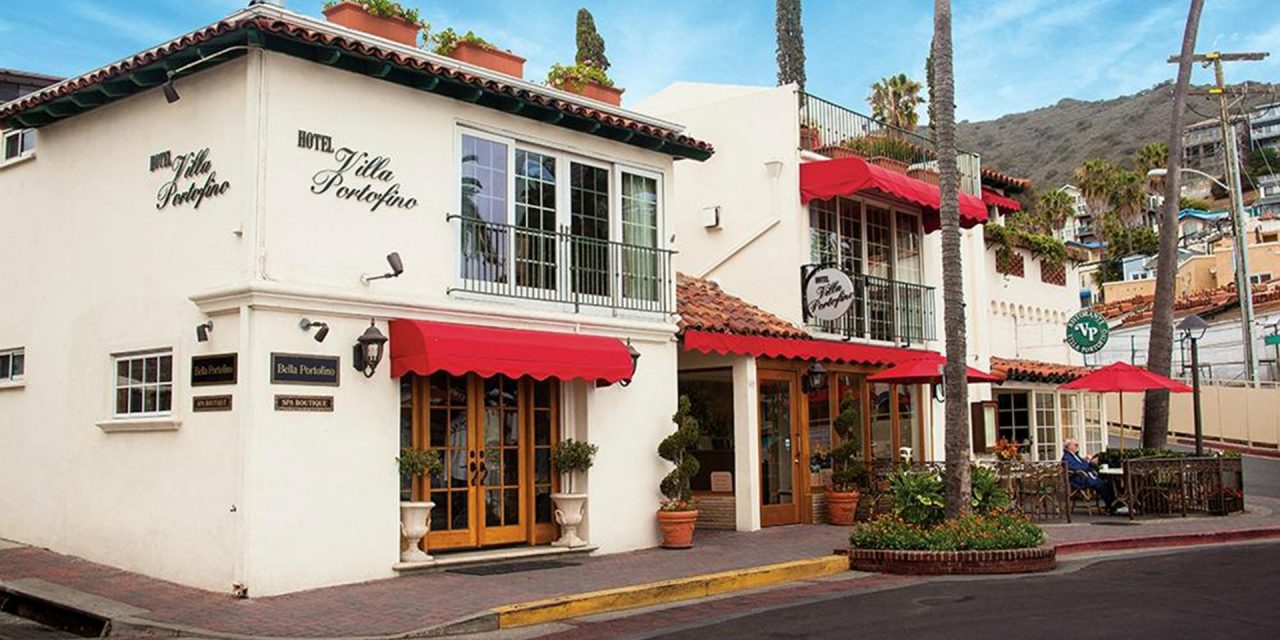 Hotel Villa Portofino
While this hotel looks out onto the water, it also faces a busy street, so guests who pay extra for the view may want to keep their balcony doors shut. However, many rooms at
Hotel Villa Portofino
come with fireplaces, marble baths with separate showers, microwaves, wet bars, and separate living areas with fold-out sofa beds. In addition to a complimentary breakfast, the hotel has a highly rated Italian restaurant, Ristorante Villa Portofino, just downstairs. Families will appreciate that, in addition to offering electric bike rentals, the hotel also has child trailers to loan.
9/9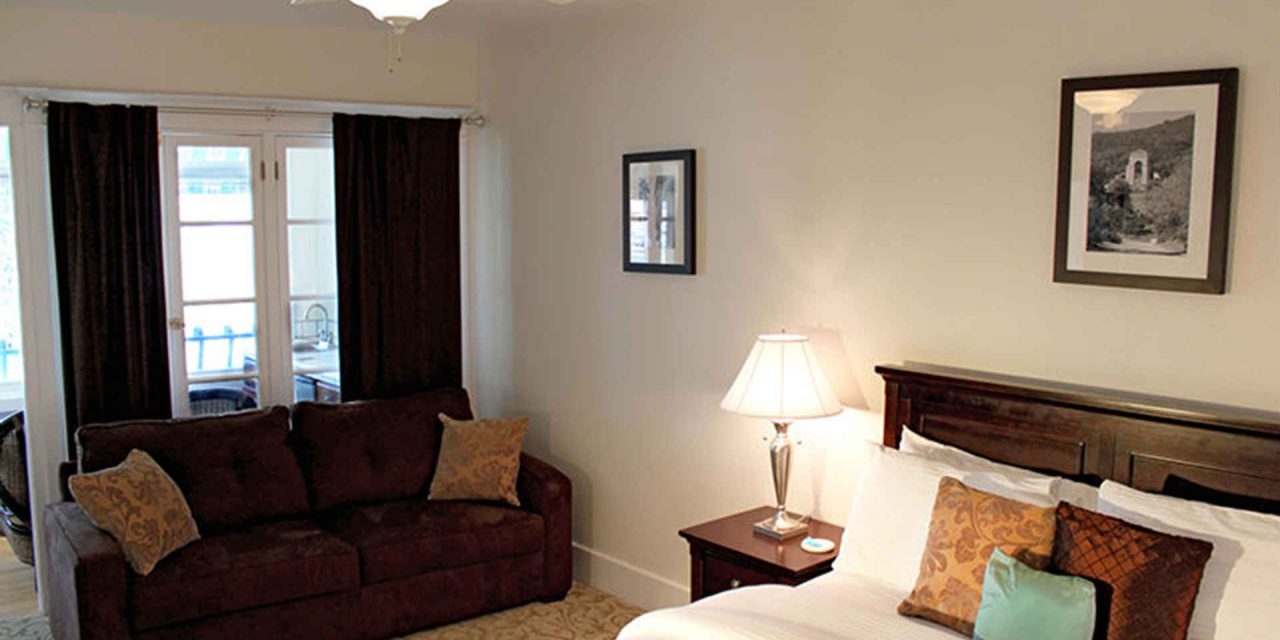 The Edgewater
With just eight rooms (two of which are suites),
The Edgewater
is just 13 steps from the beach. Those that want to get away from the hustle and bustle should note that the hotel is right above a souvenir shop, and the central location can get busy. History buffs will appreciate that the building dates back to the 1920"s and some fixtures, including some furniture and bathroom fixtures, are original. Because of the current drought in California, all rooms are limited to double occupancy. Complimentary breakfast and, in summer, afternoon beverages and popcorn are available.
Our team of parents and travel experts chooses each product and service we recommend. Anything you purchase through links on our site may earn us a commission.